Updated on February 5 2014
In my search for a detox/wellness retreat, I had just three conditions: one, it had to be somewhere tropical, two, it wouldn't confine me to a villa and, three, absolutely no colonics (read: tube up the backside). Call me a wimp, but I'd prefer not to undergo that kind of probing unless absolutely necessary.
What I found was Phuket Cleanse, a health retreat located in Rawai, Phuket that offered something called an 'active cleanse'. Unlike other wellness retreats that have its participants eating very little and moving even less, the schedule at Phuket Cleanse is packed with three workouts a day, herbal and infrared sauna sessions, raw food cooking classes, trips to the beach, meditation, recovery massage and much more.
"Our goal is to help you remove layers of 'yuck' — whether it be toxicity, unwanted pounds, or negative thoughts/beliefs," says founder Melanie Procter on the Phuket Cleanse website. An American formerly from Miami, she is a testament to the raw food diet with a constant glow, positive attitude, flowing blonde curls and abs of steel.
Programs range from three to 28 days (or even longer upon request), which include deluxe accommodation in the Phuket Cleanse villa and all meals, drinks and activities. As detox newbies, we signed up for the three-day weekend glow — here's how it went:
Day 1
The day began at 7am with all the Phuket Cleansers sitting around the table for a liquid breakfast (not that kind, you alcohol fiends). Everyone takes a shot of wheatgrass and chases it down with two or three glasses of other fresh juices, including spirulina mixed with pineapple, raw banana juice and various other wheatgrass cocktails.
The idea behind having just juices for breakfast is to prove that we don't need heavy carbs (e.g. bagels, muffins, toast) in the morning, as the vitamin-packed juices are more than enough to get us energised and going until lunchtime. There's no time to dawdle though, as we're called down to board the songthaew (converted pickup truck) to our first workout of the day — Bikram yoga.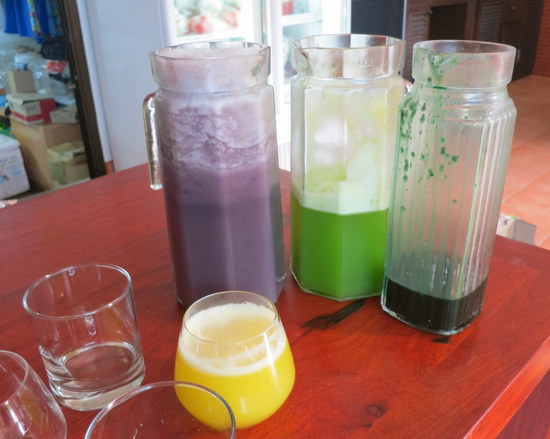 Spirulina and wheatgrass is definitely an acquired taste.
After 90 sweaty minutes, we're driven back to the villa to shower and change, and then it's time for our first raw food cooking class. The Thai ladies from the kitchen give us a demonstration on making raw Pad Thai, along with a recipe so that we can recreate the delicious dish at home. After lunch, the crew takes us to Coral Island by long-tail boat for the weekly Sunday excursion. It's a great way to see Phuket as a tourist and get some sun and snorkeling in — but beware of the fish, they bite!
After dinner, there's boot camp on the beach, followed by a detox session in the Thai herbal sauna with alternating ice baths (great for the skin and boosting immunity). At 9pm, we return to our rooms to get massaged, a perfect way to melt away the muscle pain and drift off to sleep.
NEXT: See what happens on Day 2 and 3 of the Phuket Cleanse.
Day 2
Day two begins with another round of juices at 7am, and then we're off to Phuket Raw Fitness (a gym/raw foods restaurant owned by Phuket Cleanse) for an intense, circuit-training styled Muay Thai workout. To help us recover, we're given a bottle of coconut water to replenish our electrolytes and a bottle of clay water (don't freak out just yet — there's only traces of edible clay in it) that detoxes our bodies from the inside out.
After our workout, we slather our bodies with a luxurious coconut oil clay mask (provided by Phuket Cleanse) and relax at the nearby Thai herbal sauna, before returning to the villa for a qigong session with a local TCM expert. All that swaying like a rainbow gets our appetite worked up for our second raw food cooking class, where we learn to make a raw Thai laab salad.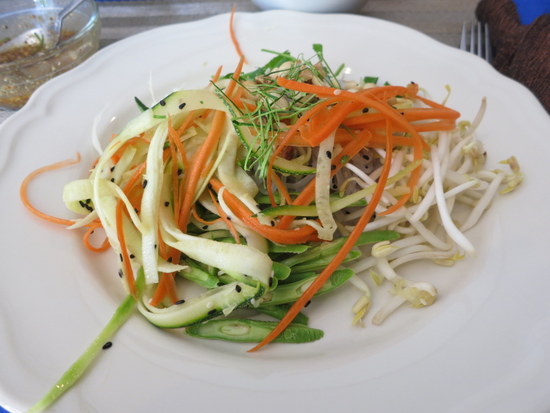 We liked how we were taught raw versions of our favourite Thai dishes.
The raw variation of this popular Thai dish uses sunflower seeds that have been soaked and run through a food processor until it resembles minced meat. When mixed with chunks of broccoli, pumpkin, wood ear and fresh Thai herbs like cilantro, chili and mint, it creates an amazing explosion of flavours in our mouths. Everyone agrees that they have never eaten this well in their lives, and are surprised at how delicious and filling raw food can be.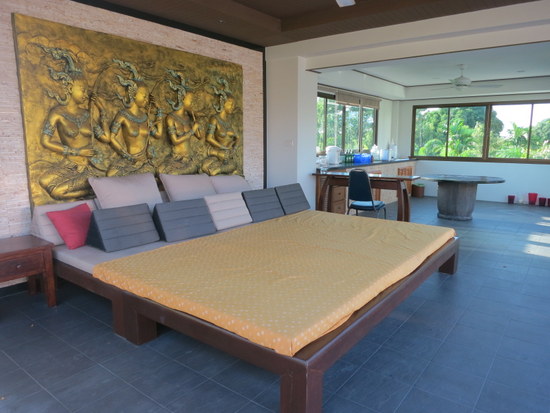 Recover from the day's activities in this comfy daybed.
After lunch, there's another bootcamp session back at the gym and Bikram yoga shortly after that, but those who want to take it easy can choose between a walk on the beach, an afternoon nap, or simply relaxing by the pool.
Dinner that evening is followed by a meditation session, and by 9pm, we are ready for our nightly massage.
Day 3
Day three is a little different since it's Tuesday, the day that Phuket Cleanse organises a weekly excursion to Thanyapura, a world-class sports and training facility in Thalang. With its own sports hotel, day spa, integrative health centre, tennis courts, state-of-the-art equipment and Olympic-sized track and swimming pools, Thanyapura is literally a paradise for fitness junkies.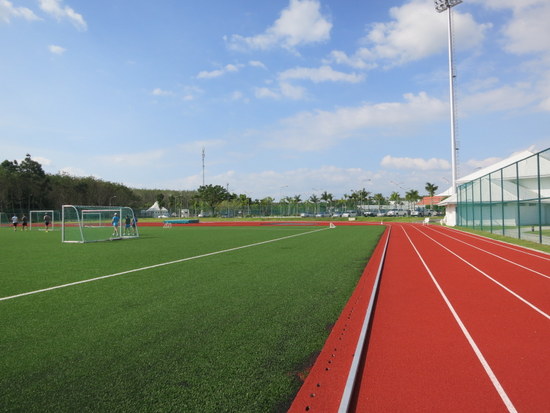 We had the track all to ourselves at Thanyapura.
After a morning session of Bikram yoga, we arrive at Thanyapura just after lunch and are given the option to join Zumba and Cardio Tennis classes in the afternoon, with the rest of the time being free to explore the facilities. We take advantage of the infrared sauna, do a little sprint work on the track, go for a swim and sun tan by the pool, and eventually wind down the day by checking our Facebook feeds from the TechnoGym treadmills.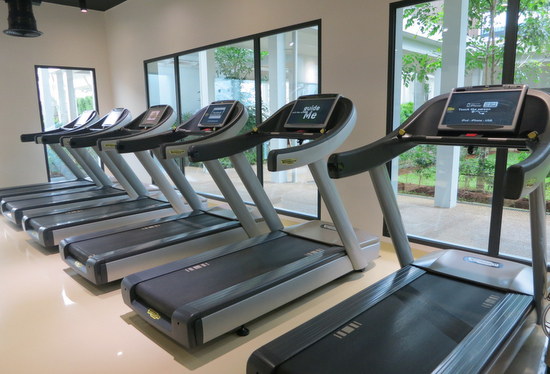 Update your Facebook status from these high-tech treadmills.
Before long, it's time to head back to Phuket Cleanse for another delicious raw dinner complemented by a short talk on tapping away emotional freedom by a guest speaker. By 9pm, our aching bodies are ready for that evening massage.
NEXT: See what our final verdict is of the Phuket Cleanse.
Verdict
It's a big statement, but I'll say it: Phuket Cleanse changed my life. I used to think I was pretty healthy, probably because none of my friends exercised or watched what they ate. In reality, I was putting just as much junk into my body — the only difference was that I felt guilty (hence, the regular workouts).
My experience at Phuket Cleanse taught me how to fuel my body properly through juicing and raw foods, while the three workouts a day proved to me that humans were meant to keep moving. Despite what seemed like an intense daily schedule, I had more energy than ever before, and it felt great!
Since the cleanse, I've lost 3-4 kilograms and kept it off, and am now much more aware of what I eat. I've bought a juicer (to recreate those amazing morning green juices), opt for organic produce, and have incorporated many power foods into my diet. It may not be a complete overhaul, but it's a small way of bringing a piece of Phuket Cleanse into my life.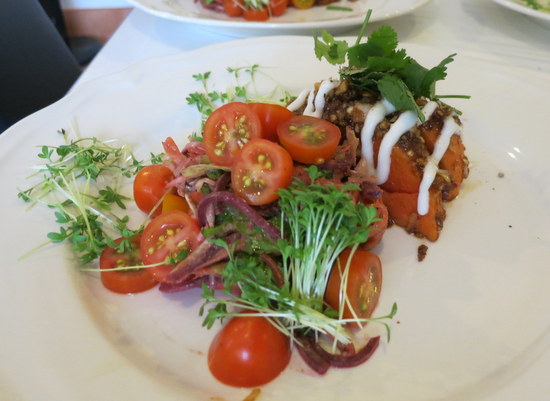 Raw food cooking is much more creative and delicious than you'd think.
Hong Kong is full of toxins, whether it's the stress of a busy day, heavy pollution, and of course, all that greasy fast food that we shovel down daily without a second thought. If you're looking for a place that'll help you kickstart your healthy lifestyle, and teach you how to maintain it even after your stay, I cannot recommend Phuket Cleanse enough.
The best part is — the program is flexible, so if you don't feel like joining some (or all) of the workouts and activities, you're free to relax in the villa or explore Phuket on your own. Of course, you only get out what you put in, so we recommend sticking to the program as closely as possible.
The three-day weekend glow program at Phuket Cleanse costs US$959.60 (approx. HK$7,438) while the seven-day super cleanse program costs US$1,980.60 (approx. HK$15,357).
For more information, visit www.phuketcleanse.com.