Updated on February 17 2014
Ever since the first cocktail was created in the 18th or 19th century, bartenders have been playing around with the original recipes to make them their own.
Now, Charlene Dawes, the creator of Tastings Wine Bar and Angel's Share, and Antonio Lai, reputably the pioneer of molecular cocktails in Hong Kong, are taking cocktail making to a whole new level at Hong Kong's newest cocktail bar, Quinary.
The buzz: Quinary, which means "five", takes the legendary chef Ferran Adria of El Bulli as inspiration and uses a similar "food-science" approach to engage all five senses (that's sight, sound, smell, touch and taste).
Currently in its soft opening phase, Quinary will celebrate its grand opening in early May to coincide with Lai's new book on multi-sensory mixology.
The look: With a central location at Lyndhurst Terrace and Hollywood Road, Quinary boasts a unique, one-of-a-kind long bar that leads to a rotary evaporator and centrifuge to prepare the ingredients in the cocktails. There's even a special caviar box for Lai's signature Earl Grey caviar martini.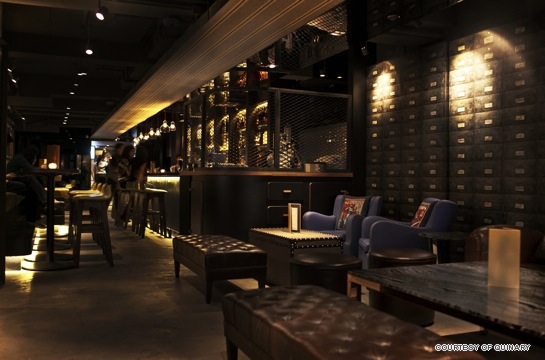 Expect a sultry setting at Quinary similar to whisky bar Angel's Share.
PR speak: "Flavour and aroma combinations together with different textures, appearances and even sounds will challenge every preconception held about cocktails. Where classics take on a new twist, where new drinks may become tomorrow's classics, Quinary will take you on a sensory experience into the new world of cocktails."
The food and drink: Drinks to try include the Quinary Sour (HK$90) made with Ballantine's whisky, licorice root, Chinese black sugar, egg white and bitters, the Crystal 24 (HK$100) with B24 gin, clarified grapefruit juice carbonated with Perlini shaker, and A Touch of Rose (HK$160), featuring Absolut Kurant, Monin rose and violet reduction and Champagne.
Tempting snacks to go with your cocktails include seaweed deep fried calamari (HK$78) truffle mac and cheese spoons (HK$88), garlic prawns in tom yum kung powder (HK$98), bloody mary mini beef burgers (HK$108) and the Quinary cheese platter (HK$188).
All prices at Quinary are subject to a 10 percent service charge.
Quinary, LG/F, Felicity Building, 56-58 Hollywood Road, Central, Hong Kong, +852 2851 3223, www.quinary.hk, open Monday to Saturday 5pm to 2am, closed Sundays