Updated on February 17 2014
We all know that the world's best sushi can be found in Japan (or Vancouver, Canada, some would argue), but anyone who's craving top-of-the-line sushi in Hong Kong can now get the next closest thing at Sushi Yoshitake.
What it is
Sushi Yoshitake is Chef Masahiro Yoshitake's first restaurant outside of Japan (his first being the Michelin three-star sushi restaurant in Ginza, Tokyo by the same name).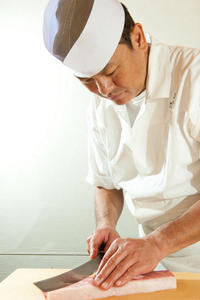 Chef Yoshitake will be using only the freshest and most seasonal Japanese ingredients at Sushi Yoshitake.
Choosing to open in Hong Kong because "there are a lot of gourmands here, people who truly understand good food and can appreciate good sushi," Chef Masahiro is out to prove that great Japanese food can exist outside of Japan.
Location
The narrow eight-seat sushi bar feels deliberately hidden on the ground floor of The Mercer Hotel in Sheung Wan and is decorated in a simple fashion with light wood and comfortable lighting. Diners sit in a row facing the chefs to get an intimate and personal dining experience, omasake ("trust the chef") style.
Food and drink
Currently serving dinner only, Sushi Yoshitake has three set menus created around the freshest and most seasonal ingredients from Japan: Rin (HK$2,500 for 10 pieces), Miyabi (HK$3,500 for 13 pieces) and Ho (HK$4,500 for 15 pieces).
Chef Yoshitake takes great care in creating unique sauces for dipping.
Sous chef Yoshiharu Kakinuma recommends the Miyabi to get the same three-star experience as in Tokyo. Be sure to tell the chefs what you do and don't eat, as they are fully open to customising the menu based on your preferences (unless you ask for Coca-Cola, which they do not stock).
For our tasting of the Rin menu, we were served five courses to start before delving into 10 pieces of nigiri, followed by some light desserts.
Standout dishes
Although we'd like to list everything (it was that good), our favourites from the meal were the seabream sashimi with fishbone soy sauce, the meaty yet tender octopus and abalone chunks served with liver sauce.
Each piece of sushi is handmade in front of you at Sushi Yoshitake.
The sea urchin pudding was extremely creamy, light and fresh, and the marinated Spanish mackerel roll with Japanese mint, pickled squash, Japanese ginger, sesame seed and white kelp was not only beautiful to look at but tasted fantastic as well.
All of the nigiri was fresh and delicious and served warm from the chef's hands into our own (they recommend eating the sushi with your hands and in one bite), paired with the red vinegar sushi rice. We also loved the sea eel with eel sauce, a fluffy cloud of delicious eel that literally melted in our mouths.
Verdict
The menus at Sushi Yoshitake are no doubt pricey, but what you get for your money is an authentic sushi experience straight out of Tokyo in Hong Kong.
Sushi Yoshitake, G/F, The Mercer Hotel, 29 Jervois Street, Sheung Wan, Hong Kong, +852 2643 6800, www.sushiyoshitake.com