Updated on February 17 2014
The Dutch are known for many things (like cheese, clogs, tulips and windmills), but a refined palate and cuisine just isn't one of them. However, you'd never know that if the only Dutchman you'd come across was chef Richard Ekkebus.
The culinary director of The Landmark Mandarin Oriental in Hong Kong oversees all cuisine at the five-star hotel, including their modern French restaurant Amber. Under Ekkebus' supervision and guidance, Amber has been awarded two Michelin stars for four consecutive years and part of the World's Best Restaurants for the past three years.
Trained in classical French cuisine, Ekkebus is admired for his fresh ideas and innovative spirit with a focus on superior produce and ingredients sourced from all over the world. Here, he shares with us his favourite Hong Kong restaurants and signature recipe from Amber:
Name: Richard Ekkebus
Hometown: Holland
Years in Hong Kong: 7
Cooking background: I started out as an apprentice in Holland under Hans Snijders and Robert Kranenborg (both Michelin-starred chefs) and won the Golden Chef's Hat for "Young Chef of the Year". Later I honed my skills under Pierre Gagnaire, Alain Passard and Guy Savoy, and became executive chef at the Royal Palm Hotel in Mauritius, followed by The Sandy Lane in Barbados seven years later. I joined The Landmark Mandarin Oriental in 2005.
Favourite thing to cook at home: I'm a rather lazy chef at home and prefer something simple, like a cheese board or some puro de Bellota ham. I particularly like the one from a small family-owned company called Dehesa, who cure their ham between 36 to 52 months and salt it way less than some of their counterparts (try it at the Amber bar).
I like to serve the ham at room temperature with some tomato bread, which is a slice of sour dough bread rubbed with garlic and grilled on both sides. Topped with a few crushed organic tomatoes seasoned with extra virgin olive oil, salt and white pepper — that's what I call true heaven.
Favourite restaurants in Hong Kong:
Dimdim Sum Specialty Store (G/F, 7 Tin Lok Lane, Wanchai, Hong Kong, +852 2891 7677) — try their excellent fried stuffed eggplant, treasures wrap of chicken, fish maw, mushrooms and ginger, and the pan-fried tofu skin with chicken and cumin. The siu mai and har gow are good too, but for the more adventurous types, try the pig's blood with XO sauce or steamed tripe with black pepper sauce.
The Chairman (18 Kau U Fong, Central, Hong Kong, +852 2555 2202) — great for traditional Cantonese cuisine and reminiscing "the good old days". Must-try dishes include the steamed flower crab enhanced with chicken oil and Shaoxing wine and the Chairman's soy sauce chicken, prepared with 18 different spices. The squid in shrimp oil and mustard is also a great dish with French beans and stir-fried squid mixed with pommery and English mustard, as is the salted fish paste stir fried pork neck with lotus root.
Best cooking advice: Passion is the most important factor. You can have the greatest knives and best ingredients, but without a great dosage of passion it will just be any dish. Then comes the combination of great ingredients, skills and fine equipment.
Signature dish: Sea urchin in a lobster jell-o with cauliflower, caviar and crispy 'seaweed' waffle (see recipe on page two)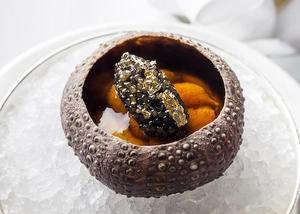 Sea urchin in a lobster jell-o with cauliflower, caviar & crispy 'seaweed' waffle by Chef Richard Ekkebus
Ingredients:
| | | | |
| --- | --- | --- | --- |
| 6 | Sea urchins from Hokkaido | | |
| Cauliflower mousse: | | | |
| 300 grams | Cauliflower | 1 litre | milk |
| 3 grams | Gelatine sheets | 200 grams | cream, fine sea salt |
| 'Seaweed waffle': | | | |
| 50 grams | Spinach leaves | 20 grams | Nori sheets |
| 5 grams | Unsalted butter | 20 grams | Organic egg whites |
| 20 grams | All purpose flour | 0.5 grams | Fine sea salt |
| Lobster consomme: | | | |
| 1 x 500 grams | Blue lobster | 1 | Vine ripened Italian tomato |
| 1 tablespoon | Olive oil | 1/2 stem | Celery |
| 1 | White onion | 20 centilitres | Cognac VSOP |
| 1/4 litre | Dry white wine | 1 litre | Chicken stock |
| 12 grams | Gelatine sheets | | |
| Garnish: | | | |
| 40 grams | Caviar | 1 | Gold leaf |
| 50 grams | Dulce seaweed | | |
Instructions:
Lobster consommé: Heat the olive oil, add the lobster until it's a golden brown colour, then add the vegetables and deglaze with the brandy. Add the white wine and reduce until it becomes a syrupy consistency. Add the chicken stock and boil. Keep under the boiling point and simmer for 20 minutes. Take off the stove and leave to set for 30 minutes. Reheat one litre and resolve the gelatin. Cool down delicately over ice until the gelatin starts to set.
Cauliflower mousse: Boil the cauliflower in the salted milk until the cauliflower is well cooked and fondant. Mix the cauliflower in a blender until it becomes a smooth consistency. Take 100 grams of cauliflower puree, heat and resolve the gelatin, cool down delicately over ice till the gelatin starts to set. Whip the cream with a pinch of salt 'half', then incorporate the half whipped cream and mix delicately. Check the seasoning and adjust with salt if needed.
Seaweed waffle: Blanche the spinach leaves in salted boiling water. Cool down in ice water and squeeze out the excess water. Mix the spinach and nori in a blender until it becomes a smooth consistency, then press it through the sieve. Mix all the ingredients and mix in the butter until smooth. Preheat the oven at 180 degrees Celsius and bake for eight minutes until crispy. Cool and serve.
Montage sea urchin: Place 2½ of sea urchin tongues in the centre of the cooled shells, cover with a ½ sphere of 30 mm of cauliflower mousse. Cover each with two tablespoons of almost set jell-o. Place in the refrigerator for one hour to set.
To serve: Place the sea urchin shell on shaved ice, garnish with the dulce seaweed and a quenelle of 10 grams of caviar. Add the gold leaf on top and serve with the crispy waffle on the side.
Amber, 7/F, The Landmark Mandarin Oriental, 15 Queen's Road, Central, Hong Kong, +852 2132 0066, www.mandarinoriental.com