Updated on February 17 2014
Although the term 'luxury junk' might seem like an oxymoron, anyone who's ever had to hand-pump a junk boat's blocked toilet in the middle of the sea will certainly understand our preferences for the luxurious.
Instead of going with the usual Hong Kong junk boat suspects this year, opt for one of these five more luxe options:
1. Sail Cruise
Sail Cruise offers relaxing 2.5 hour cruises at any time of the day — morning, afternoon or evening in a luxury 40 feet Beneteau yacht. Feel the wind in your hair and smell the salty sea as you and your friends enjoy the ride with a complimentary glass of bubbly in one hand and a choice of light refreshments for just HK$888 per person.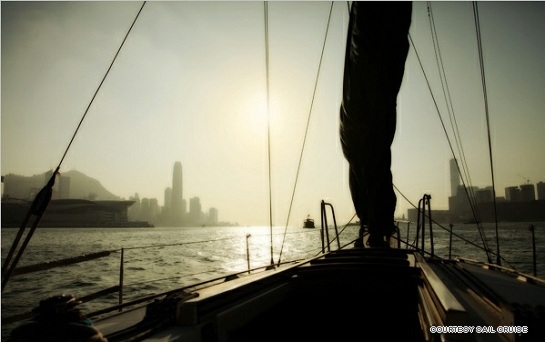 There's nothing more glorious than starting your day on a yacht and enjoying the sunny outdoors.
Those wishing to have more privacy can organise a private charter in one of Sail Cruises boats to explore Hong Kong's outlying islands or visit fishing farms and local seafood restaurants.
Sail Cruise, +852 5178 1731, www.sailinginhk.com
 
2. The Volvo 60 'V1'
Spoil yourself and 24 of your closest friends with a Hong Kong junk boat trip on the legendary Volvo 60 'V1', the only one of its kind in Asia and the same sailboat that won the Round the World race under legendary Skipper Paul Cayard in 1998.
A light wine tasting cruise is available on Saturdays as well as a wine tasting cruise with dinner, with all food, beverages and the theme tailored to your preference.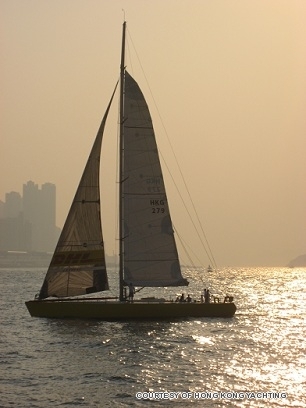 With wine, the Hong Kong lights and an exclusive yacht, there shouldn't be anything else on your mind for the summer.
Tickets for the light show wine cruise are priced at HK$550 per person and depart every Saturday from Central's Pier 10 from 6:30pm to 8:30pm.
Hong Kong Yachting, Rm 801, 8/F, Tai Yau Building, 181 Johnston Road, Wanchai, Hong Kong, +852 2526 0151, www.hongkongyachting.com
3. Saffron Cruises
Throw a party that all your friends or business buds will remember on the Bounty, the only tall ship of its kind in Hong Kong. Holding a capacity of 60 people, this luxury boat is perfect for a variety of private functions and celebrations. Saffron cruises has even partnered with Shamrock catering services so you can have a feast on board.
The Bounty ship almost resembles a vessel from the Pirates of the Caribbean and is large enough to carry your own crew.
The Bounty ship is available for day (10am to 6pm) or night (7pm to 11pm) rental at a price of HK$41,000.
Saffron Cruises, Level 20, Teda Building, 87 Wing Lok Street, Sheung Wan, Hong Kong, +852 2857 1311, www.saffron-cruises.com
4. Sea Lagoon Junks
If you don't know where to go for your next Hong Kong junk boat ride, the vessels at Sea Lagoon Junks go everywhere from Sai Kung to Stanley to all the seafood islands. Choosing the destination is the hard part, but choosing the boat you want to sail in is even harder with over 15 different kinds of ships to pick from. Catering and snack baskets are also available for purchase to wine and dine in the water.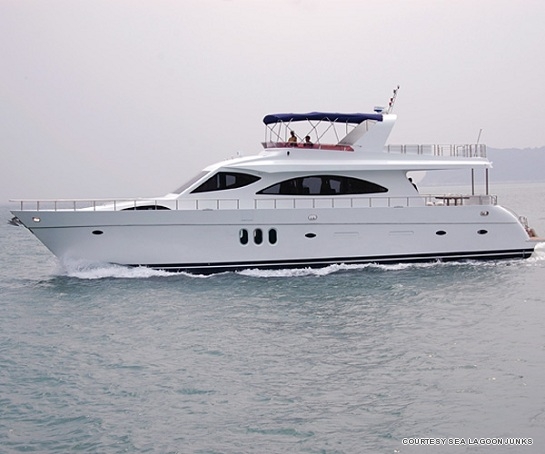 The SL011 is ideal for gatherings up to 35 people and is equipped with air conditioning, an open deck and a music system.
Our top pick is the Cruiser 72, a gorgeous yacht with a total of four bedrooms, one shower, electric ovens on board, DVD machines, karaoke and air conditioning on board.
Sea Lagoon Junks, Room 1801, Wing On Central Building, 26 Des Voeux Road C., Central, Hong Kong, +852 2165 4196, www.sealagoon.com
5. Aqua Luna
The renowned Aqua Luna is one of Hong Kong's most popular junk boats, with its notorious red flags flapping against a traditional Chinese junk. Book tickets on this vessel for a stress-free, relaxing 45-minute trip around Victoria Harbour as you lounge on comfortable seats and sip on some cocktails.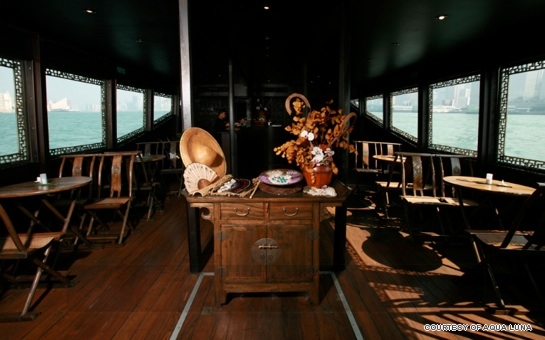 The interior of the Aqua Luna is stylishly designed, as expected.
Harbour tour tickets start at HK$150 to HK$240 depending on the time of day for adults, and day cruises to Stanley, Aberdeen, Cheung Chau island and Tin Hau temple are also available on Saturday and Sundays.
Pier Number 9, Central and Pier Number 1, Tsim Sha Tsui, +852 2116 8821, www.aqua.com.hk