Original backpackers of days gone by will tell you that Chiang Mai is no longer the way it was, thanks to today's prevalence of international chains like Starbucks and McDonalds in the city. And while there's no doubt that the "rose of the North" has seen rapid development over the years, there's still a place you can go to relive the nostalgia of old Chiang Mai — at 137 Pillars House.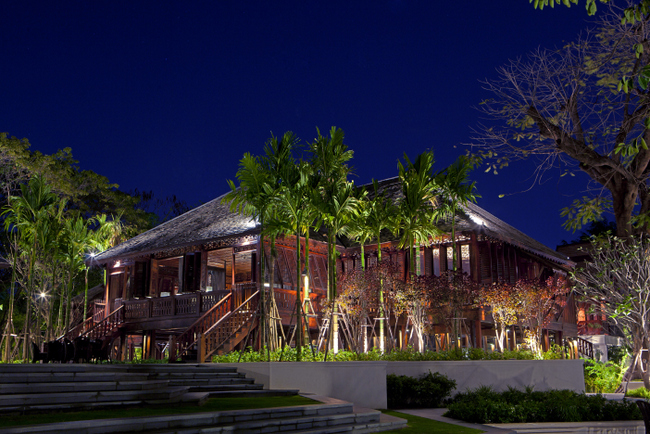 137 Pillars House is named after an original teak house from the East Borneo Company.
Once the property of the East Borneo Company, 137 Pillars House is named after an original colonial teak house from the 1800's that remains the centrepiece of the hotel today. The hotel is located northeast of the old city along the Mae Ping River in the Wat Gate area (just 15 minutes from the airport), and its 30 colonial-style suites now surround the original teak house amidst lush tropical Northern Thai gardens.
Checking in
It almost seemed wrong to arrive at 137 Pillars House by tuk tuk, as the otherwise quiet, serene and shaded driveway was choked by our vehicle's noisy and sputtering sounds. Two shiny traditional Thai rickshaws parked in the driveway seemed like a quieter way to get around, but before we knew it, a pair of young and handsome Thai men with beaming smiles had popped out of the boutique hotel's doorway to greet us.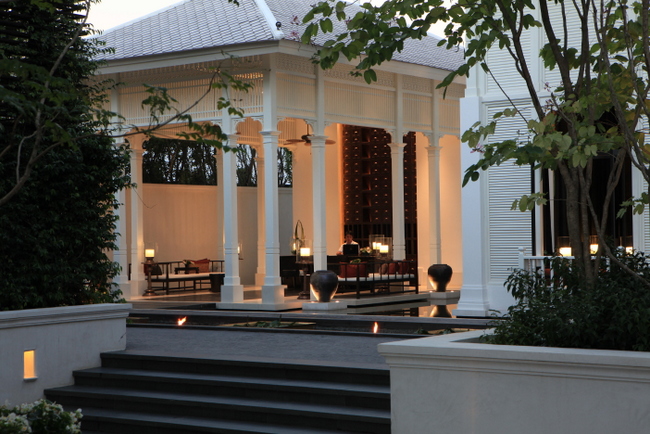 Check-in from the airy and lofty reception sala.
Check-in took place in a tall and lofty sala at the entrance of the hotel, designed in true colonial fashion with vintage ceiling fans and a wall of dark wooden drawers behind the reception staff. While we waited, we were given a Thai Jasmine floral wreath, cool towel and refreshing purple welcome drink each.
The room
Out of the 30 suites at 137 Pillars House, we stayed in one of the 20 Rajah Brooke suites, which featured a four-poster king-sized bed, free-standing Victorian-style bathtub, indoor/outdoor shower, walk-in closet, and vintage tiled veranda overlooking the courtyard — totaling over 70 square metres of living space.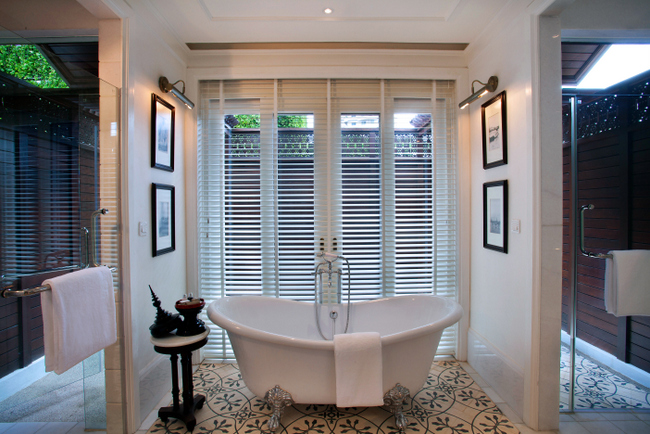 Soak your stresses away in the luxurious Victorian-style bath tub.
Modern amenities included complimentary Wi-Fi, a 32-inch flatscreen television, DVD player and iPod connectivity, while the classic emerald green and dark wood decor, elephant motif sculptures and black and white framed photos of old Chiang Mai on the walls reminded us of the city's past. Other perks we enjoyed included the complimentary minibar, welcome basket of seasonal Thai fruits and gorgeous-smelling luxury amenities by Panpuri.
Dining
Don't miss breakfast at The Dining Room, which included a stunning buffet spread of fresh yogurts, fruits, pastries and cold cuts, and unlimited amounts of whatever we wanted from the a la carte menu (including eggs, Asian dishes like pad thai or congee, Western delights like waffles and French toast and healthy choices like tofu scrambles).
Enjoy a game of chess or backgammon in the Jack Bains Bar.
In the afternoon, The Parlor serves high tea in the Pillars House, poolside or on the lawn, while drinks, wines and cocktails can be had in The Jack Bain's Bar or Wine Cellar (also in the Pillars House).
Facilities
With an impressive library of books on Chiang Mai and Thailand, DVDs for rental, and the latest newspapers and magazines from around the world (not to mention chess and backgammon boards), the museum-like Jack Bain's Bar in the Pillars House is the perfect place to lose track of time.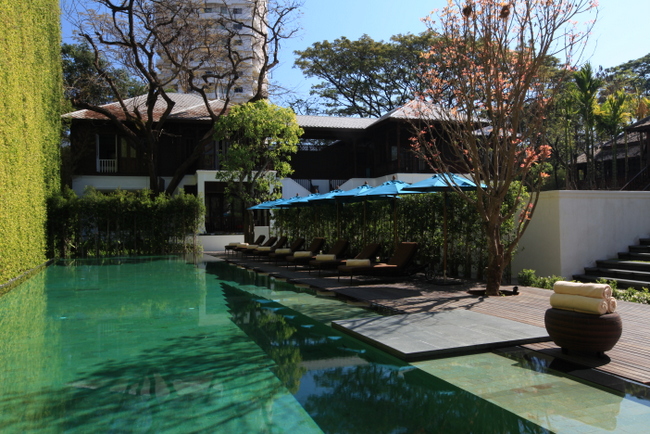 The pool at 137 Pillars House is small and intimate.
Or, pamper yourself at the on-site spa, relax at the pool with some complimentary homemade sorbet, cool towels and atomiser mists, or work off your last meal at the Pillars House gym.
Verdict
137 Pillars House won us over easily with its colonial charm and elegant design, but it was its service-minded staff that made our stay that much more memorable. Whether it was a map, insect repellant, a cab or tuk tuk, the hotel staff were always one step ahead of us — delivering whatever we needed with a genuine smile. And with names like Beer and Toast, how could we not smile back?
The Rajah Brooke suite at 137 Pillars House is priced at THB 11,100 (HK$2,833) a night from now until 30 April 2013.
137 Pillars House, 2 soi 1 Nawatgate Road, Tambon Watgate, Muang, Chiang Mai, Thailand 50000, +66 5324 7788, www.137pillarshouse.com