While we patiently await Marriott International's Renaissance Bo'ao Resort & Spa to open in China in 2015, here's one opening in another part of China that both business and leisure visitors to Shanghai should keep a lookout for — Shanghai Marriott Hotel Pudong East.
Earlier this month, the international hospitality brand opened its 62nd hotel in China, which is also the 20th in Shanghai alone, making Marriott the largest full-scale hotel operator in the city. The 323-room Shanghai Marriott Pudong East is under the company's flagship brand — Marriott Hotels & Resorts, opened under a long-term management agreement with Shanghai Hengchang Industry Co., Ltd.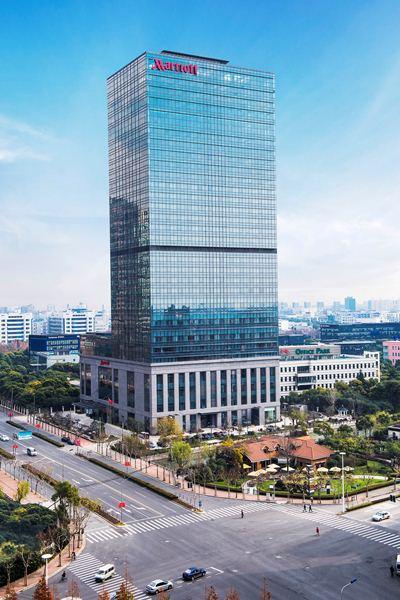 The hotel is easily accessible from both Pudong and Hongqiao international airports in the city.
Pudong, as most will know, is the centre of industrial parks, business trade shows and exhibitions, with the Shanghai New International Expo in the heart of it. Located just five minutes away from that is where Marriott's latest hotel lies, close to two major industrial parks which are home to the China headquarters of many Fortune 500 companies.
And with that ideal location, we'd expect the hotel to be catered mainly to business travellers, with a full array of services available such as the hotel concierge and hotlines that will provide guests with city information and travel advises. Guests staying on the Executive Floor will also enjoy exclusive access to the 21st floor club lounge catered for a hideout or getaway after a long day at work, with great panoramic views of the city.
While we'll spare you the full details of what the hotel has to offer (just so you can see for yourselves while you're there), you'd be pleased to know that they have quite a few restaurant selections, including traditional Cantonese, Shanghai and Italian cuisines as well as international flavours to cater to everyone's palates. And we're not at all surprised that this hotel offers a 1,705-square-metre banquet space, including a pillar-less ballroom and 10 function rooms that feature natural light. Relax in fully-equipped fitness centre, which comes complete with a heated indoor pool, Jacuzzi, steam bath and sauna as well as spa treatment rooms. 
In conjunction with its grand opening, Shanghai Marriott Hotel Pudong East is launching a series of special offers that are valid until 31 August 2013. These include bonus points for Marriott Rewards members; guests are entitled to free buffet breakfast for a minimum consecutive stay at two nights from CNY1,480; plus an opening meetings package from CNY488 per person per day for a meeting room. 
For more information or reservations, please call Shanghai Marriott Hotel Pudong East at +86 21 6036 8888 or visit www.marriottpudongeast.com.