For an unforgettable and truly unique travel experience, filled with culture and lush sceneries, the capital city of Lebanon is your ticket to a splendid holiday during the year-end. Located in western Asia, Beirut enjoys natural beauty with a backdrop of mountainous regions and ample Cedar forests along most routes; thus making your way to the city from December to February would ensure the greens and picturesque views are at their prime.
Where to stay: Hotel Albergo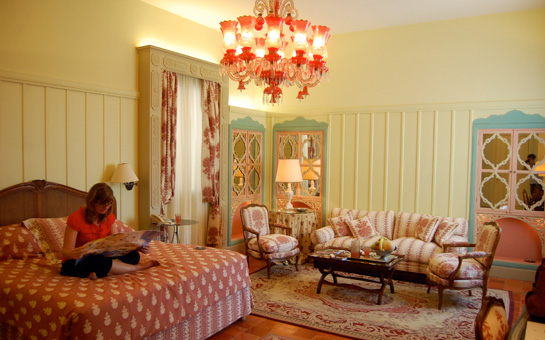 All 33 rooms in Hotel Albergo carry designs unique to each other, but every room exudes a sense of elegances and luxury.
Having been converted from a well-maintained mansion to a charming hotel in one of Beirut's oldest quartiers, Hotel Albergo sets the scene for a romantic holiday with the comforts of luxury and privacy at hand. The Relais & Chateaux property consists of 33 uniquely embellished rooms, some of which enjoy the company of a chandelier with Ottoman beading, or a four-poster bed.
Fit with a warm Jacuzzi round the back, and showcasing spacious living in every abode, it isn't difficult for anyone to get accustomed to the splendours of it all. The Al Dente Italian restaurant in Hotel Albergo serves delectable selections of Italian cuisine, and it's definitely a must-try as it boasts a good reputation among the city folk. Breakfast is served on the rooftop of the hotel; and should you want to engage in an early morning dip, the venue features a wide swimming pool.
Hotel Albergo, 137 Rue Abdel Wahab El Inglizi, Beirut 00000, Lebanon; +961 1 339 797; www.albergobeirut.com 
Where to go: Jeita Grotto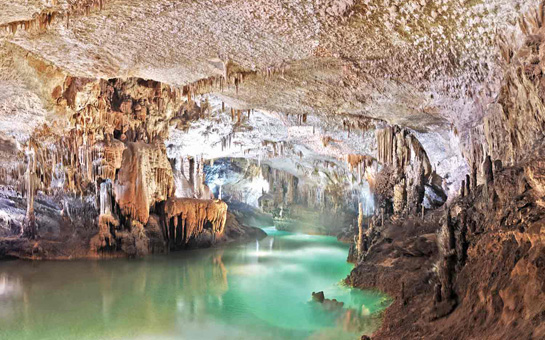 The beautiful sights of the Jeita Grotto caverns makes one think about the fragility of nature and would most definitely give one a close up look at these natural formations (apart from seeing them in books).
Take to exploring the magnificent underground caverns, made famous in Beirut by tourists, where you'll get a bountiful glimpse of large stalactites and stalagmites. The breath-taking natural formations can be viewed either by foot or by boat in the caves, but make sure you don't get caught taking pictures as there's a strict no-no for photography. We suggest taking mental pictures instead, to avoid the unnecessary trouble by the security in-charge.
Jeita Grotto, 20 km north of Beirut, Beirut, Lebanon
Where to go (2): Our Lady of Harissa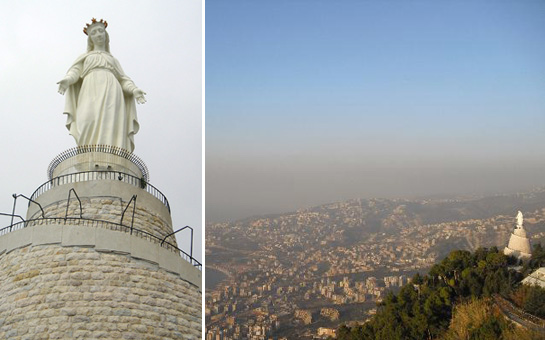 The intimate chapel below the statue of Our Lady of Harissa will give most spiritual comfort. For others, the view from atop the hill ,and on the statue's walkway itself, displays a fantastic view of Beirut and the coastline.
A gorgeous monument set atop a hill, the Our Lady of Harissa statue stands on an intimate chapel surrounded by a surveyor's view of Beirut. A trip to the venue will provide most with religious comfort, and for others it will give one the idea of the many religions that revolve around the Lebanese people — a lesson on Lebanon and its people, if you will.
The journey there is also a great experience: choose to get on a cable car ride to the top, or go through winding roads. And whichever your choice of route, both provide beautiful sceneries of the country (with views of the coast line, hill sides and the popular Cedar Trees of Beirut).
Our Lady of Harissa, Harissa, Jounieh, Beirut, Lebanon
Where to eat: Mounir Restaurant
For a truly gastronomical experience, and to have a taste of authentic Lebanese cuisine, give Mounir Restaurant a try. Along with prompt service, the restaurant is known for serving up the area's best local dishes. Also, with the restaurant overlooking a glorious pine forest and the lush city below it, Mounir Restaurant proves a beautiful venue to have a cosy lunch or dinner at.
Mounir Restaurant, Brummana, Beirut, Lebanon; http://www.mounirs.com/