When one thinks of Qatar, the first thing that comes to mind is undoubtedly 'Qatar Airways'. Apart from the emirate's well established airway company, Qatar has much more to offer with its lavish hotels and interesting locations. With that, we bring you three places to be at in Qatar for a splendid retreat away from home and work.
Where to stay: Movenpick Tower Doha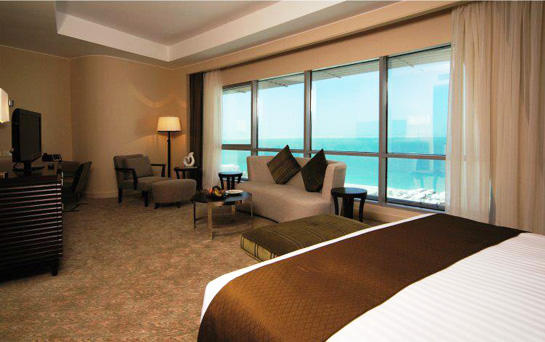 If you're lucky, you can enjoy a view of the Persian Gulf from the window of either your contemporary furnished room or suite in the Movenpick Tower Doha.
"Luxury is the possibility to stay close to your customers," once said Christian Louboutin in an interview, and in a similar subject matter the luxurious Movenpick Tower Doha is just a mere 15-minute drive from Doha International Airport — close to its arriving guests.
390 contemporary yet posh rooms and suites make up the emirate's latest 26-storey hotel and together with its luxury spa services the experience totals up to a relaxing and comfortable stay, whether you're alone or with your partner.
To ensure you enjoy your stay to the fullest, the hotel offers exquisite amenities such as the state-of-the-art health and wellness centre that overlooks both the city and the Persian Gulf, hot tub and massage therapies, and an indoor sauna. Not forgetting those who want to frolic in freedom or head to the sauna without worrying about their children; the hotel offers a children's playroom. Movenpick Tower Doha also offers impeccable service and great buffet breakfast daily.
Movenpick Tower Doha: West Bay Area, P.O Box 22752, Doha, Qatar; http://moevenpick-hotels.com/en/middle-east/qatar/doha/hotel-doha-tower-suites/overview/
Where to go: Khor Al Udeid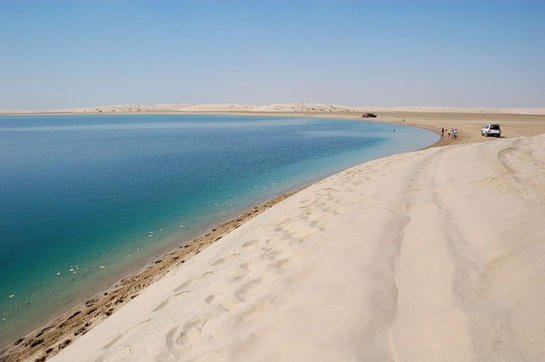 The beauty that is the vast inland sea, surrounded by powder-sand, is sure to cure your jet-lag fatigue in an instant!
After resting up in the comfort of your luxury suite, it's time to grab your sunscreen and beach wear for some fun in the sun at Khor Al Udeid beach. But just before you head out, don't forget to bring along an experienced tour guide and a four-wheeler — available upon request from the friendly hotel staff; the pristine beach's location isn't one you can find for yourself (it isn't located at the coast).
Khor Al Udeid beach is oddly located in-land, surrounded by natural sand dunes, hence the beach being coined the 'inland sea'. The crystal-clear water of the area and the ever-changing landscape of the sand dunes are reminiscent of a large oasis; it is  definitely not a place to be missed. For those who seek the wildlife of the desert, there are plenty of roaming camels that you are bound to meet on your way to the area.
There are different routes leading to the beautiful beach however as mentioned, one has to bring along a tour guide who knows the area as with the many routes come perils for each one; especially since the journey is off-road, one can easily get lost in the desert. Bring a large water bottle too as it can get really hot out there.
Khor Al Udeid: 78 km away south-east of Doha, Qatar
Where to party: Wahm Poolside Lounge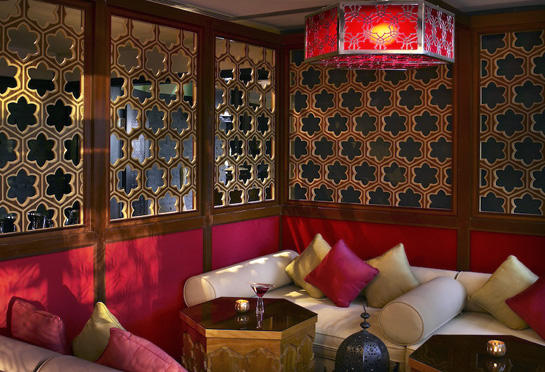 Wahm Poolside Lounge's colourful interior adds 'flavour' to the Mediterranean style cuisine.
If W hotel's Wahm Poolside Lounge passes Kanye West's infamous snappy judgement of a great chill out area then it's definitely happening enough for any party folk.
The lounge offers both a poolside cabana-sitting outside and a burst of colours inside with a comfy cushion filled banquet. Aside from the ubiquitous cocktails, the lounge offers Arabian inspired tapas, desserts and follows a Mediterranean style cuisine.
Wahm Poolside Lounge: West Bay, W Hotel, Doha, Qatar; http://www.wahmdoha.com/