Looks like there's no stopping towards the hospitality invasion in China. Following the debut of Worldhotel Grand Juna Wuxi last year, Worldhotels continues with yet another opening in the renowned 'Venice of the East' — Suzhou, with the opening of Worldhotel Grand Dushulake Suzhou on 26 October 2012.
Worldhotel Grand Dushulake Suzhou, as the name suggests, overlooks picturesque Dushu Lake, from where it resides in the Suzhou Industrial Park. A marriage between traditional Chinese flavour with modern contemporary design, the hotel houses 330 elegant rooms and suites, all with free broadband internet and 40-inch LCD TVs. Among them, 33 executive rooms and suites in the Premier House will provide panoramic views of the vista.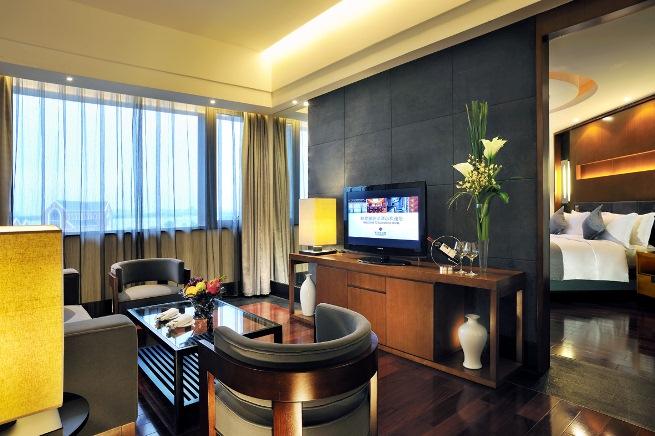 All of Worldhotel Grand Dushulake Suzhou's guest rooms and suites provide expansive views of the Dushulake, with 33 of which enjoying particularly spectacular panoramic vistas.
The hotel is also just 15 minutes away from the historic centre of Suzhou, which is one of the country's top tourist attractions, famed for its UNESCO World Heritage listed canals, stone bridges, pagodas and ornamental gardens. For business travelers, Worldhotel Grand Dushulake Suzhou's ideal location (conveniently located near expressways that connect the city to Shanghai, Nanjing and Hangzhou) allows for easy access to anywhere around the city, and is just an hour away from Shanghai Hongqiao International Airport.
"Worldhotel Grand Dushulake Suzhou is a prestigious addition to the Worldhotel brand portfolio in one of China's most booming cities," said Worldhotels executive vice president Asia Pacific, Roland Jegge.
An indoor swimming pool is just one of many facilities the hotel provides, including a state-of-the-art Health & Recreation Centre, spa and KTV entertainment.
A hotel ain't complete without a restaurant serving up some local fare. Suz Garden will serve some of the finest Huaiyang, Shanghai, Sichuan and Cantonese cuisines, while Octagon, international western, for those of you who may have differing taste buds. Other facilities you can expect include a state-of-the-art Health & Recreation Centre, spa and KTV entertainment. Two 1,000-square-metre pillar-less ballrooms, a 500-seat auditorium, 18 meeting rooms with VIP lounges and exhibition areas are also available with all the modern set-up needed for any kinds of events and functions.
With the opening of Worldhotel Grand Dushulake Suzhou, it will also mark the start of the brand's extension with another 10 hotels in China by 2013,  with more luxury and upscale hotels in the pipeline for Beijing, Shanghai, Xi'an Chengdu, Xiamen, Guangzhou, Ningbo, Chongqing, Shanxi and Hainan.