Loewe does a 180 degrees from the structured bags that dominated their Spring/Summer 2011 collection with the reintroduction of the iconic Loewe Flamenco Bag in its pre-collection Autumn/Winter 2011 collection. The curvaceous, slouchy napa leather bag has been described as Loewe's funniest and cheekiest yet.

The Flamenco is an update on its 1984 original, now containing more contemporary proportions, a new strap, oversized tassels, and is available in a range of the most un-Autumn colours done in the ubiquitous colour-blocking. Think bright hues like hot pinks, flame and fuschia, as well as cool shades of beetroot and apple green – it is indeed worthy of its "cheeky" description.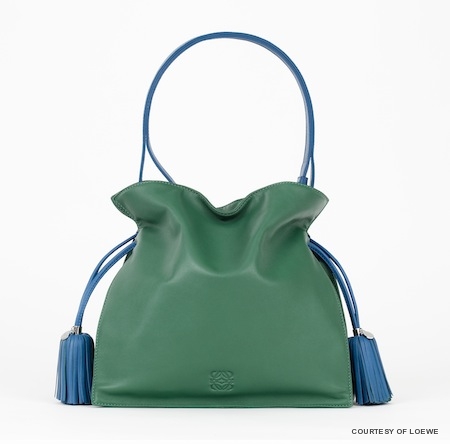 While the colours are bold, the design is a little more subdued. The Flamenco is almost a slouchy hobo bag with long straps and tassels, hiding four pockets on the inside. The only visible branding is a discreet logo at the side of the bag.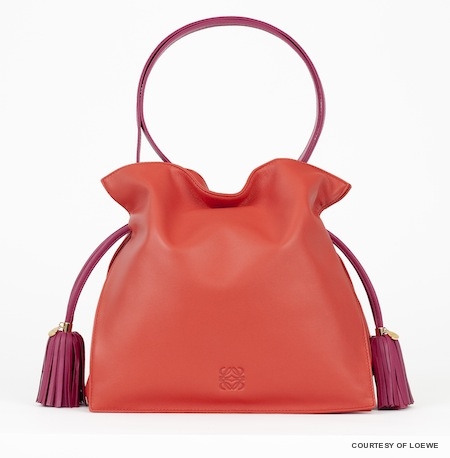 All in all, the Flamenco is extremely functional, which may lead to some people balking at the slighty hefty price tag for something that's seemingly simplistic. However, there is no denying the sheer quality of a Loewe napa leather bag – the leather is incredibly soft and smooth, a dream to the touch.

And when it gets frustrating trying to fit in one too many things into a tiny structured box of a bag, the Flamenco is a lifesaver with its roomy compartments and long straps. It even comes with a detachable double strap allowing it to be carried across the body.

The Loewe Flamenco Bag is now available at all Loewe boutiques worldwide, including Singapore, Hong Kong, Malaysia and Thailand, and retails at S$2690 for the small (22cm width) and S$3450 for the large (29.5 cm width).