In the search for paradise, look no further than The Maldives and Cambodia. Both countries boast two brand new resorts on paradise islands that set the standard in treading lightly.

Niyama Resort, The Maldives
Like a jewel in the Indian Ocean, the first island of paradise is located in the southwestern atoll of Dhalu, just a 40-minute seaplane flight from Male.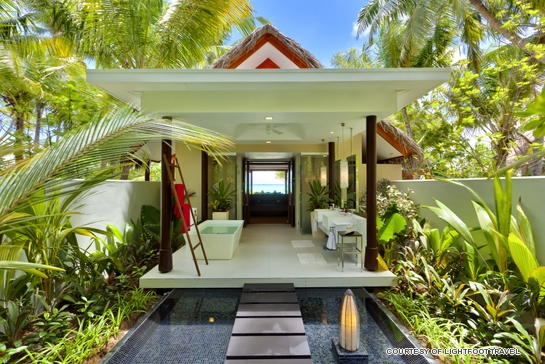 The brand new Niyama Resort is made up of 86 stylish private studios and pavilions spread out over two idyllic paradise islands, Embudhufushi and Olhuveli. Due to open this October, the resort balances tranquility with fun whilst paying the utmost respect to its environment.

The jewel in the resort's crown is the jaw-droppingly beautiful, signature restaurant, Edge (only accessible by boat), which has been built 500 metres off shore, giving it unrivaled 360-degree views.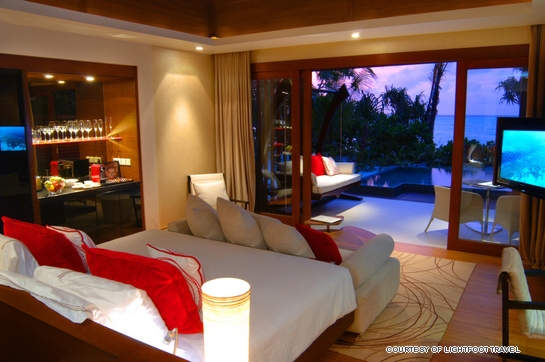 And after you've finished a delicious meal of fresh, sustainably sourced seafood cooked up by the head chef, what could be cooler than heading below to the world's first underwater club?

If you're more spa than bar, Niyama's Lime Spa will satisfy even the most discerning of spa-goer.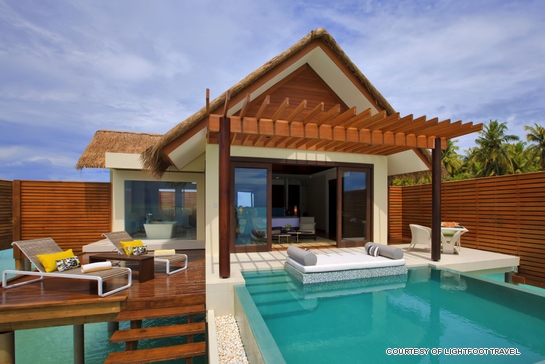 As with many parts of the Maldives, diving is a big pull to this area of the world. But what's most exciting is the marine biology lab that has been built for coral rehabilitation, so that places like Niyama can stick around forever.

Song Saa Resort, Cambodia
The second undiscovered treasure belongs to the untouched Koh Rong archipelago in Cambodia. The brainchild of an Australian couple who fell in love with Cambodia on their honeymoon, Song Saa (which means 'the sweethearts' in Khmer), is a unique, eco-conscious private island resort that spans over two paradise islands connected by a rustic footbridge.
Set to open in February 2012, Song Saa is Cambodia's first ever island resort. Consisting of 27 villas built in harmony with their natural surroundings from sustainable materials, the thought that has gone into each and every part of the design is remarkable.
Thatch roofs, inspired by Cambodian fishing villages, natural timbers, and driftwood furnishings are elegantly interwoven to create a magnificent, earth-friendly living space that doesn't compromise on luxury.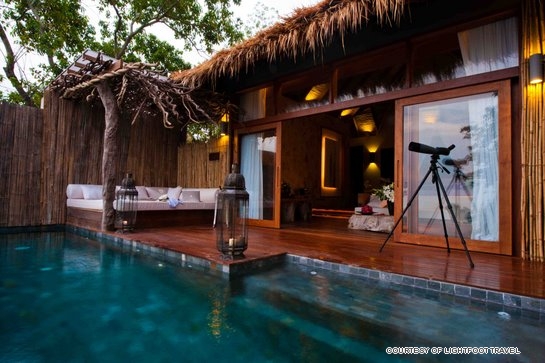 And that's not all, each villa comes with powerful rain showers that boast unrivalled sea views, private verandas and some even have their own private pool.

As a resort that is totally in tune with its environment, Song Saa goes out of its way to ensure that complete respect is also paid to the community, marine life and natural habitats of the surrounding exotic wildlife.

The eco-friendly ethos is present in every aspect of the resort – even the food. The resort's renowned chef, Neil Wager loves creating dishes that are locally sourced and has enjoyed exploring the different flavours and techniques of Cambodian cuisine. He is even cultivating his own market garden.

Exciting opening offers are available for both Niyama Resort and Song Saa resort. For more details, contact Lightfoot Travel to make sure you're the first to leave your footprints on these two paradise islands.
British writer, Sadie Macleod, has her finger firmly on the pulse of the latest and greatest from the wonderful worlds of health, beauty and travel. She is Editor of the luxury, digital health and well-being magazine Hip and Healthy (www.hipandhealthy.co.uk) and has contributed and worked for some of the top lifestyle and travel magazines in the industry, including Condé Nast Traveller.
This article was brought to you by Lightfoot Travel, a luxury tour operator offering expert travel advice & inspiration, tailor-made itineraries & full booking services. To plan your next trip call: +65 6438 4091 or +852 8125 4093, email info@lightfoottravel.com.