While most of you are more familiar with the usual tourist spots of Indonesia, such as Bali and Jakarta, the island of Bintan is definitely an up and coming destination spot to visit.

Just a 45-minute ferry ride away from Tanah Merah Ferry Terminal, it's been a popular weekend getaway for Singaporeans. For the rest of you who've not been to Bintan, take a closer look at where you can stay and what you can do.

Where to stay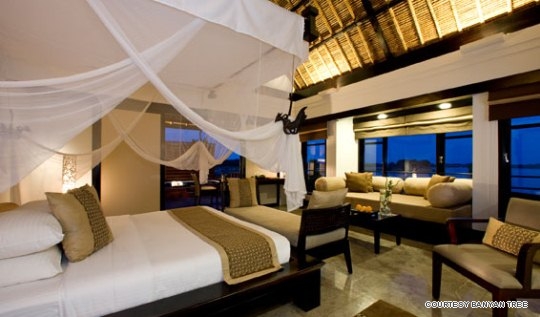 Nestled atop a secluded bay of Bintan, the villas of Banyan Tree Bintan offer breathtaking views of the South China Sea in the comfort of luxurious and comfortably furnished surroundings.
Nestled within the lush rainforest along the shoreline of Bintan is Banyan Tree Bintan, where the structure is inspired by the traditional fishing villages on the island.

What makes Banyan Tree Bintan extra special is the being situated in the first-growth rainforest, as it is a rare occurrence in Southeast Asia where most coastal lands are inhabited and planted with coconut trees. Many of the trees on the site are 50 to 100 years old.

The luxurious resort is built on stilts and are carefully set under the canopy of the jungle. This not protects the environment around the resort, but it gives a delightful tree-top experience for all Banyan Tree's guests. Landscaping is also kept to a minimum to preserve the terrain. In fact, one spectacular swimming pool within the resort is carved out of rock.

The only all-villa resort on Bintan offers a pristine white private beach, a championship golf course and of course, the acclaimed Banyan Tree Spa for an all-rounded stay while you are there.
In case you might be interested, check out our review of Club Med Bintan for an alternative to Banyan Tree Bintan.
Banyan Tree Bintan, Banyan Tree Resort, Jalan Teluk Berembang Laguna Bintan, Lagoi 29155 Bintan Resorts, Indonesia, +62 770 693 100, www.banyantree.com
What to do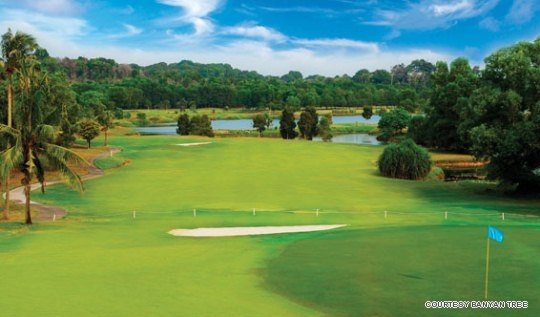 Holes 7 and 8 at Laguna Bintan Golf Club are framed by the South China Sea, welcoming you with a refreshing sea breeze.
Designed by Greg Norman, the 18-hole Laguna Bintan Golf Club would definitely interest both aspiring and seasoned golfers alike. Set in 60 hectares of lush landscaping, the course winds gently through a diverse terrain of forest, wetlands, beachfront coconut groves as well as an abandoned quarry.

For something with a little more action out at sea, you might want to give the banana boat or windsurfing a try with your friends, which is usually provided within most resorts. There's also the all-terrain vehicle (ATV) for anyone looking for some thrill-seeking. Do remember to bring proper clothing and footwear for this, for there will be quite a few bumps along the way that might just cause some minor bruises (or a swollen big toe in my case).
Laguna Bintan Golf Club, Site A4, Lagoic, Tanjong Said, Bintan Island Indonesia, +62 770 693 100, www.banyantree.com
What to eat
As most resorts in Bintan are pretty much self-sustainable with their own facilities and dining, feel free to check out Pantai Grill & Bar located in Angsana Bintan resort. Pantai, which is Bahasa Indonesia for 'beach', serves up prime cuts from Australia and the states, as well as seafood grill. They are open for both lunch and dinner, but we'd suggest their buffet dinner that happens every Friday.

Another option would be Miyako Japanese Restaurant located within Bintan Lagoon Resort. As the name suggests, guests can definitely expect nothing less than quality sashimi as well as wagyu beef. The extravagant dining experience can be further enhanced with orders such as half lobsters and grill eel (or unagi) for seafood lovers out there.

Pantai Grill & Bar, Jalan Teluk Berembang, Laguna Bintan, Lagoi 29155, Bintan Resorts, Indonesia, +62 770 693 111; Miyako Japanese Restaurant, Bintan Lagoon Resort, Jalan Indera Segara site A12, Lagoi, Riau Islands Province 29155, Indonesia, +62 770 691 388