We've seen pretty much the core cities of Indonesia, such as Jakarta, Bali, Bandung as well as Bintan. This time round, we look at one more major city of Indonesia — Yogyakarta.

As one of Indonesia's 32 provinces, Yogyakarta, or affectionately known as Yogya by locals, is one of the foremost cultural centres of Indonesia. That's thanks to magnificent structures such as Borobudur temple and Merapi Volcano, just to name a few.

Today, we take a look at where you can stay, eat and visit at the second most visited city in Indonesia, after Bali.


Where to stay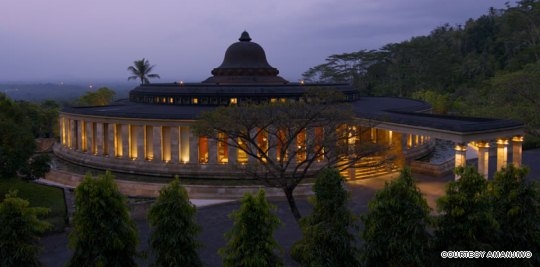 All suites in Amanjiwo include a thatched-roof bale with a daybed. Interiors include a central four-pillar bed on a raised terrazzo platform, rattan furniture and old batik pillows.
A visit to Yogyakarta is only truly complete if you stay at Amanjiwo (it means peaceful soul), which overlooks Borobudur, the world's largest Buddhist sanctuary in the rural heartland of Central Java.

With only 36 exclusive suites, Amanjiwo is fashioned entirely from coral-beige paras yogay, the locally hewn limestone, and features tall walls and dramatic domes. And as part of Aman Resorts, you'd expect nothing but flawless service. The suites feature terrazzo flooring, high ceilings, domed roofs and sliding glass doors that open to a garden terrace.

Amanjiwo is also located in one of the most scenic parts of the country, resting within the Menoreh Hills with a view of no less than four volcanoes gracing the horizon. Private dawn and sunset visits to Borobudur and other archeological monuments in the vicinity are a highlight of a stay at Amanjiwo.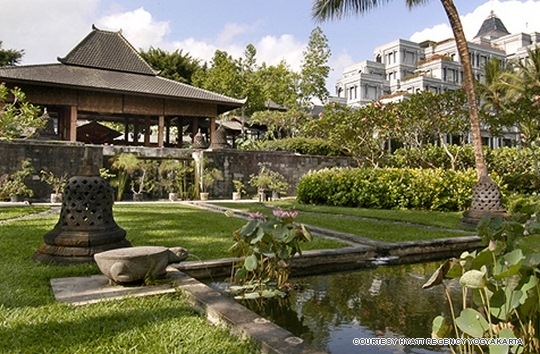 Hyatt Regency Yogyakarta hotel also offers a multi level swimming pool, restaurants, golf course, tennis courts, spa, and fitness centre. Kids will enjoy the Camp Hyatt programme.
As for the rest of you who wish to stay nearer towards Yogyakarta but still enjoy the rustic feeling of being near the outskirts, Hyatt Regency Yogyakarta would be the right choice to make. The hotel offers stunning view of Mount Merapi, Seribu Mountain and Java's beautiful landscape.

Hyatt Regency Yogyakarta is also strategically situated near the main highway with convenient access to Borobudur Temple and other places of interest.

Amanjiwo, Ds. Majaksingi, Borobudur, Magelang, Central Java, Indonesia, +62 293 788 333, www.amanresorts.com/amanjiwo; Hyatt Regency Yogyakarta, Jalan Palagan Tentara Pelajar, Yogyakarta, Indonesia 55581; +62 274 86 9123, yogyakarta.regency.hyatt.com
Where to eat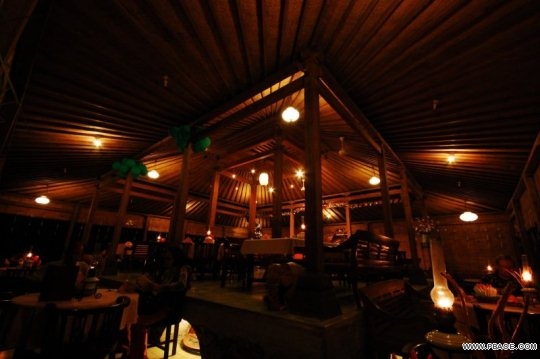 Expect to taste some of the best in the French and Indonesian cuisines at Gadjah Wong, as well as flavours of India.
For authentic Indonesian cuisine, try out Gadjah Wong Restaurant Yogyakarta, situated by the Gadjah Wong River in a beautiful setting of a tropical garden. Enjoy the soothing background music (or at times, live music) while you dine in a candle light setting with your family and friends.

Some must-try dishes on the menu include: boeuf burguignon, samosa, lamb. If you go in a bigger group, that's your best chance to order a variety to share.

For a quaint affair, try Ministry of Coffee, where you can enjoy a magazine or storybook up in the library on the second floor or just stay within the cafe on the first floor of the building. Ministry of Coffee provides guestrooms as well, for any travellers looking to crash for the night.


Gadjah Wong, jl. Gejayan, Condong Catur, Yogyakarta, Indonesia, +62 274588294; Ministry of Coffee, Jl Prawirotaman 15A, +62 274 747 3828, www.ministryofcoffee.com


Where to visit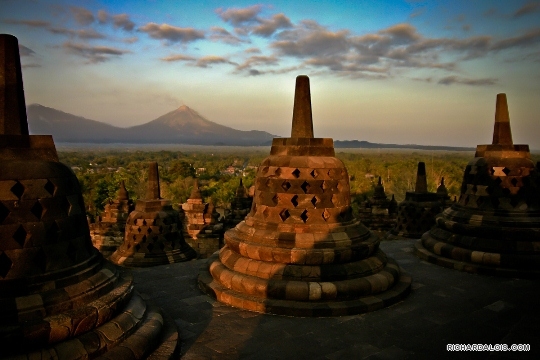 Borobudur is still used for pilgrimage; once a year Buddhists in Indonesia celebrate Vesak at the monument.
With such a big cultural city like Yogyakarta, we can assure you that one visit is definitely not enough to cover all its amazing architectures and history.

Nonetheless, do try to visit Borobudur (a must if you stay at Amanjiwo). This ninth-century Mahayana Buddhist monument, first discovered in 1814 by Sir Thomas Stamford Raffles, has been listed as a UNESCO World Heritage Site.

If time permits, head on down to Merapi Volcano, one of the largest volcanoes in Indonesia, and still active for that matter. Just the feeling of being on the top of the world brings this experience to a whole new level altogether.

For something more leisurely, visit Malioboro Street, a major shopping district in Yogyakarta. Attracting both toursists and locals alike, Malioboro Street stretches up to two kilometres, with over hundreds of shops and stalls lined up.