The oldest city in Philippines, Cebu boasts more than beautiful beaches, it also has a rich history that Cebu residents are extremely proud of. The "Queen City of the South" has come far from its simple trading port days, evolving into a metropolitan center and major Southeast Asian tourist draw.

Cebu's 167 islets have become one of the country's favourite tourist destinations, with people flocking to its white sand beaches and pristine waters. Cebu's strategic location also makes it ideal for travellers looking to island hop.
For more reading on the Philippines, also see our travel diary on Manila.
Where to stay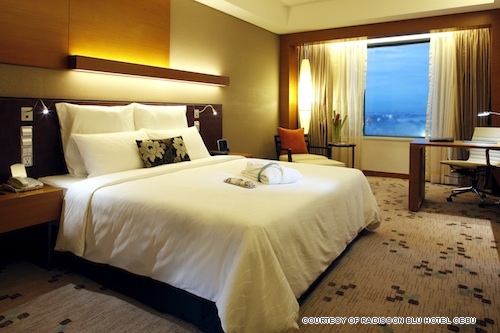 Radisson Blu Hotel is connected by a walkway to SM City Cebu mall, the 11th largest in the world.
Located on Serging Osmeña Boulevard and the corner of Juan Luna Avenue, Radisson Blu Hotel Cebu provides some magnificent views of the city and the Mactan Channel. Comprised of 400 rooms and suites, the hotel is equipped with all the modern necessities you could hope for including an iPod docking entertainment system with alarm clock, 37-inch LCD television with cable channels and complimentary high-speed, wireless Internet. All rooms also have the luxurious combination of a memory foam bed paired with down pillows and duvets.
Radisson Blu Hotel Cebu, Serging Osmeña Boulevard, corner Juan Luna Avenue, Cebu City, Philippines 6000, +63 32 4029900, www.radissonblu.com/hotel-cebu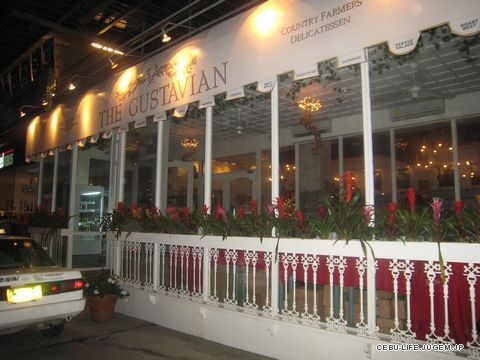 The Gustavian offers an ever-changing menu, with delicacies such as fillet of beef with their trademark pepper, morel and gorgonzola sauce, arguably the best in the Philippines.
If you haven't heard of Larsian, then you haven't been around Cebu. One of the city's most prominent eateries, Larsian is located near Chong Hua Hospital and Fuente Osmeña, the latter of which is Cebu landmark, a fountain honouring one of the country's presidents, Sergio Osmeña Senioru.
Larsian is all about barbecue. Offering everything from chicken and pork to seafood, ordering here means choosing your meal from the line of stalls along Larsian then watching your selection hit the grill. To truly experience Cebu through the eyes (and stomach) of a local, this is the place to be. It's opened from late afternoon till sunrise.
For something that's not quite as local, The Gustavian serves food that's inspired by Old World European cuisine, interpreted by the restaurant's culinary experts. The restaurant also has a British pub, The Tap Room, which serves imported beers, fine wines and local spirits for anyone looking for a relaxed atmosphere to relax in over a few drinks.

Regardless of if you're in the bar or restaurant proper, you can't go wrong ordering the fish and chips, gourmet cheese plate, sausages and curry chicken.
Larsian, Fuente Osmeña, Cebu City, Philippines 6000; The Gustavian, #1 Paseo Saturnino Ma. Luisa Road, Banilad Cebu City, Philippines, +63 32 344 7653
Where to visit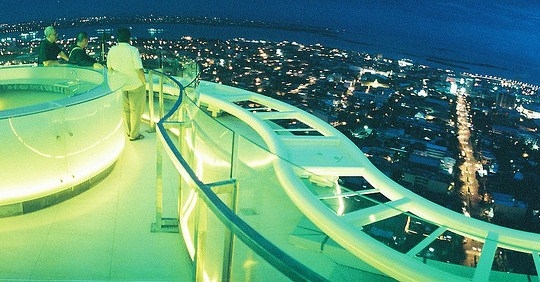 The world's first and only amusement ride of its kind, the Edge Coaster goes around the edge of the building while riders are locked onto a rail seat.
The Crown Regency Hotel and Towers is the tallest hotel tower in the Philippines, where tourists and locals alike can visit and have some one-of-a-kind activities in the Sky Experience Adventure (S.E.A).
From fine dining to absolute entertainment, the S.E.A features the world's first Edge Coaster and the country's first & only Sky Walk Extreme. There's also a 4D theatre and dining outlets such as the Club 36 Gentlemen's Bar and Sparkz Restobar.

Apart from that, there's the Vivo Gamezone where there's an unlimited access to a rainbow-coloured playroom for the younger ones, as well as the Sky Observatory with coin-operated telescopes and binoculars for a glimpse the city and nightscape.
Another place to take it all in while you're in Cebu — minus the crowds and buzz – is Tops. Situated 2,000 feet above sea level on the hills of Busay, Tops is an excellent sight-seeing spot, offering some breath-taking views of Metro Cebu and the islands of Mactan and Olango.
Tower 1, Crown Regency Hotel and Towers, Fuente Towers, Fuente Osmeña Blvd., Cebu City, 6000 Philippines, +63 32 418 8888, www.skyexperienceadventure.com; Tops, Busay Hills, Nivel Hills, Lahug, Cebu City, Philippines 6000