Whether it's a new beauty balm, blemish fix, or botox: welcome to your local guide on what to put on your face in Bangkok.
Each month, we'll be presenting you with a series of beauty products we're very excited about, be it a newly-launched lipstick or a tried-and-tested sheet mask.
This October, we're all about clearing that inevitable maskne, and embracing warm and colourful notions of 'autumn' with our makeup. We're loving a lot of lip products this month, as well as shielding our skin from the harmful effects of humidity (when is this rainy season ending again?).
Read on for our current top beauty picks, and be sure to put them on your face if you agree.
[Featured and Hero Image Credit: Gucci Beauty]
Gucci Beauty comes to Bangkok
We're very excited about this one, not just because we have a thing for Alessandro Michele and feel the man can oft do no wrong, but also because Gucci Beauty has officially launched its own beauty counter at Siam Paragon's M Floor.
Debuting a new makeup line by Gucci, the selection of items available spans various lipsticks (matte, metallic, and the limited edition Lunaison), over to beauty powder and a selection of eyebrow pencils. Our current crush lies with the Gucci Mascara L'Obscur, presented in an elegant and delicate pink box, housing a rich, creamy, and intensely black mascara. It manages that fine balance between being a mascara that can both do a classic lift and touch-up, but also build itself up to create more bold and punk makeup looks.
Very cool and very trendy, each product comes in a vintage-inspired gold casing, said to come from Michele's dream of Hollywood and the Golden Age. Stellar.
Best for: Modern day divas and those with a love for glamorous vintage finds.
Wear to: Matte lipstick and mascara for sunset drinks, bronze beauty powder for weekend trips.
Priced at: Gucci Mascara L'Obscur THB 1350; Gucci Lunaison Limited Edition Lipstick THB 1675; Gucci Mat Lipstick THB 1525; Gucci Gothique Lipstick THB 1675; Gucci Beauty Powder THB 2400.
Buy at: Gucci Beauty Counter, Siam Paragon.
Fenty Beauty brings a sense of autumn to the city
Granted, we're not in New York and can't quite do the whole Pumpkin Spiced Latte and orange leaves and knit jumpers thing, but we can dream, and we can dress our face accordingly.
Fenty Beauty has unveiled two new Snap Shadows Mix & Match Eyeshadow Palettes, just in time for American fall. Encouraging you to "turn up without the hangover", the 9-Wine palette features neutral burgundy shades from 'Pop The Cork' cognac shimmer to a 'Pinot Please' deep berry matte. We also love the cheeky 10-Money palette, featuring forest green shades with names like 'Phat Pockets,' 'Flash Money,' and 'Rubbabandz.' You can't say they're not creative, and you can't say there isn't a winning eye combo amongst them.
Best for: Those who like to experiment a little, and try something new.
Wear to: A coffee date, which leads to a second date, and a third date, and a fourth date…
Priced at: One for THB 950, or both for THB 1710.
Buy at: Sephora online or in store.
Chanel accentuates our allure
Chanel has unveiled a sensuous sibling to its iconic lipstick ranges, by unveiling the Rouge Allure Laque, an ultra wear shine liquid lip colour that is designed to — and we quote directly here — "boost your confidence."
If the October blues have got you down, here's a lip colour that is sure to spruce up your spirits. Available in an impressive range of colours, the satin brilliance claims to provide non-stop intense colour, comfort, hydration, and hold. Despite its lasting strength, it's very soft and gentle to apply, and doesn't create that awkward feeling of tightness or dullness upon multi-hour wearing. We particularly love it's very elegant presentation, and have been showing it off at various events and occasions already. It's the little things.
Best for: Those who love a classic, but with a twist.
Wear to: Dinner, in the darker shades, or a fun luncheon, in the lighter pink and nude shades.
Priced at: THB 1450.
Buy at: Chanel Beauty counters.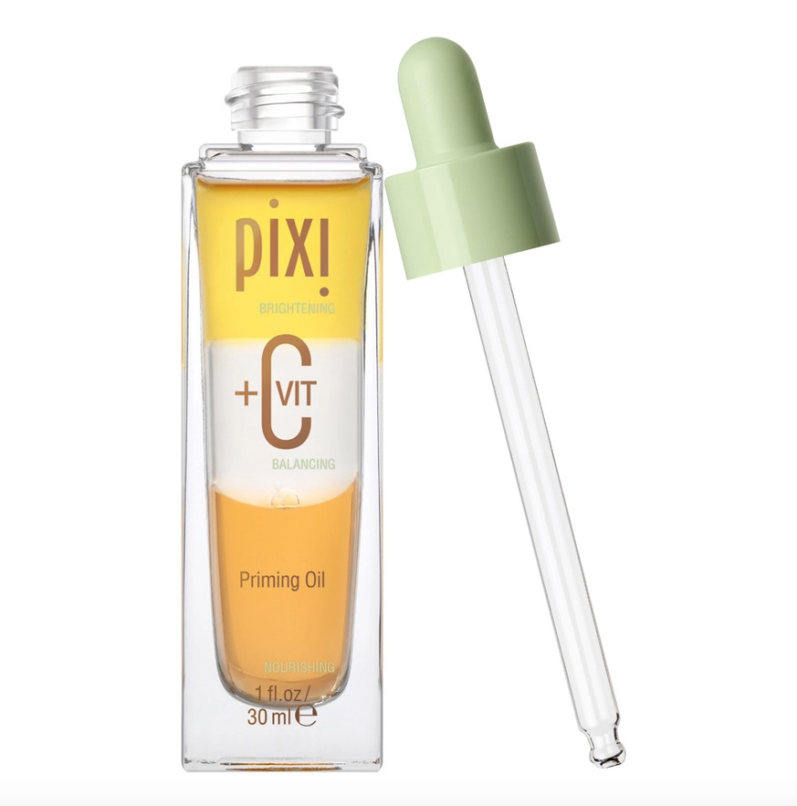 PIXI primes us for the day
Vitamin C is the superhero ingredient that is here to stay: you know it, we know it, and PIXI knows it.
New in Thailand, PIXI now presents the +C VIT Priming Oil, which not only comes presented in three trippy layers, but offers plenty to prep your skin with, too. The tri-phase oil is infused with vitamin C, aimed at nourishing, energising, and balancing the face for a radiant glow.
Unlike many face oils, it absorbs very easily and very quickly, giving the skin the subtle hydration it needs. The most fun part? You get to shake the bottle pre-application, so all three layers are combined. You then get to use the dropper to obtain a few drops to put on your skin. It's half the fun, really.
Best for: Those who wear a lot of foundation, have uneven skin, or like using oils on their face.
Wear to: That big presentation you've been anxious about, so that you can be confident your skin looks good, especially under that foundation.
Priced at: THB 990.
Buy at: Sephora online or in store.
Glowing with The History of Whoo
There's something really regal about History of Whoo, be it their close ties to royal Korean beauty history, or just their general aura of perfection. Bangkokians are always crazy about Korean stars, food, and series, and there's no denying we like to take a page out of their skincare regimen to suit.
This month, we're crushing on the Cheongidan Illuminating Essence to revitalise our skin and our soul. It uses the ingredients of a royal secret formula, looking to awaken the skin's inner radiance. It's extremely moisturising, but not in a heavy way, and is designed to evenly tidy up skin texture and tone. It's a great product for those who have been feeling a little lacklustre. Korean things always have a way of brightening our days.
Best for: Those who need a bit of a restart and refresh button — you know who you are.
Wear to: Early morning adventures, where you'll woo everyone and wake them right up with your radiance.
Priced at: THB 9190.
Buy at: The History of Whoo beauty counters, or via Line at @thehistoryofwhooth.
Waving goodbye to maskne with Drunk Elephant
We heard about this from our sisters in Singapore, who, like us, are experiencing some serious cases of acne caused by face masks — or as the cool kids are calling it: 'maskne.'
To combat these disturbances to our confidence, we're looking to Drunk Elephant to soothe us, with their T.L.C. Framboos Glycol Night Serum. The high-tech gel is designed to lift dead skin cells and get rid of them by dissolving the 'glue' that holds them to the surface of your skin. It contains a special AHA/BHA blend that includes — and you'll love this if you're a skincare freak — glycol, lactic, tartaric, citric, and salicylic acids. It gets its name from the raspberry extract it features, and aims to give you the after effect of a chemical exfoliation minus the drying side effects. Very uplifting, its the Tender Loving Care we crave this October.
Best for: Very active people, who are wearing face masks out and about all day (as you should).
Wear to: Bed.
Priced at: THB 3150.
Buy at: Sephora Online and in store.