Like the food and fashion industries, the art world is full of events and situations that would be great material for reality TV producers, perhaps now more than ever.
As emerging artists are facing mass cancellations of art fairs and exhibitions since the pandemic hit, now, a new TV show is looking to give them a helping hand, offering young London artists the opportunity to present their work to British TV audiences.
The show, titled "Next Big Thing," aims to find the next big name in contemporary art, whether specializing in photography, street art, sculpture, portraits or landscapes.
[Hero Image Credit: Loewe Technologies/Unsplash; Image Credit: Pierrick van Troost/Unsplash]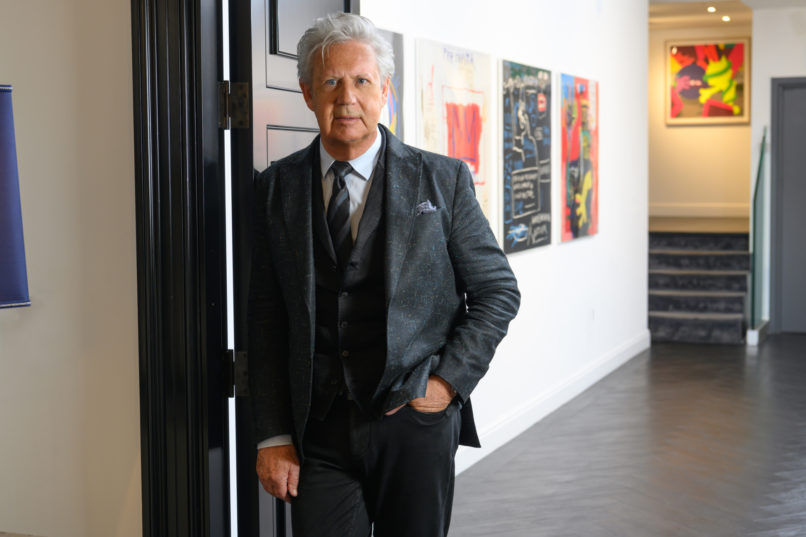 In true reality TV style, a call for entrants is open until December 23 for artists ages 17-30 who live, work or study in London. The specific age bracket no doubt seeks to highlight the work of young artists from the London scene, while also reaching out to millennial viewers. When making their application online, hopefuls are asked to include three photos of one or several of their works. They can even send a short video taking viewers through their artistic practice.
Ten finalists will then be chosen by a panel of experts, including the historian Dr. James Fox, the art dealer and curator Jean-David Malat, and the chief curator of the National Portrait Gallery, Alison Smith. TV viewers will also get to choose their own finalist by means of an online vote. The selected artists will then have one month to create an original piece of work that captures the "spirit of London."
Bringing art to TV
Contestants will be accompanied by "Next Big Thing" presenter and art specialist, James Nicholls, as well as prestigious mentors such as the painter Bradley Theodore, the portrait artist Miriam Escofet and the photographer Nicky Johnston. Finalists will show off their creations at an exhibition in a London gallery, where the public and art collectors can admire and maybe even purchase the fruits of their labor. In line with the usual reality TV format, one overall winner will then be chosen at the end of the six episodes of "Next Big Thing." This artist will be given the opportunity to take part in the next virtual edition of The Other Fair.
"'Next Big Thing' will provide potentially life-changing opportunities for young artists who might be struggling in this incredibly hard period. During tough times art has a vital role to play in providing hope and documenting history. We feel strongly about creating a space and a platform to build awareness of some of the city's incredible young emerging artists who have potential to be the 'Next Big Thing'," explains James Nicholls, presenter of the show, scheduled to air in spring 2021 on the London Live channel.
"Next Big Thing" borrows many tricks of the trade from TV talent shows like "American Idol," and that's certainly no coincidence. Despite many and varied attempts, art still struggles to find a place on TV channel schedules. The US reality TV show, "Work of Art," for example, was dropped by Bravo after two seasons, despite a prestigious panel of judges including the artist Jon Kessler, the art dealer Bill Powers and the art critic Jerry Saltz. The Sky Arts channel seems to be having more success with "Artists of the Year," which, for seven years, has been on a mission to discover the best portrait and landscape artists in the UK. Viewers will have to wait until next year to find out whether "Next Big Thing" proves just as popular with British TV audiences.
This article is published via AFP Relaxnews.