Art appreciation has no day off.
And while most art fairs have been cancelled in reaction to the coronavirus pandemic, UNTITLED, Art has partnered with Danish art-and-tech startup Artland to create the world's first virtual reality (VR) art fair.
The inaugural edition of "UNTITLED, ART Online" uses video game technology to create a three-dimension environment modelled after the layout of UNTITLED's Miami Beach location. The VR setting allows visitors to freely navigate the aisles of the immersive fair, leisurely browsing the booths of participating galleries or engaging with dealers in real-time in automated chatrooms. Among the 37 international galleries participating in "UNTITLED, Art Online" are Addis Fine Art, El Apartamento, bitforms gallery, Cirrus Gallery, Moskowitz Bayse, Sim Smith, Nils Staerk, Fredericks & Freiser and MAKASIINI Contemporary.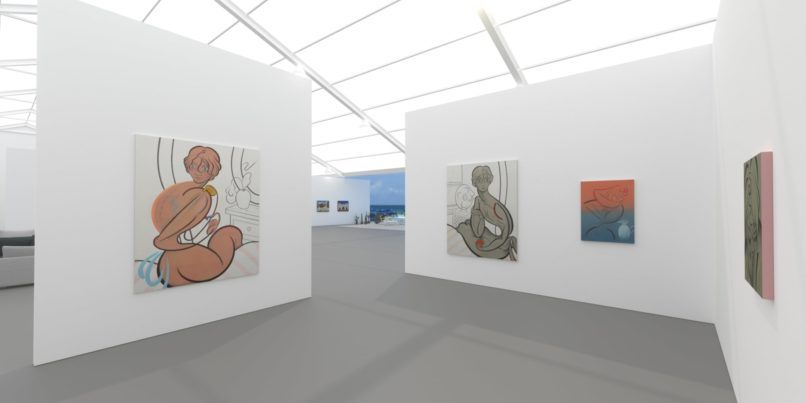 Upon entering a booth, visitors are greeted with a dialogue box providing specifics about works on offer (artist name, price and medium), as well as an "inquire" or "buy" prompt to facilitate buying at all times of the day "without the cumbersome need to engage in offline conversations."
Unlike the online viewing rooms recently launched by Art Basel and Frieze, "UNTITLED, Art Online" operates as an e-commerce platform in which purchases will be directly processed through its global financial partner, Escrow.
"This platform, the only virtual reality experience available in the art market, is something we have been hard at work on with Artland for nearly a year now and have decided to launch it earlier than intended in an effort to help reinvigorate the global art economy. Not only have we created an original and innovative virtual experience that is as close to being at UNTITLED, ART Miami Beach as virtually possible, but we are also providing our clients with a state-of-the-art e-commerce platform at a time when they need it the most," Jeff Lawson, founder of UNTITLED, ART, said in a statement.
The debut iteration of "UNTITLED, Art Online" will run 24 hours a day between Friday, July 31 and Sunday, August 2, with a preview day starting at 11 a.m. EDT on Thursday, July 30.
This article is published via AFP Relaxnews.