August 2020: what a month.
Between Mother's Day celebrations and upcoming long weekend anticipations, August has gone by as fast as it has appeared, and it's brought many a fun-filled weekend with it.
We're travelling more and embracing all the beauty Thailand has to offer and we're doing our part to continue to support the local economy. Whether this is through the all-time-low flight tickets to Samui and beyond, or using the government travel scheme, there's no denying that it's never been more tempting to travel.
If only there wasn't a global health emergency going on.
Continuing on with approaches to a new normal lifestyle, stories you loved this month touched on this (from mask chains to home cooking), but also strayed a little away from the usual. We love that the top two stories were about fried chicken and looking good naked, and that your appetite for hot new openings and must-do and must-tries never wavers.
Whether you're an avid reader seeking a monthly 'Best Of' reel, or an insider looking to get the low-down on our most popular stories, we've put it all together here in one raving recap. In order of popularity (and exempting our monthly columns), relive some of the best exclusives we've covered this August, and consider yourself debriefed and dapper to dive right into September.
[Hero and Featured Image Credit: Shifaaz Shamoon/Unsplash]
24 August 2020
if you're anything like us – can't resist a good plate of golden-brown fried chicken – these recipes for fried chicken from various cuisines will cater right to your taste buds. Whether you like the pungent Nashville version, the sweet, sticky sauce-covered Korean one, or the classic buttermilk fried chicken, this list of recipes below will walk you through how to create restaurant-quality fried chicken you and your family will enjoy at home. Let's get frying.
3 August 2020
If you've spent a lot of lockdown locking down the best snacks and food deliveries about town, it's likely your birthday suit may have begun to feel like it's gone up a size or two, which can really shoot your confidence in the foot.
Granted, you should love your body no matter the shape and size, and there's plenty of self-love to go around, but if you're looking for a quick fix that may tip the scale and the self-esteem a little, you've come to the right place.
Best combined with a good home or gym workout, Dr. Priya Khorana talks us through how to look good naked (or in a bikini, or in swim shorts, or in anything at all really) with a few nutritional adjustments.
18 August 2020
Vast is my hangout spot. I go there almost all the time. The flavours and the quality of the ingredients are just on point. The Spanish omelette 'La Tortilla De Chorizo' is great. It's ooey-gooey with cheese and is packed with chorizo. My friend Álvaro Ramos is a mad man [laughs] and what I mean by that is that he is so talented and so passionate about food. Vaso also serves great drinks. So it's really an all-in-one spot where I go for decent food and drinks altogether."
21 August 2020
You don't visit Amanpuri to visit Phuket. You visit Amanpuri to visit Amanpuri. This is something we realised an oil massage and a turmeric juice deep into our stay. In a wildly competitive (and undeniably also struggling) hospitality industry, this is a really special attribute. The resort gets a lot of things right, and it always feels effortless. Raw luxury comes naturally to Amanpuri, which makes for massive sweet comfort especially during these peculiar times.
Our headline was halfway a prod and a nod at these times, but we'll still hold it true. At Amanpuri, it's hard to be sad — even when it rains, even with whatever worry of the outside world. Amanpuri: place of peace.
7 August 2020
Very much like an oven but just smaller in size and stronger in heat power, the on-trend kitchen tool is used to air-fry your food without having to add additional oil or too much of the fat to make your meal crispy and tasty. With its petite size, the food also gets cooked faster, and requires not much attention from its user. It is perfect for the cook with little time or even an oven-less baker. Here, we've curated a list of trendy and toothsome recipes using the air fryer, so you can throw an epic feast at home in a healthier, easier way.
1 August 2020
Snuggled in the heart of Ratchaprasong, the new Apple store made its way to the iconic and lively location of Central World. The latest Apple Central World happens to be the second and largest retail location in Thailand and truly one-of-a-kind.
5 August 2020
Bordering the creative district, the business district, and the ever-famous entertainment district, there are few roads that bring together so many different interests like Surawong Road.
And yet, the stretch of land that runs parallel to Silom road manages to maintain a peaceful and friendly aura.
Surawong Road: a place to eat, drink, and play, with one fine option to stay. Checking in to the Bangkok Marriott Hotel The Surawongse for a sweet staycation one weekend, we managed to explore what the neighbourhood has to offer. Read ahead for the top 10 reasons why you too should check it out.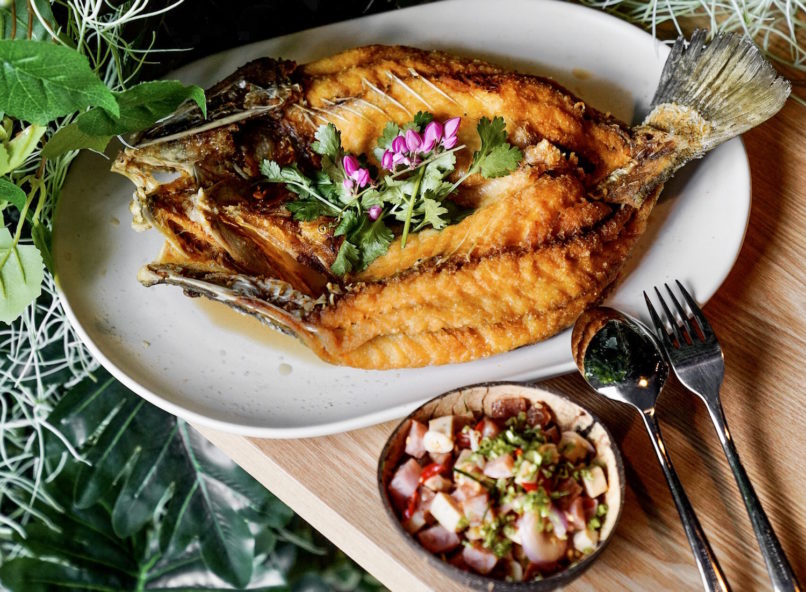 15 August 2020
With a menu created by the Michelin-starred Chef Thaninthorn 'Noom' Chantrawan along with Nivas's fiery Head Chef Pitchakorn 'Pop' Rambut, you can be guaranteed to get star-worthy Thai food. This all comes with an intimate setting and homey vibe at very friendly price points.
Recently, we had a chance to check out the space and tried some of the best dishes Nivas Café & Bistro has to offer. Here's a list of must-tries you need to order when you visit.
8 August 2020
Jokes aside, the rise of the mask chain is an example of where fashion has kind of followed function. Picture this: you're heading out to meet the gals or the bros for dinner, and you're wearing your mask like you should. You get to the restaurant, and because small groups are allowed to sit together, you take off your mask to eat and vibe. But before you bring out the champers, rewind a little and think about this: where do you put your mask?
Where you put your mask during its down time is actually quite a vital thing to think about. If you place it onto a contaminated surface, you run the risk of picking up bacteria — or worse, a dreaded virus. Thereby, a safe mask storage box or bag is a good thing to carry with you. Or — lightbulb moment — a mask chain or strap to safely let your mask dangle from your neck when not in use. Genius.