November 2020: what a month.
Between an uncomfortable push into the official festive season with premature Christmas lights and decorations on 1 November, and the comfortable embrace of Christmas music and trees in public places now on 30 November, the past four weeks have been very interesting.
We're approaching the final month of this wicked and wild year, and as November has frolicked by like a sleigh in the snow (just go with it), we can't say we're not in the mood to end it with a bang. There were many events about Bangkok in November — perhaps a teaser taste of what's to come in December — as we started to let down our hair a little, and embrace the closing of the chapter we called "2020".
Stories you loved this month gave us a sense that you're ready for that vacation, a staycation, and the anticipation, with Netflix shows and fashion stories topping the Most Popular list.
Whether you're an avid reader seeking a monthly 'Best Of' reel, or an insider looking to get the low-down on our most popular stories, we've put it all together here in one raving recap. In order of popularity (and exempting our monthly columns), relive some of the best exclusives we've covered this November 2020, and consider yourself debriefed and dapper to dive right into December — we know we can't wait.
[Hero Image Credit: Raya Heritage; Featured Image Credit: Jane Suda via Instagram]
15 November 2020
The Spanish tapas bar has caused a massive furore since it opened its doors in the snazzy Velaa Sindhorn complex, with a notorious reputation for being one of the most hard-to-book destinations about town right now. It's a restaurant that has made a lot of noise — both literally and figuratively — in the dining scene. But what's with all the hype? Recently, we tugged on a couple strings and managed to snag a dinner reservation for the prestigious 8pm slot. Here's what we observed.
19 November 2020
From urban oases to romantic riverside views, we've put together a list of our favourite boutique hotels in Chiang Mai. If like us, your dreamy weekend wanderlust consists of an ode to a snowy duvet and a great book, or a soothing massage and hearty Northern food (khao soi we hear you calling!), read right on.
15 November 2020
"Another one of my go-to places is Le Cabanaon. It's very good and not at all pretentious. The food here is product-oriented, so the ingredients always come at premium quality. I have never had a bad meal here. Also, it's good value for money and a charming ambience as well. If you really love seafood, this is the place to be. I like the avocado and prawn salad. All the ingredients for this dish are so good of a quality that you don't need anything much to make it taste good. It's a dish that really lets the products talk. Tourteau crab from France is also my favourite item. They just boil it and serve it with mayo to dip and it's just as simple as that — but so good. They really treat the products with respect here and enhance them with the right techniques and that's why it's so good. The mashed potato and the steak here are also the must-tries."
3 November 2020
Central: The Original Store sits in Bangkok's first cosmopolitan street in Charoenkrung. Back in the 1950s, this place was the go-to spot for all Bangkokians and foreigners who wanted a piece of the international world – from imported western books and magazines to products. Today in 2020, this 5-story building has been re-imagined by renowned Belgian minimalist architect Vincent Van Dyusen, to bring us a piece of the family heritage honouring the history of Central Group. While paying homage to the building's origin and history, this exciting cultural centre also embraces the context of Bangkok's neighbourhoods and the changing world around them.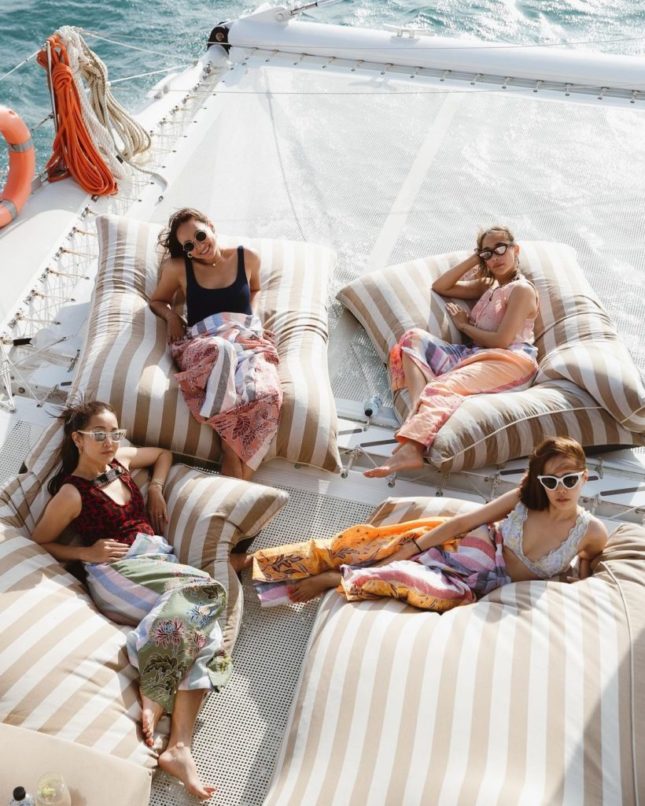 8 November 2020
Like any other vacation, sailing out on such a splendid ship also requires a wardrobe of elegance for capturing that IG-worthy picture for your feed. With star-studded figures cruising their way out for some vitamin "sea" on some of Thailand's most beautiful islands, they've brought along with them a series of sleek yet stylishly casual looks, making a yacht voyage seem more fashionable than ever. Here's our curated gallery on how celebs yacht in style. Check out LSA Best Dressed – The "Sea-nic" Yacht Fashion Edition.
18 November 2020
As our theme this month is all about weddings, we decided to drop you some inspiration to find the ideal bridal wear for your special day — or even the perfect bridesmaid dress for your bestie's wedding. Why not turn towards some fashionable Bangkokians for some inspiration? From glamorous designs to more timeless and vintage dresses, check out here who rocks the look best in our curated gallery for LSA Best Dressed – the Wedding Dress Edition.
https://twitter.com/marthachantelle/status/1326746001206464512?ref_src=twsrc%5Etfw%7Ctwcamp%5Etweetembed%7Ctwterm%5E1326746001206464512%7Ctwgr%5E%7Ctwcon%5Es1_&=
12 November 2020
Whilst we'll admit we've kind of outgrown watching shows like Gossip Girl now that we're 'adults,' there's no denying we paused and zoomed in on each and every character when pictures of the new cast surfaced yesterday. Call it a guilty pleasure.
Spotted on the steps on the Metropolitan Museum of Art (where else?), some behind-the-scenes images have been leaked — in true Gossip Girl style — and the internet, naturally, went crazy for it.
8 November 2020
Foodies, rejoice, because you no longer need to queue up in the long line at Phed Phed in Ari. Thai Taste Hub makes our foodie lives ten times easier with Phed Phed Hey!, a sister branch packing a truckload of Phed Phed's signature Isaan fare to satisfy your inner northeastern food lover.
13 November 2020
 Shift dresses, full skirts, structured coats — the markers of Mod style, as well as other sartorial staples of the "Swinging Sixties", were all faithfully reproduced by Binder for the show.
On the surface, there's plenty to appreciate about Beth's vintage costumes (for starters, how much better do they look than the ones in Emily in Paris?). But, like the moves on a chessboard, they are also meant to be studied; Binder's choices are replete with clues into what Beth is thinking or feeling, and each outfit is a piece of the puzzle that is the show itself.
3 November 2020
Especially after seeing our feeds studded with #nailinspo images, it's hard to not keep changing the colours and the patterns to catch up with the latest nail trends. Especially when Kylie Jenner or Rosalía keep changing their nails almost every single week — if not day — they almost make it impossible to stay calm and not call the nail salon for an appointment. But hey, fashion is like the seasons, it keeps changing and it is inevitable. Here we've curated a few nail styles and designs to keep you in the loop for what's cute and what's hot in the nail world. Let's get to it.