To put it lightly, love was the least of our worries in the air this month.
Whilst normally we'd be poking fun at Valentine's Day for its first half and buying discounted chocolates and roses come 15 February, this year, February took kind of a weird turn.
We were off to a really rewarding start for Asia, with Parasite making Oscar history as the first non-English language film to win Best Picture. Yet irony or no irony, the fear for Coronavirus (which, also, was renamed a more sterile COVID-19 this month) spread beyond Asia and increasingly into the rest of the world. Fashion month saw as many cancellations as ever, the hospitality industry sees as many frustrated faces as ever, and our very own gazes are only visible from behind the season's greatest must-have accessory: a face mask.
Nevertheless, we wouldn't be true Bangkokians if we let this ruin our flow. We're testing out the best sanitisers and finding innovative ways to boost our immune system. We're looking into staycations. And we're shedding a greater spotlight on health — as we should, and embracing the month of not love, but self love.
There were still plenty of events and trends to watch, and whilst we're always trying to stay one step ahead and report these to you on a lively stream of stories, it is often times understandably difficult for the buzzing busy bee to keep up with every hot feature. But that's exactly why we've created this round-up.
Whether you're an avid reader seeking a monthly 'Best Of' reel, or an insider looking to get the low-down on our most popular stories, we've put it all together here in one raving recap. In order of popularity (and exempting our monthly columns), relive some of the best exclusives we've covered this February, and consider yourself debriefed and dapper to dive right into March. Bring your self care package along.
[Featured and Hero image credit: Jennifer Pallian/Unsplash]
21 February 2020
Rocket Coffeebar is no second when it comes to coffee. But another thing they are champions in is the classic Club Sandwich with fork-tender chicken, crispy bacon, and Paris ham sandwiched between their house-made white bread.
12 February 2020
It'd be a mistake to underestimate the power of styling these two hues correctly for your Valentine's Date. Doing it shows enthusiasm, a good sense of style, and there have even been scientific studies that show these colours have a primitive effect that makes you look more attractive.
18 February 2020
I sailed around the world with my dad on the Mediterranean Sea and Atlantic Ocean on a sailboat for about 2 months. It was a crazy adventure. I think we saw things that we don't see on land. For example, the sunrise in the middle of the ocean where there's nothing around you. It's just you and the sea. The water turns purple, the sky is filled with stars, and there are dolphins. It's the most beautiful thing because you are there with your mind and nature.
16 February 2020
With Bangkok's food scene becoming more and more familiar with Mexican cuisine, a repertoire of restaurants (both Mexican and not Mexican alike) are including their own versions of burritos in their menus. We've travelled around the city trying some of the best burritos in town, so if you're not in the know already of where to get a decent tortilla wrap in Bangkok, scroll right down for our list. Let's get burrito-ing.
10 February 2020
As the strong appetite for Japanese cuisine rises rather rapidly, Bangkok's streets are being studded with omakase, izakaya, sushi, yakitori, and, of course, ramen shops to meet with the city's Japanese fare needs. As ramen lovers ourselves, we trotted the length and breadth of the city trying the best looking and most scrumptious bowls.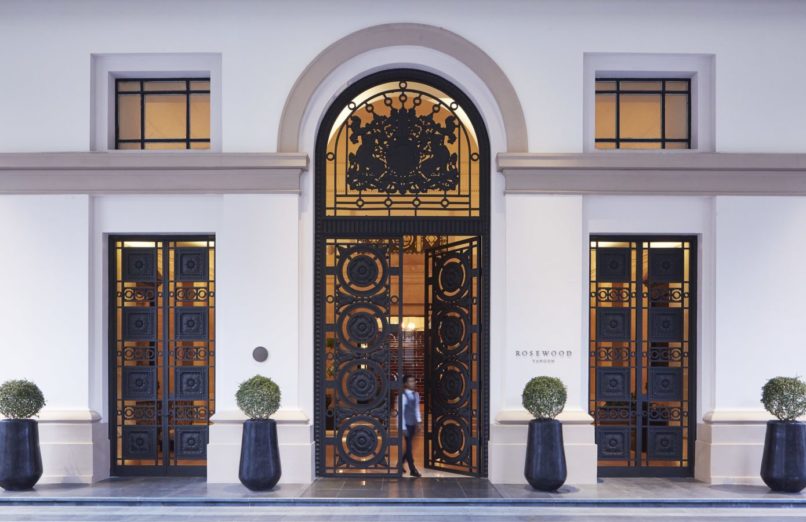 12 February 2020
Think gilded Buddhist pagodas and glistening temples. Now, think of an ultra-luxury heritage hotel perched in the centre of Myanmar's cultural hub. Welcome to the Rosewood Yangon.
15 February 2020
It's a long-held belief that submersing yourself fully in natural surroundings for a few days can help to de-stress you, "digital detox" you, and generally reset your mental wellbeing. But for me, it did so much more than that. It made me realise just how beautiful untouched nature really is, and let me tell you — that's a scarily humbling experience. And I think everybody should try it at least once in their lifetime.
24 February 2020
Could you really leave your furry friends behind and enjoy a vacation? Most pet-parents think, "you're barking mad" at the mere thought. After all, your four-legged friend deserves a holiday as much as you do.
14 February 2020
We recently sat down with the ever-fabulous Dr. Priya Khorana, a Bangkok-based ACSM-accredited exercise physiologist and nutritionist, to chat all things broken hearts, and what to eat (or avoid) to heal and get through this difficult time. Spoiler alert: it shouldn't just be ice cream tubs and pralines — but that doesn't mean there can't be a buffet for the broken-hearted. Read on. 
5 February 2020
Particularly when they hail from France or Italy or Germany, some of the most commonly known designer labels are often pronounced incorrectly. So, just in time for the upcoming FW2020 International Fashion Weeks coming up this month, we're going to let you in on some serious fashion insider knowledge so you can mix in with the front row. Here, we've busted a few well-known yet not very well-said fashion brand names and guide you through how they're actually supposed to be pronounced. Feeling a little betrayed by these designer names, it makes us want to just shop at Gap or Paul Smith — if only for some certainty in our lives. Don't say we didn't warn you.