2021, what a year.
Each month this 2021, we will be highlighting a particular theme in our content, be it the appropriate staycation etiquette in the summer, or how to adequately put together a cheeseboard during the festive season. For March, our theme takes on a more old-school format. For March, our theme is entitled 'A Postcard from BKK.'
We're a little nostalgic around here this month, and as you know, we never shy away from vintage treasures. Granted, the postcard is not (yet) quite a vintage item, but we long for days when we weren't so frantically Line-ing, Slack-ing, or Clubhouse-ing on our smartphones as much.
This March, our theme is centred around our most beloved Bangkok hidden gems, many of which hail from the Old Town. Whether it's floral coffeeshops near Charoenkrung or boutique hotels in China Town, there's many a source of inspiration for plenty a character here. Imagine it as if we were limited to just 100 words on the back of a postcard: which must-see hidden gems would we include, and what are the highlights?
A snapshot and snippet of lesser mainstream must-sees in Bangkok, you can find stories related to our March theme linked below. Here's out postcard from BKK to you.
[Hero Image Credit: Gemma Evans/Unsplash]
We haven't forgotten the charm and the elegance of Bangkok's historic heritage that holds a warm place in our hearts. There's no denying that the city's cafe culture has only been booming over the years and given this opportunity, we are seeing more and more cafes being nestled in the charming arms of historical buildings. Here, we've rounded up some of the coolest cafes that have brought some of Bangkok's hidden gems into the limelight, and, most importantly, have an intriguing story to tell.
Josh Hotel is a retro-style boutique hotel on the leafy and street-art-lined street of Ari 4 Fang Nua. The exteriors are pretty classic-cool, but explore inside and you'll also find an adorable ice cream shack, quirky shops, and an old-school art-deco diner.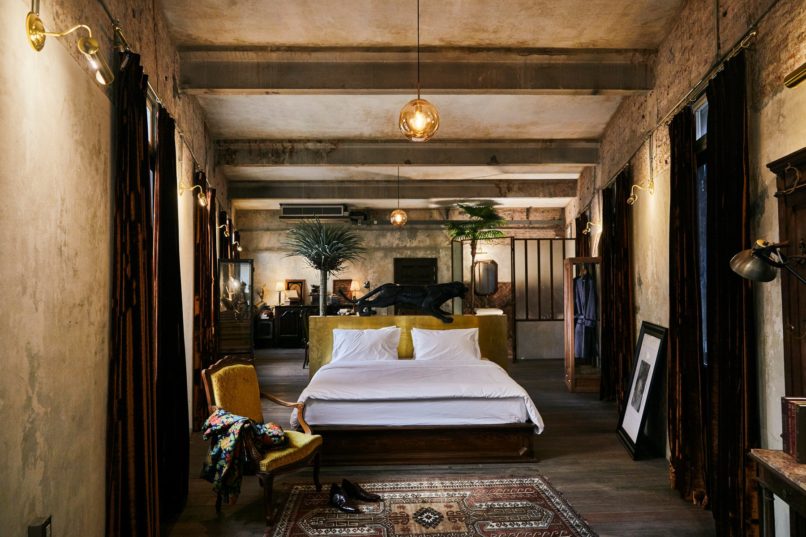 We've long known it to be an area that is great for sightseeing and cocktail-sipping, but to think you could get in your culture, feast on a fiery dinner, get drinks, and then go to sleep here, too? We're shooketh. We're excited. Consider your next staycation, vacation, and midday inspiration sorted.
With an extensive range of noodles, soups, and toppings to choose from, Thai-style noodles just never set a limit to your cravings. One can go to town with shrimp-stuffed wontons, braised pork, extra veggies, meatballs, and more. Without a doubt, this has become every Thai's go-to comfort food. Here, we've curated a list of one of Bangkok's best noodle shops you need to dive right in to. Let's get slurping.
A time-traveling portal between the past and the present, Central: The Original Store has opened as a revival of Central Group's storied retail lineage. It pays homage to the brand's deep roots by offering a blend between its mid-twentieth century origins and a contemporary lifestyle hub. It's a creative space that features all a coffeeshop, a library, a bookshop, an exhibition space, and restaurant by a renowned chef, and a secret bar.
Whether it's a tasting menu with an old school friend, or drinks with that random girl who keeps liking your Facebook posts, there's no denying that Bangkok boasts its fair share of creatures and characters. We're a friendly bunch, for the most part, and while dating is admittedly a tough pickle in the city, finding friends isn't so big a challenge. If you go to crossfit, you're already halfway there. If you go out to cocktail bars, you'll rub shoulders very easily. And if you grew up here, then you'll always have those childhood neighbours to fall back on. Here, we've put together a list of some of the most common types of friends we've noticed a lot of Bangkokians may have.
The historic area of Tha Thien lies on the Chao Phraya river, near the Grand Palace and Wat Pho. It is known and beloved for its many yellow and green shophouses on Rattanakosin, and these days is often frequented by avid cafe-hoppers. There are many cute hideouts around here, making it a must-visit neighbourhood for those who enjoy a bit of culture in a lesser mainstream location. Here, dressed head to toe in Onitsuka Tiger, Pea and Nathalie show us some of their must-visit places and experiences in a walk around Tha Thien.
The Singaporean-native coffee roaster "A Stimulant by Sarnies" has launched its first Bangkok flagship cafe with Sarnies Bangkok, featuring an impressive coffee list alongside an equally ambitious savoury and sweet food selection.
There was a time when gin was known as the lonely lover, said to be incomplete without a pairing. You could drink vodka on its own. You could drink whisky on its own. You could down tequila on its own (as a shot if you're 20, and on ice if you ever grew up). Yet gin was always seen as a spirit that had to be paired with at least tonic or soda water to make for an enjoyable and easily drinkable beverage. But then we met and fell in love with all four seasons of Akayane gin.
The somewhat irony, however, is that the term 'dumpling' loses a lot in translation. In Thai or in other Asian languages, we have a lot of different words for what in English falls under the all-encompassing 'dumpling.' After all, how might we even define the dough-y darling? The traditional dimsum? Taiwanese baos and buns? Japanese gyoza? Korean mandu? Cantonese Wontons? Italian Tortellini?
Following around the collection's mysterious white rabbit motif, we found exploring the wonderland of curious old alleys and curiouser quiet corners of Yaowarat, making a few quick stops along the way. Maybe you'll recognise some of the more iconic spots of the Chinatown area, but you'll probably also see some more unfamiliar hidden locations.
For those who never paid a visit to this oasis of curry and rice and are currently wondering if it truly lives up to the hype, the greatness of this place could also be visibly measured by its presence in Netflix's latest Street Food show. The series documents Asia's street food culture and is directed by David Gelb, the very same guy behind Chef's Table. Although Jay Fai was highlighted as the star in the Bangkok episode for Street Food, Jek Pui was also given ample screen time. It has its own tale that constitutes the age-old Thai culinary wisdom and values which have been embedded evidently in street-side cooking.
Phannapast made her mark on the global art map when she was discovered by the global fashion house, Gucci, via her Instagram page. Infusing passionate romance and modern fairytales in her work, Phannapast Taychamaythakool, designed a stunning graphic book to promote the "Le Marche des Merveilles" jewellery line in the most gorgeous way.