2020, what a year.
Each month this 2020, we will be celebrating a particular theme; be it private jet etiquette in the summer, or how to adequately pair chocolate and champagne during the festive season. We've been looking forward to the tenth month of the year since the first month of the year, as the theme for October hits close to home.
In fact, it hits home right in the bullseye. Our October 2020 theme is entitled, 'A Postcard from BKK.'
[Hero Image Credit: Ryan Tang/Unsplash; Featured Image Credit: Andrew Draper/Unsplash]
It is a slightly retrospective and nostalgic theme, as it toys a lot with the idea of memory and good (better?) times. It aims to honour and attribute a love letter to cool and curious Bangkokians, and the elements that make the Thai capital a great city to live in.
Stories you'll see this month will be centred around living the good life and living it up in Bangkok as always and as all year round, but with a greater spotlight on what it means to be Bangkokian, what it means to live in Bangkok, and what goes beyond the surface (or beyond the PM 2.5) to what makes us tick, talk, and tipsy.
A postcard is a short snippet, but can carry a lot of meaning. Especially during this pandemic we could have never predicted, it develops an even deeper meaning for our theme. Travelling thoughts and wandering wonders, our pieces this month will be centred on food, art, fashion, and culture, as well as more neighbourhood soi guides (have you been checking these out?).
Bangkok: city of angels, in the land of smiles. We know times are turbulent, but let us find a little light linked for you here. Channel that infamous Bangkok buzz, and seek inspo below.
The suave speaker with a humble and noble aura is not a show-off. He doesn't need to be. In 2000, he was appointed Creative Director for the legendary Jim Thompson, and within the same period published two books (Living with Zen and Being with Flowers). After various successful stints befitting penthouses in Knightsbridge, villas in Malibu, and yachts on the Italian Riviera, in 2018, he then became Chief Creative Officer for Sansiri, a position that had not even existed before. It was especially crafted for him.
It is a true testament to Ou's skill, and a brilliant example of where the work speaks volumes for the talent, but also for the man's character. Read ahead as he takes us on an illustrious voyage with stops along the way for flip flops at the Vogue Gala, the best roast beef in Bangkok, and a nightmare of a shopping bill in Milan.
It's a really homey and cosy soi, all the while being a global destination for food and drink, too. There's a massage parlour and a 7-11 (much like everywhere else in central Bangkok), and a Never Say Cutz for hair. There's a plethora of street food to enjoy, but also a select few fine dining establishments. It's unpretentious, but it's also nothing short of excellence. There's a church and a monastery on this street, and if you're religiously into exploring the best of Bangkok, here's why Convent Road should be one of your callings. 
Whilst 26-year-old Kitty rose to fame recently, she has been doing gigs from the early age of 20. Although season 2 for Girl from Nowhere may be in the cards, Kitty tells us about her current project that will be released next year. Here's a small bite from Kitty's showbiz life. You're welcome to join her fan club, too.
Although Jay Fai's crab omelette is well recognised by many, what Chef Ton likes as his before-bed meal here is her umami-packed Dried Seafood Congee. The world-renowned, street-side restaurant with a lineup of premium seafood-packed dishes makes a mean ultra-thick rice porridge without all the nonsense.
It takes a lot to be a bartender, and to be a great bartender at that. And whilst it is a largely male-dominated industry, we're proud to see that even in Bangkok there is a rise in female bartenders who are really bringing something to the table. They're setting the bar (no puns intended) really high for other aspiring female bartenders, and women looking to break a glass ceiling alike. 
Following around the collection's mysterious white rabbit motif, we found exploring the wonderland of curious old alleys and curiouser quiet corners of Yaowarat, making a few quick stops along the way. Maybe you'll recognise some of the more iconic spots of the Chinatown area, but you'll probably also see some more unfamiliar hidden locations.
Through sheer handwork, dedication, and immense struggle, Gongkan has independently created a prolific career for himself. Tapping onto Gongkan's endeavors and getting to his raw personality, we got candid and unboxed a couple of unknown facts you probably never knew about him. Peek into the extraordinary Gongkan's life and find out what's next for him. 
Most people forget about Ari when it comes to places to explore in Bangkok. The neighbourhood is almost completely void of tourists and big hotel chains. It's often left out of Michelin guides and Google images of Bangkok. Yet Ari is, in actual fact, bursting with fun things to do. It's home to dozens of picturesque cafés, creative shops, and modern art galleries. But Ari is a neighbourhood that doesn't beg for attention. Instead, it's simply content to just lay low and serve freshly baked pastries on a hand-painted plate. Consider it Bangkok's best kept secret.
Now long a regular at some of the country's most renowned hotel mini bars, and a prevalent contender at the city's beloved chocolate buffets, Kad KoKoa has taken the region's chocolate scene by storm, bringing their locally sourced and lovingly packaged Thai cocoa beans under the world's spotlight. Tucked into a sleepy soi off Naradhiwat Road, we recently sipped a hot chocolate at the cosy coffee-, chocolate-, and workshop, and uncovered what makes the "dedicatedly Thai" chocolatier so special. 
Sebastian's world-famous bar is a neon-signed icon. The old house-turned-watering hole lined with wallpapers of palm trees and parrots is a refreshing break from the typical moody, glitzy "cool" bars of Bangkok. Sebastian was all about fun and escape for Tropic City. He's made a killer playlist of soft hip hop and tropical house for the bar, while his cocktails – as expected – are real tropical treats. We don't know how he managed to come up with an idea for such a cool bar that managed to become one of Asia's 50 Best Bars in less than two years of its opening – but we did find out a few other fun facts about Sebastian de la Cruz. With our 27 Questions, we got to know what most other interviews won't tell you about this cool, laidback bar-creator.
As the 21st century continues to evolve and march forward, it's a real blessing to see the role of a woman role in a male-dominated food scene becoming more and more approachable. This means that we see a larger number of working female chefs, especially those in the high level of the kitchen hierarchy. So to celebrate International Women's Day as well as encourage the sisters of our womanhood who dream to one day work professionally in a real kitchen, we got a chance to chat with some of Bangkok's top-of-the-line chefs who boast real-deal culinary skill. Scroll down to see their career tips and tricks for aspiring chefs and fans.
The special "Le Pilage Du Monde Bangkok Exclusive" will be available in 3 colours: Navy, Garnet Red, and Black, with selected black leather handles. So, which one could catch your attention? These effortlessly chic designs come in high-quality nylon with a choice of a shoulder bag and a travel bag. The free-spirited design and sophisticatedly charming style make it a must-have for every avid adventurer and explorer. 
"Whenever I want to eat French food, Le Cabanon is my go-to. Here they serve some of the very best French food in Bangkok. It's my ultimate comfort food, 'cause, you know, I'm French, and the restaurant uses absolutely beautiful, pristine products. I spend a lot of time there. My family and I always go there for a comforting lunch or dinner. Their seafood dishes are excellent; the oysters, the clams. Delicious."
We always knew the Old Town was the secret to a really fun night out. Even Conde Nast Traveller raved about China Town's Soi Nana as one of the world's most hip neighbourhoods. Coffeeshops seem to suddenly multiply by ten times in 'grammability once you cross the Bang Rak border. And the food? We're getting heart palpitations merely trying to find the words. 
First and foremost, Chef Álvaro is an ardent lover of street food. "I love street food. For me, it's like mama food; comforting and fuss-free. My absolute favourite spot in Bangkok is this one, Elvis Suki. They have the best scallop and clam dishes, super good and super nice. You really need to try everything."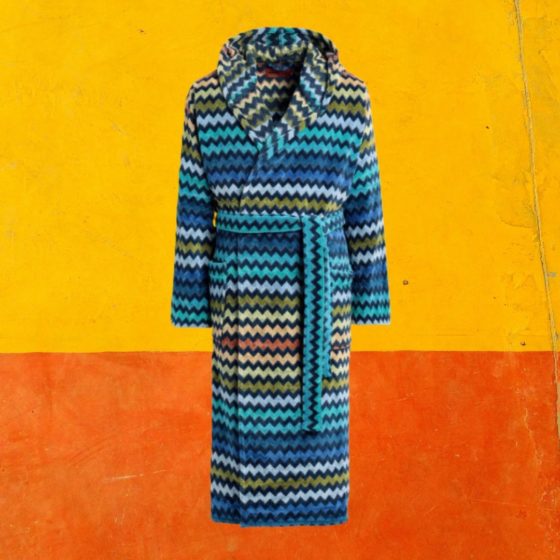 Whether it's post bubble bath or pre breakfast on a Sunday morning, there's no denying that the bathrobe is a true classic. We see American kids sport them when unwrapping Christmas gifts in '90s movies. We take a nap in them when we're on vacation and the hotel one seems all too alluring. And we sport one at home — towel types or satin types — for when we feel like being a walking, flowing, epitome of relaxation. Here, we've put together which exact luxury bathrobe you should be lounging in this weekend, according to your Bangkok neighbourhood. 
Phannapast made her mark on the global art map when she was discovered by the global fashion house, Gucci, via her Instagram page. Infusing passionate romance and modern fairytales in her work, Phannapast Taychamaythakool, designed a stunning graphic book to promote the "Le Marche des Merveilles" jewellery line in the most gorgeous way. After she earned her degree in Fashion Designing at Chulalongkorn University, she also happened to be the creative director for the Thai fashion brand, Kloset. The road to success has been bumpy, but Phannapast has always been grateful and appreciative of what she has achieved, which makes her so honest and down-to-earth.