Welcome to your official guide to Netflix and Chill.
Gearing up for the festive season? There's no doubt that every time we sign in to Netflix, we end up spending half an hour deciding on something new to watch — or worse, ending up re-watching something we already know. That's why, to spice up your stroll into the festive season, we've listed everything from Christmas-themed movies and series to Korean and Japanese flavours that are dropping on Netflix Thailand this month.
Grab your popcorn or some wine, and fasten your seatbelt for some binge-watching this November.
[Hero & Feature Image credit: The Crown/Courtesy of Netflix]
Netflix Original Series
Paranormal
Premiere Date: November 5
Need a dose of mystery and suspense? Set in the 1960s, Netflix's first Egyptian original Middle Eastern series has been adapted from Ahmed Khaled Tawfik's bestselling thriller novel. The plot follows the adventures of Dr. Refaat Ismail, a single haematologist, who finds himself shaken by supernatural events when a ghost from his past comes back to haunt him.
The Crown: Season 4
Premier Date: November 15
If you're already a fan of this historical drama series, then you will be excited to know that they are back with Season 4 this month. This series follows the life and reign of Queen Elizabeth II and the British royal family set in the 1980s. This season, Elizabeth clashes with Prime minister Margaret Thatcher while Prince Charles enters a turbulent marriage with Lady Diana Spencer.
Films
Her
Premiere Date: November 2
Her revolves around a lonely writer who develops a relationship with "Samantha," an insightful and sensitive artificial entity. Set in the near future of Los Angeles, this film is a must-watch for all Sci-Fi and romantic comedy fans out there.
Jingle Jangle: A Christmas Journey
Premiere Date: November 13
Why not get into the spirit of this festive season by watching this musical adventure that will transport you to a fresh, holiday family feeling? Situated in the glorious town of Cobbleton, this film follows legendary toymaker Jeronicus Jangle, who invents fancy and whimsy wonders. After his trusted assistant betrays him, he finds new hope when his curious granddaughter comes into his life. 
Hillbilly Elegy
Premiere Date: November 24
If you need a heavy dose of drama, this movie revolving around the American dream can really spruce up your evening. Based on the best-selling memoir by J.D. Vance, this film explores the life of a Yale Law student who is forced to return to this hometown. Why? You can only watch to calm your curiosity. 
The Christmas Chronicles: Part Two
 Premiere Date: November 25
The Christmas Chronicles returns with their sequel that is full of heart, humour, and holiday spirit. A cynical teenager, Kate is unhappy with her mum's new relationship, and decides to run away. Kate lands up at the North Pole where a mysterious, magical elf plots to end Christmas for good. Find out how Kate unexpectedly gets pulled into a new adventure with the one and only Santa Claus. 
Documentaries and Reality Shows 
We are the Champions 
Premiere Date: November 17
It's a quirky, charming, and oddly inspirational competition watch. We are the Champions sounds like an attempt to wind down 2020 in the coolest way. Each episode in this series follows a unique competition that provides a window into a world of determined, passionate, and skilled competitors who become heroes in their own world. What kind of competitions? Expect to see cheese rolling, chilli eating, dog dancing, and many more bizarre contests. 
Sugar Rush Christmas: Season 2 
Premiere Date: November 27
Are you ready for a holly jolly twist this season? Bakers, be ready to binge-watch this series and witness other bakers cooking up holiday treats for the festive season. Who can create the tastiest and the most appealing dessert? 
Korean Dramas
Peninsula 
Premiere Date: November 3 
A standalone sequel to the 2016 film Train to Busan, this action-horror film follows the life of a former soldier and his team who are on a dangerous mission back to zombie-demolished South Korea to save a family of survivors.
Graceful Friends
Premiere Date: November 12
No Korean series is complete without some drama and romance, right? A sudden death brings everyone's dirty secrets out to the surface which cause the lives and marriages of a group of close-knit friends to go out of control. Get ready for a plot twist lying ahead.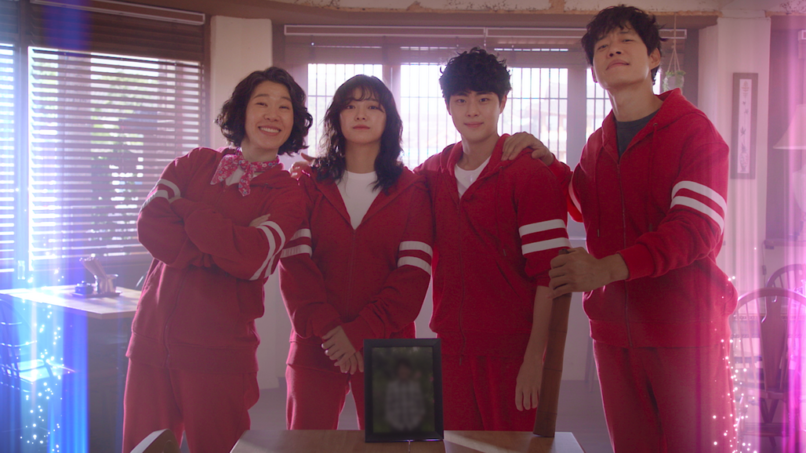 The Uncanny Counter
Premiere Date: November 28
You might want to slurp some noodles while binge-watching this series. The Uncanny Counter revolves around a team of demon hunters called "Counters," who come to Earth all disguised as employees working at a noodle restaurant. Why? They are on a serious mission to capture evil spirits in pursuit of eternal life. 
Japanese Flavours
Final Fantasy XIV: Dad of Light
Premiering on November 2
This drama explores the relationship between a father and son and how they rekindle their bond via an online role-playing game called "Final Fantasy XIV." Our suggestion? Watch it with your dad.
Mother 
Premiere Date: November 3 
This Japanese Netflix film might be a tragic tale of cruel parenting but also an eye-opening story. Shuhei's erratic mother feels threatened when he starts to awaken to a world that is beyond her distorted control. This could send the family hurtling towards tragedy. What will happen next?