Bangkok's cultural scene never fails to impress us with its new talents and thought-provoking arts. The city has become a hot haven for dynamic up-and-coming artists, welcoming innovative ideas and talents with open arms. Dedicated to all these creatives in town, this series explores the journey and the edgy personalities of some of the most notable rising stars in the country.
We got candid with the bold, talkative, strongly opinionated, and ever so talented Franco-Cambodian artist and activist, Adana Mam Legros.
Adana is a Bangkok-born and Cambodian-bred international artist, who always had a passion for drawing, but only truly discovered her artistic passion when she had to battle against early cancer. Coming out as a warrior from her severe physical and psychological suffering, Adana bounced back and touched our hearts with her artwork. Spending her childhood in Phnom Penh, Cambodia, with survivors of sexual exploitation, Adana was driven to change the world with her social work and fundraising events. She also travelled to Nice, France, to study law and political science to learn more about fighting against social injustices, but her destiny had something else in store for her. After battling a life-threatening disease with such strong spirit, meditation helped her overcome her loneliness and taught her resilience.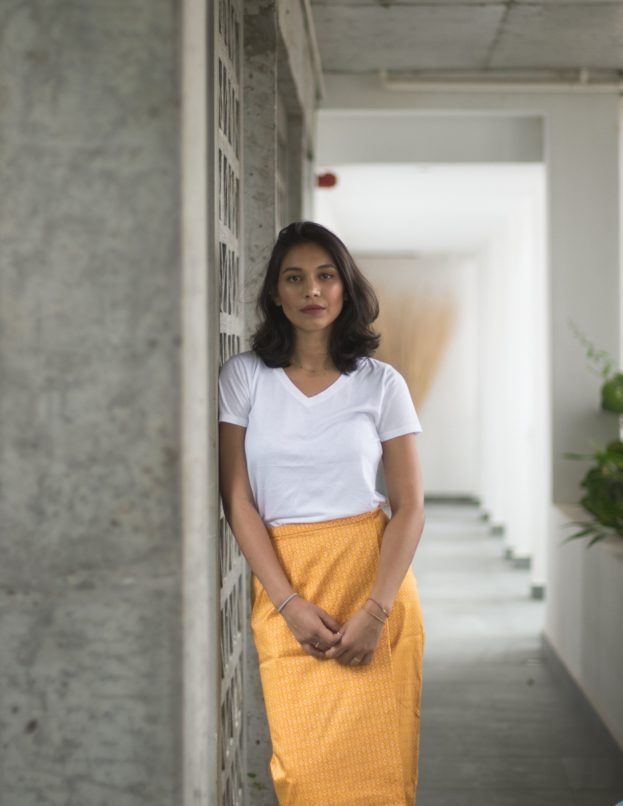 Adana's art is a pure, raw manifestation of her suffering, and also a way to depict women empowerment. Her pictorial work stems from questioning, and from revolts, empathy, and consciousness, and acts as a medium to express self-awareness. After successfully organising her first exhibition in New York, Adana also exhibited in Sydney and Paris. Last week, we saw her in Bangkok with her latest works at the Alliance Française Bangkok for Galleries' Night Bangkok, with her "The Meaning of Life" exhibition. Next, you can catch her at the Rosewood Phnom Penh for her upcoming exhibition.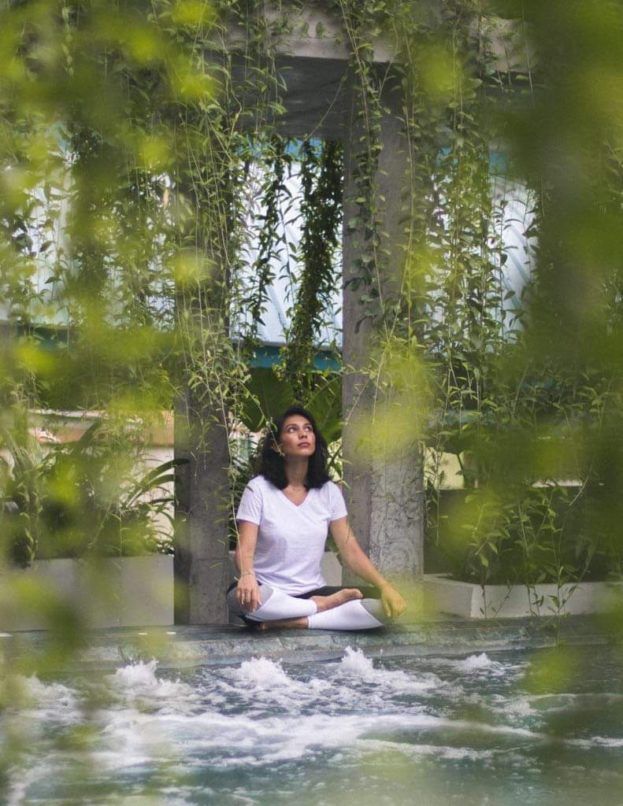 Here's a dose of inspiring life lessons that will keep you on the edge of your seat.
Describe yourself in three words.
Strong. Creative. A bit shy.
Could you tell us a bit about your childhood? What was it like growing up in Phnom Penh?
I was born in Thailand and then I lived in Cambodia my entire life. My parents had an NGO that fights against human trafficking. So, I grew up with victims of sexual abuse, and that world was very violent. Very dark. But it taught me how to be strong. It taught me courage, it taught me resilience. You hear violence and you hear stories from girls that are our age — from 3-years-old to in their 40s — who have experienced a lot of trauma. It was a scary world but it taught me so much. The girls, they are my sisters – some of them even call me "mum" now. I think that this environment structured my art, and structured my mind. All my art is about women and empowering women. The women in my drawings are very destructive and there are always pieces of body parts missing, or they are cut in half – but they are always strong and always have their face up ready to go to war. Ready to face life.
What do you like about drawing and painting? And how did you get into it?
At the age of fourteen, I started doodling a lot. I started off small, but then during my cancer I started to draw big. I started to also read more about psychology, and I realised that all my drawings are saying something. One of my friends, who was a psychologist, told me to take all my drawings and look at them. So, when I started seeing my drawing since 2015, all of them had something connected to cancer. In my last drawing, two months before my diagnosis, I created this drawing where I wrote "Infection Completed" and then I had my cancer. I understood then that subconsciously you draw things.
After my chemotherapy, my father and I decided to take the car and just leave. We didn't know where we were going, but we just left Nice and travelled all around the coast of France and then to Barcelona, and up to Paris, for about two months. When I was in Barcelona, I was eating some tapas, and I was like "Oh my god, I know exactly what I want to do." So I contacted Susan Sarandon, who was my mum's friend, because I wanted to do an art project. She just told me to just come to her house. In New York.
For my first exhibition in New York, I wanted to show that every art has a meaning, an emotion, and I wanted to intensify that emotion with food — so I had a violinist play and an Italian chef to make tapas to intensify the emotions. For example, my first painting is 'Destruction,' so I had wasabi, mayonnaise, and radish to go along. Every drawing had a taste to associate with — to create a masterpiece of senses.
I like to analyse the subconscious in my drawing. Whilst people might recognise me as an artist, I want to be an artist-activist because all my activism is about consciousness and empathy. Conscious, in the sense that who you are, your thoughts, your actions, and to be aware of yourself constantly. So, my activism is to bring awareness to who you are, and my art is the medium to convey this message. The consciousness in my art questions, "Hello homo sapiens, where are you going?"
Name the last TV show you binge-watched.
Locke and Key on Netflix.
What is your favourite part about being an artist-activist?
You contribute to the well-being of the planet. After cancer, when you see your life pass right by you, you are like, "what is the meaning of life? Is it only about consumption? Is the meaning of life just work, sleep, family?" If I can contribute to making someone more emphatic and sensitive, I want to be able to leave my footprint in the world to say I contributed to the well-being of the planet. I want to end my life by saying that I was part of ending slavery, sexual abuses, and more, through my activism and art.
Is art therapeutic to you?
Yes, for sure, most of my art is my therapy. I was in a very dark place where I didn't want to accept my reality. So I kind of took my pain and put it on a piece of paper.
I also love contact sports – I used to play rugby and now I do boxing. Contact sport and art are my therapy. If I don't hit, I go crazy, and if I don't draw, I don't understand.
What is a character you would like to play from a TV show or movie?
Lara Croft from Tomb Raider. She is badass, sensitive, and wants to change the world. I love her and her activism.  
If you could only choose one song to play every time you walked into a room for the rest of your life, what would it be?
Sunday Bloody Sunday by U2. 
Who do you think is the most underrated artist?
I think the fact that we are women and we can vote, we tend to forget the past about the women who fought for us to get our rights. We forget how we came here as women. So, that's also a kind of artist to me. I feel we don't give enough appreciation and recognition to those feminists who fought and died for us.
Who is your favourite artist?
Jiddu Krishnamurti. He is an Indian philosopher. He says that he isn't a guru and preaches "don't believe in what I say, question what I say." That's what I like about his philosophy. It changed my life.
If you were not an artist, what would you be?
A film director. My second dream job is to become a film director. When I was 17, I did a short film on myself, with my camera, and I loved editing. I did a film with my friend, AnnaLynne McCord (you've seen her in 90210). She is like a sister. At that time, I didn't know who she was. Then, when I was 17 I edited her short film. Then, at 19 she called me to be an assistant director, so that was really cool.
What is an Instagram account you're obsessed with?
I don't remember the name but there's lots of art that is amazing on Instagram.
What are you currently reading?
The Empathic Civilization by Jeremy Rifkin. I'm currently reading it in French but they also have it in English. The book deeply focuses on empathy, neuroscience, and psychology.
If you were to write an autobiography, what would the title be?
There is this philosopher I love. His book was titled "Indignant" and I feel that would be my title, too. Something about being rebelled.
What is your catch phrase?
Consciousness, empathy, and awareness. This is what I repeat throughout the day.  
What's a wardrobe staple everyone should own?
Wear anything. Be unique. Be free — but make sure it is ethical and sustainable clothing. If we can, we should.
Name 3 essential items you like to always carry in your bag.
I really enjoy reading books, so everywhere I go, I wait for the moment to read. I also carry deodorant, and a black pen or pencil to draw. Also, a journal.
Your favourite spot in Bangkok?
I'm still exploring Bangkok, so I don't know much about it. But, last night I was at Chinatown and I was at this bar called Wallflowers Upstairs — it was really beautiful and cosy.
Do you have a happy place or favourite spot that really makes you feel good?
Actually, I sailed around the world with my dad on the Mediterranean Sea and Atlantic Ocean on a sailboat for about 2 months. It was a crazy adventure. I think we saw things that we don't see on land. For example, the sunrise in the middle of the ocean where there's nothing around you. It's just you and the sea. The water turns purple, the sky is filled with stars, and there are dolphins. It's the most beautiful thing because you are there with your mind and nature.
Do you have any favourite from your own work?
I think for me Chapter 4 "Acceptance" is my favourite because when I drew it, it was a very tough phase of my life. It was the time to accept something about myself that I couldn't accept. I was angry about things that caused me to be like that. When I drew, it was like taking that pain out of your chest and putting it down on the drawing. You just feel so much more relieved. I felt like the dark side inside me was out. For me, this drawing is also the liberation of a woman's body, and yes, I'll be honest and say that that she's in quite a sexual position — but it's meant to show that she is also accepting her sexuality.
Could you tell us a bit about how you got involved in activism?
At first, my parents didn't have an NGO, so the girls lived with us in our house. When I reached the age of 6, I started helping my mom sewing bracelets and I assisted in small tasks. I would also go along to educate the girls. When I was around 14, I traveled around the world with my mom giving speeches — which was a big deal for me because I felt like I was contributing, too. Then, in New York, I raised money for the cancer foundation. So, for me, small actions really contribute to having bigger reactions.
Would you like to add anything else? A message for young aspiring artists who want to pursue this as a career?
It took me a long time to accept myself as an artist because I never actually studied art. So, first of all, accept that you can be an artist. For me, an artist is someone who has the ability to push their limits and is not afraid to open up. Get your message out there and never take no for an answer. For me, the biggest lesson was when I was in New York when I arrived with my two luggages and wanted to do an exhibition. Everyone over there told me to go back to France and start small first. I didn't listen. Never start small, if you want to dream, go big. If you have a goal, just go for it. If they say no, just push the boundary.
Always dream. You have one shot, one life, so dream.
Also, what's next for Adana?
For me, the next exhibition project I'm trying to do is very big, really.
Four months ago, I did an exhibition in Paris which was an international call for renaissance artists — gathering artists around the world to bring together the idea of empathy and consciousness — asking people to be aware of our civilisation. It didn't go anywhere because I didn't have media with me. But now I'm planning to do it in New York during September, so hopefully, I'll have something. I want to do somewhere where I can be heard. It's not about having faith in myself, but I just know that I'm a source of energy and I never give up.