The world is full of successful CEOs, innovative entrepreneurs, and risk-taking business owners, but every person follows their own path to the top. Welcome to 'How to Succeed', our interview column in which we pick the brains of industry leaders to find out how they got to where they are today.

Head to the nearest Absolute You Studio after work any day of the week and you'll see just how packed the classes get. Known as Thailand's wellness industry pioneer, from Vinyasayoga, Absolute Rhythm cycling class, to core strengthening Pilates reformer, Absolute You has you covered. Benjaporn's ever expanding wellness empire also includes a dreamy island getaway, Absolute Sanctuary in Samui and Absolute Fitfood. Here, we sit down for a chat with the successful brains behind it all, founder and managing director Benjaporn 'Ben' Karoonkornsakul.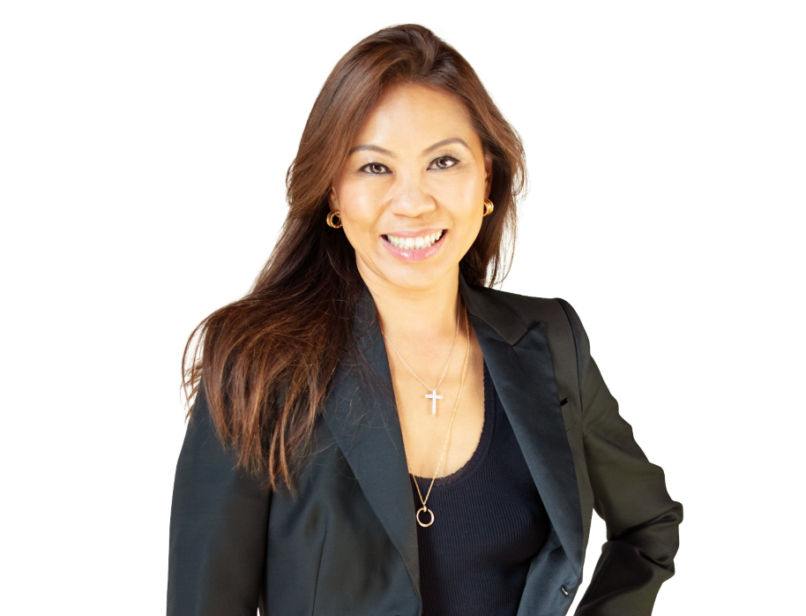 Tell us a little bit about yourself and your upbringing.
We're a typical Chinese-Thai family. Everyone is always busy working. Strong work ethic is of the utmost importance for us. My family is big; one may even say way too big.  Twenty-five of us lived in same house until I was 8 years old. My grandma, my great aunts, my dad's brothers and sisters. It was because of my large multi-generational living arrangement that I naturally learned to juggle and to work effectively in chaos, Thai style. You experience a lot of management at home. Even though we were lucky enough to have two helpers, we all needed to take care of a lot of chores ourselves around the house. At our household, we cooked all day because at any given point someone is hungry. Every family member had a role, like a company.

My dad had a factory which produced chicken feed for poultry farms, so from a young age, I knew what it was like to be an entrepreneur and a business owner.
Can you tell us about your transition into the wellness industry?
I did not start out my career in wellness. My education was quite typical. I studied business for my undergraduate then later finished an MBA. To be more specific, for my bachelors I did marketing and then for my Masters (MBA) Finance and Banking. I worked in finance and banking for 8 years on the product side. I couldn't stay in one job. Over 6 years, I had 8 jobs. I pretty much changed jobs every 6 months on average. I was quite okay with the industry but I didn't love it. They paid very well but it wasn't my passion. I was bored of finance and I thought it was time to do something new. I'm not a serious planner and I didn't think about the transition so much. It just sort of happened organically. I can't tell you when I decided to go with wellness as a path. I was mainly tired of having to hear people talking big numbers and acting so smart all the time.

I've always liked exercise and I always did many different sports. Twenty years ago when yoga wasn't yet so popular, I became interested. The yoga trend already picked up in the US so I did a few classes in Hong Kong at proper studios. In the past before yoga became mainstream, it used to be taught at someone's house. It was so inconvenient. I remember having to carry my own mat and every 15 minutes I needed to move my car at my first instructor's house. I needed a break from banking so I quit. Hot yoga is what I first did. I did my first training with 200 people in Los Angeles. Everyone was very hippy but I was very business-oriented. It was there that I met Harrison and he was one of the first two instructors to join. He is still an active and valuable member of our team today.
Why did you create the Absolute You brand? Was there something like it before?
I was looking for a new challenge and something more exciting. I saw the yoga trend picking up in the US and saw the opportunity to be the one to start the trend here in Thailand.
What made you go for it?
I'm not someone who doesn't ponder for too long before doing something, I saw an opportunity and felt the timing was right. I found two instructors at the training program in LA that I clicked with, convinced them to join me, and opened the first studio in Langsuan. Now 17 years later, we have over 400 employees. The Absolute Sanctuary in Samui has been around for 12 years.
What motivates and inspires you?
My motivation for doing what I do is mainly because it is simply what I love. It's my passion and I truly love all the exercises that we offer. I really believe that if I love it, and it brings all this joy and improves my health, then I'm just sure that hundreds of people will love it too. All the things that we do help people to be better. I really believe in my products. I know they are all good and we've been running our studios for a long time. We listen to our customers and take feedback seriously.

All the compliments I receive make this business a fulfilling one. Everyday there are many problems to solve and things to do. Each day I feel accomplished after having conquered an obstacle. You get a sense of worth and feel good about yourself each time you successfully solve something. You make decisions and as problems arise you must fix your decisions.
What contributed to Absolute You's growth in its early days?
My advice when it comes to business is to always to be the pioneer because you benefit greatly from first mover's advantage. This helped us gain the initial momentum. Additionally, certainly our deep understanding of consumer needs, our services, and our fabulous team were the main pillars of our success.

We're always trying to be the first to bring new concepts and exercises into Thailand. The key is to market the right kind of product to the right customer. It is equally impactful to be the first. People think of us first when they think of rhythm cycling. We were the first to shout out what things are and we were the ones to educate people. When your brand is perceived and regarded as the gold standard, if it's successful it's a much better reward. I'm very fortunate that I'm able to combine my passion with business. In this industry, usually you have an instructor who's great at teaching but isn't a businessperson.
I started it with a team of 6 staff and now we are at 400 staff. I always tell them whenever we're short on staff that it's not an excuse to not deliver good results. I built my business from day one so I can single-handedly do all functions. I know how to set up a mat and also how to clean the mat. I truly believe that knowing every aspect of the business is of the utmost importance as founders and CEOs. You simply need to know all the details and the staff will trust you because they know you know best and better than them. No one will dare trick you. My staff is aware that I'm super good when it comes to memorising numbers.

You don't need to do every department but you need to know how. It is the best way to earn respect, respect doesn't come from just having a big title. As the leader, you need to show your team that you are more informed than them. You should be able to offer them support, advice and direction.
What were the major initial challenges and hurdles?
People had no idea what hot yoga was, so it took a great deal of effort educating them. Communicating what it was and getting them to understand the benefits were not an easy task. It also took a long time to find the right talent and to craft training programs to ensure quality services. To get our business off the ground, we focused all our energy on building the market, communication, and educating the public, as well as effective marketing and finding the talent. Our business especially requires such expertise. This has always been a challenge but now we've done it enough that we know what to do. We have the right process and we know it takes 6 months to a year to perfect a new exercise, then 2-3 years before we can expand. It is so important for us that we have good team members! I know 95 percent of my staff down to the very bottom level.
Can you tell us about the challenges your business faces today?
Competition! The industry is increasingly saturated so we have to stay proactive, think ahead and remain agile. I think it will be even more saturated in the future and there's definitely more room to grow. Now, everyone wants a piece. We have the advantage because we were one of the first to enter the market. We've got brand recognition and reputation. A matter of business really, just have to do whatever you have to stay success, digital marketing included. Our goal is to stay at the forefront and be ahead of the game. Your members need to see you and know about you before they spend money. You need to be seen and heard. Then once people know about you, it is crucial that you are able to maintain the quality and control the costs. We need to make sure that whatever we offer is sustainable and profitable in the long run.
Did you envision your brand to be what Absolute You is today when you first started?
Not at all, I didn't think it would be how it is today. Some people have great imagination; I'm not one of those. I try to do my best everyday but I don't try to envision 10 years ahead or plan that far in advance. I saw an opportunity and figured I can do it so why not. You can't think too far ahead, things change, you have to have some plan but you can't plan down to the dot. You just have to adapt and go with flow.
How many branches do you currently have and where do you plan to take your business?
Three main fitness units, Absolute Fitfood, Wellness Resort (Absolutely Sanctuary) and 10 Absolute You studios in Bangkok, 2 Absolute Cycle studios, and 1 Absolute You Studio Singapore. The reason we focus on Absolute Cycle Studios in Singapore also has to do with the fact that in more advanced markets like Singapore and Hong Kong, yoga has been around as a trend forever, so rhythm cycling has a lot more room for growth. Rhythm cycling and pilates reformer are both relatively new still, so we can compete a lot easier than in the yoga world. However, both these activities are very small in terms of market size because they're more niche and more expensive.

Absolute Sanctuary in Koh Samui has been in business for 12 years. It was one of the first of its kind. The wellness resort targets the younger crowd between 25-45. It's beautifully decorated and the classes are guaranteed to be top notch, while the experience is still affordable. People can afford to go 2-3 times a year to Absolute Sanctuary. Our strength is for sure our products and programs. We have the best classes, delicious & nutritious food and expert instructors. At Absolute Sanctuary we have 22 targeted health programs that are holistic wellness approach from colon cleansing, lymphatic massage to boot camp training. Our programs are designed to fix the problems that most people need help with such as body realignment program, sleep well, anti-stress and weight management.
We plan to share our know-how, experience from successfully running Absolute Sanctuary and offer hotel management services. I know that wellness hospitality is a fast growing area and we're well equipped to lead.
What do you have in store for the coming years?
Expand within the Southeast Asian region: Vietnam, Indonesia and Hong Kong.
What is your role in sustainability and CSR?
We have our 'Green Future Project.' Our plan is to aim for no plastic use by the end of 2020.
We are starting small at the moment but we are aware that people use a lot of plastic bags and bottles at our studios. We're coming out with reusable bags and bottles under the Absolute Brand. Reducing plastic use is a top priority for us.

We recently held a one-month campaign called 'Ride for Reason'. The campaign raised money and we donated 10 baht per ride to the heart foundation.

We have also held an auction of our clients' handbags and we donated money to build playgrounds for provincial schools around the country. This was a huge success and we plan to do more of these.
What advice would you give to young women who wish to start their own business in wellness and hospitality?
I think it is a great idea if that is what you're passionate about. The market can only get bigger and frankly competition isn't all that bad. Nowadays, you don't have to spend much time explaining and educating the public. People are a lot more health conscious. You just have to focus on creating and building brand awareness.

Without a doubt, competition is fierce but it's just a matter of who's better. As the market gets bigger, you can only hope you're good enough to remain relevant and successful. The more people enter, the bigger the market but if you're still the best one around then you take over people's market shares.

I think people take much better care of themselves these days and they don't wait until 50-60 to start taking their health seriously. In this business you make people look, feel and become better. People appreciate what you do for them. People thank me constantly for doing my business. You make money from them yet people thank you. I thank them for their support but they also thank us for existing and offering high quality services.

Specifically, for young women reading this, I want to emphasise that everything comes with hard work so be committed and eventually you will see the end result. Be aware that no one tells you their problems on social media and remember that. If you want to be truly successful, you need to not give up easily. There's always a way if you are determined no matter what the obstacle. Things will not go right the first time but you just have to keep trying until things workout. It also has to a lot to do with luck and I wish you all good luck.