More than just a beautifully-designed space, The Great Room is known to be the networking grounds of brilliant minds from a wide range of industries. Indeed, its community of like-minded, high-profile individuals make up the core of the co-working space. Since its success in Singapore, The Great Room has expanded to Hong Kong and Bangkok. The latter occupies 30,000 sq ft over two floors in the light-filled Gaysorn Tower in Central Bangkok.
In the stunning space in the Thai capital, you will find one of its pioneering members, Venture Partner of Gobi Partners, Shannon Kalayanamitr. The ex-CMO of women's e-commerce platform Orami grew up in Silicon Valley before moving to Bangkok at the age of 12, armed with a different mindset than her peers.
We interview the strong-willed Kalayanamitr on challenging gender norms in the workplace, growing up as a third-culture individual, and advantages of being at The Great Room Bangkok.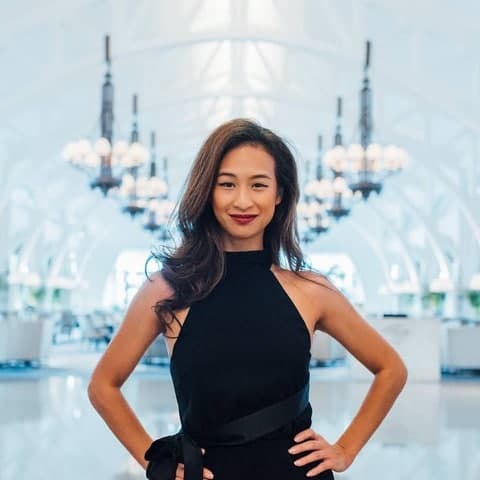 What exactly do you do?
I am a Venture Partner for venture capital firm Gobi Partners. I focus on investment into start-ups from China to Southeast Asia with over US$1.1 billion of assets. I also manage other businesses such as the Ikigai Group, my advisory group that works closely with the Thai Government, a Telco hardware company, and a new upcoming project.
How did growing up in the United States influence the way you think?
I was born in Portland, Oregon and moved down to the Silicon Valley when I was 2. Growing up there definitely gave me a broader experience of mindset and openness when dealing with people and relationships and business around me. My dad would constantly be feeding me magazines, information on current events, and what's going on in the world, while also inculcating an Asian perspective for a worldly mindset.
Growing up, how were you taught to stay true to your Thai roots?
My parents always spoke to me in Thai. Every Sunday, we'll go to a temple to learn the traditional dance and how to read and write in Thai. It helped keep us in tune with Thai food, culture, habits and lifestyle. However, I didn't really get absorbed into the Thai culture until we moved to Bangkok in 1990.
What were the difficulties you faced when you moved back home?
It was a huge culture shock for me. Even though I went to an international school, it was full of Thais who transferred from a Thai school, and many of my classmates were two to three years older than me. I was also a very late bloomer. I received so much negativity for the fact that I looked Thai, but could not speak Thai and acted differently. In hindsight, I think it was mostly the fact that they could not speak English as well as I did when we were in the same grade.
I learnt later in life that when we receive this type of negativity, it's usually the other person projecting their insecurities upon us, and not actually us.
Tell us more about the NGO work you did and how it has shaped the way you think and work?
I took eight months off work to help out with the Tsunami rescue efforts, from corpse rescuing to scholarships and building NGO schools and fundraising for boats to bring back livelihood to the south of Thailand. It was a very humbling experience, and it really put things into perspective, reminding me about what's really important in life. To be able to create such a positive impact has had such a profound effect on me and has become something I try to incorporate into everything I do up to this day.
Who were your role models growing up?
I have many role models, and they were varied throughout the years depending on which industry I was in. It's mostly high-powered, confident individuals who have achieved a lot despite their circumstances — and specifically, ones with a more worldly/social approach to life and businesses. Some examples are Oprah, Blake Mycoskie (creator of TOMS), Michelle Obama, and every person highlighted in the book How to Change the World.
What is the most challenging aspect of being a woman in your industry?  
Most of my work or businesses have been in male-dominated industries, from investment banking to tech. I think it's the prejudice (whether it's conscious or subconscious) that comes with the first glance. You automatically get underestimated, even before you say anything, whether it's the way you dress, speak, act, or even the nature of how a woman leads. I've learnt to be less self-aware and let my actions speak for itself.
How do you differentiate yourself from your male counterparts?
Women have our own strengths. I believe mine is a knack for communication and empathy. My superpower is understanding what people want, where they come from and how to relate. Paired with the skills and know-how, I have the best tools to work with a team or business partner to come up with the best solution for consumers, partners and team stakeholders.
How has your unique upbringing contributed to the way you work?
I grew up watching and observing my mother pull graveyard shifts as a nurse in the United States, and my father working very hard with constant business deals. They were my role models. Additionally, as I was born and grew up in the States, I had the privilege of being around people of all classes and income levels. I treat everyone with equal respect and I believe that it goes a long way in what I do every day, be it at work or outside.
It's so liberating to be able to see a wider perspective of what the world is and not be stuck in a bubble.
What are your plans for the future? 
I'll be helping Gobi Partners run the Women's Fund that we announced at the World Bank Conference in October 2018, and increasing investment into Southeast Asia. I'll also be launching my newest venture this year, which I will keep a secret for now.
How long have you been a member of The Great Room?
I've been at The Great Room since mid-2018.
How big is your team at The Great Room?
It's a small team of three people, since its mostly for my advisory work.
What do you like about The Great Room?
It has such a grand overall layout. I like how it is spread out and we use the meeting room facilities and outside foyer area for our speaking functions. We also have monthly networking fireside chats with notable key industry players.
How does it make what you do easier?
I don't have to worry about internet, decor, maids, cleaning, or entertainment issues when I'm doing business meetings or networking sessions.
Run us through your daily routine at on a weekday?
I arrive in the morning and work all day on my laptop, or get on phone calls. I then have a couple of meetings with the team or business partners depending on the day before heading for lunch downstairs. There are many choices around the building.
The Great Room has flexible office solutions with memberships starting from THB 8000 a month, more information here.