As Bangkokians go through another round of lockdown, they have creatively adapted their homes to function as offices, gyms, art studios, and so much more. In our Lockdown Lowdown series, we talk to professionals from different areas of life to discuss how they are keeping on with their careers, what they are doing to stay sane during the new normal, and give us tips on how to live a better life at home.
Ping Hatta is the kind of artist whose work you could spot in a massive Nike, Sephora, or Marriott campaign, as part of a multi-page spread in a world-renowned fashion magazine, or in the form of a meme about cats.
It's that versatility for us.
[Hero Image Credit: 'Queen of Tropical Fruits' by Ping Hatta]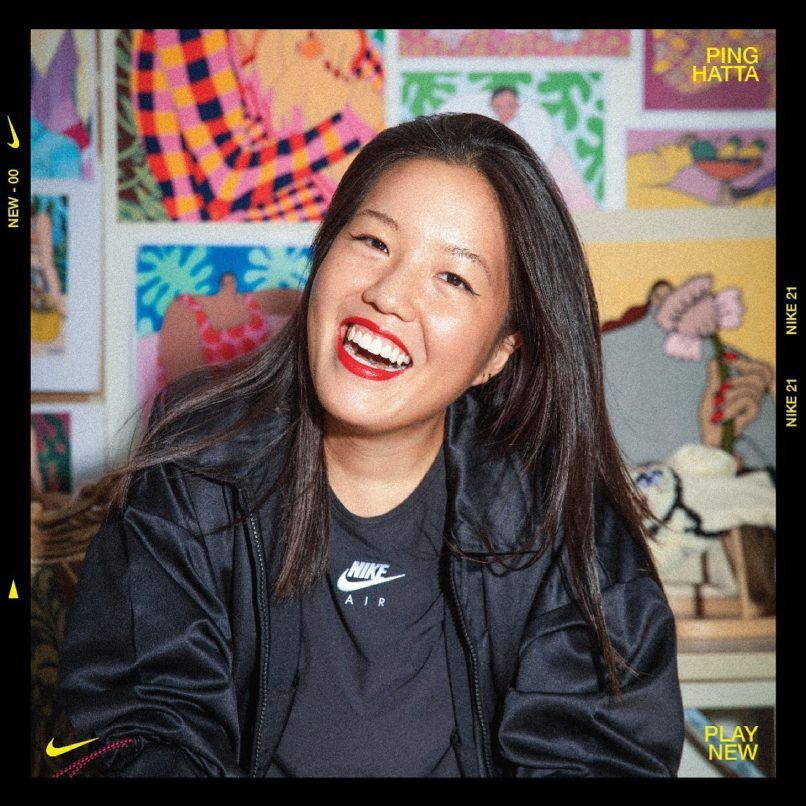 Starting out as a lingerie designer before becoming one of the most beloved Thai artists for fashion lovers and feminists alike, Piamrak Hattakitkosol or "Ping Hatta" is incredibly genuine for someone who has earned this many accolades. The part-New Yorker and part-Bangkokian has worked across different media and has been featured in publications across the globe. Her whimsical work is applauded for the bonds between the worlds of fashion, culture, and womanhood, through an empowering and mystical female lens. All this, and she still has the time to make a joke about your feline friends.
Here, we chat to the immensely talented and wonderfully grounded Ping Hatta about her time in lockdown and her advice on staying creative throughout these months. Read on for what she calls both the "sexy answer" and the not-so-sexy truth about being an artist amidst a pandemic.
PS. You can find (and order!) Ping Hatta's cat meme goods under her alter-ego Ping Hatta Studio.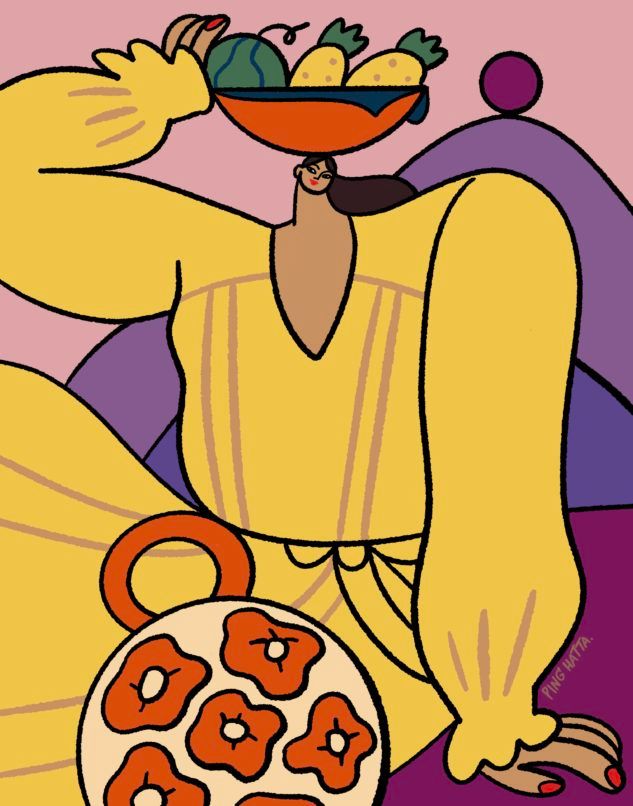 What do your days look like during this partial lockdown? Talk us a little through your daily routine during this time.
I have always been working from home and I am grateful that the pandemic did not really have any effect on my work routine. I get up practicing gratitude, and generally being thankful that I am still here. As I make my coffee, I set the intention of what I want to accomplish today.
I usually spend my morning to noon doing non-artsy stuff. It varies depending on the seasons and specific project: from packing orders and answering emails, to taking care of my online shops and analytics.
After lunch or in the evening is when I mostly do art stuff, such as painting, drawing, printmaking, designing, sewing, and so on. If I have time, I'll try to exercise. Before bed, I sometimes meditate or journal to reflect on things I am thankful for and things I want to manifest in the future. I am generally trying to end my day on a happy note.
How has COVID-19 and the lockdown affected your artwork?
I think of the pandemic as The Great Awakening in a way. I'm sure many of us were and still are affected by it. This cosmic reset is bigger than our inconvenience and our hardship. We did not choose to be stopped. We got stopped. But now that we're stopped, it's time to look within and ask ourselves some hard questions:
What kind of life do you want to live? Is what you're used to doing still serving you? Are you living in harmony with your desire? These questions lead me to the next question's answer.
What is the best idea you had during this time? What is the worst?
I went through an artistic ego death and came out of the process with a new style that I resonate with. It sounds dramatic but I think that's the best way to put it.
I started questioning if fashion illustration still makes sense to me during this phase of life. Through years of working in the fashion industry, specifically being a lingerie designer, I felt that my past works and my approach in creating art no longer resonate with my personal values. Women have been and are still sexualised a majority of their lives starting at a very young age. Do I want to contribute or normalise that culture? My work has always been about women empowerment and beauty in diversity, body positivity…but perhaps my approach was outdated. It was time to rethink what I want to create and communicate to the world, to be more intentional.
Where do you find inspiration these days? Who or what is influencing you?
Ever since the pandemic began, I've slowly shifted my inspiration from illustrating fashion and external inspiration to looking at simple joy in everyday life and believing in growth that comes from looking within. It inspires me to be more intentional in life, from small things like being more intentional in my posts and bringing more positive energy into my instagram feeds to a bigger purpose like making art that inspires and empowers people to create, or designing products that make it easy for people to share deep connections with their loved ones.
How do you stay motivated?
The (sexy) answer is: by loving what I do. I truly believe that doing what you love is one of the greatest feelings in life. It is that North star that aligns you towards that purpose bigger than your daily grind. Although there are parts of the illustrations that are boring or daunting (like chasing clients to pay my invoice on time, organising my inventory), I can endure them because I understand that these ugly parts will enable me to further do what I love.
The (not-so-sexy but also real) answer is: meeting deadlines. When you focus, your mind, body, and spirit become one thing. There's pressure, and pressure makes diamonds. That's a very effective motivation right there. When we don't have time to question our own thoughts or our capability, we simply just get things done. We take a step. We take a chance. We turn those pressures into diamonds.
Have you picked up any new hobbies or skills? What are they?
I've always been a hands-on person and love making things using my hands. I just recently reconnected with my long-lost hobby, fiber art. Creating art through hand-embroidery and punch needling is relaxing and meditative. It also teaches me patience, being present, and being fully immersed into what I do.
Other than that, my non-art hobby is feeding the bird friends in my garden and building a relationship with them. They teach me to slow down, take some breaks during the day, be present and appreciate their presence and quirks.
Have you been binge-watching any TV shows? Which ones?
I was never a TV person, and probably one of those few people that gladly missed out on GoT and other series. If I have free time, I plan my next business move. If my brain and hands are tired, I will read or do nothing while listening to some podcasts.
What is an Instagram account you've been obsessed with?
There are so many, but currently I'm living vicariously through Camilla Perkins' landscape drawings (@camillaperkins_).
What song are you dancing to in the mornings?
I've been repeating and dancing to 'Tu Si Sabes Quererme' by Natalia Lafourcade for months now. Her Mexican folk songs make me so happy.
What is the first thing you will do once things go back to "normal"? Do you have any plans for the future?
I will be doing the same thing as I'm doing now. I will still be painting and keep creating.
How do you think the world of art has changed/will change after the pandemic?
I think the pandemic purges things that no longer serve us on both personal and global level. It forever changes how we create art, how we buy art, how we interact with art for good.
Knowledge has been decentralised thanks to the internet and social media where it's less intimidating to learn art, try something new, fail, and try again without having to go to art school. It empowers us to start creating and selling things online anywhere in the world. We already see galleries, museums and other organisations and virtual exhibitions, using technology (AR/VR) that enable us to explore art from home, view their collections or even buy art from home. We also see that memes and gifs have been a recent hot debate, and whether they are a new kind of an art form. We have even seen big art galleries and auction houses jumping into the NFTs! Isn't it an exciting time to be alive?
Lastly, a word of advice for other artists and creatives during this time:
Creativity is healing. It doesn't matter if you want to make it a profession or do it as a hobby. To me, creativity is the medicine that heals our souls. It is a way to channel our emotions into something else, to bring negativity and transmute it into something beautiful, whether painting, a music, a meal.
Practice creativity everyday, despite how hard it can be at times. It doesn't have to be immaculate, or perfect, but it's the "daily" that you show up and keep creating everyday that can transform you. You heal yourself, and you heal others as well. That's the beauty of creativity.