Don't know what Cherilon bra to choose? Let us help you pick the best Cherilon bra, according to your needs.
Finding perfectly fitting lingerie can be difficult. Woman's figures come in all shapes and sizes, and choosing the right bra is very important. Whether you're searching for the best bra for comfort, support, lift, a small chest or a large bust, Cherilon has got you covered. The brand takes bras to a different level by producing high-quality, innovative products. To top that off, all items are super affordable, so consumers can invest in supporting their chest without worry. If you're unsure which Cherilon bra to pick, read on for our guide to see which style is right for you.
[Hero & Feature Images Courtesy of Cherilon]
Candy Bra
Cherilon's Seamless Candy Bra is ideal for everyday wear, and engineered to hug the chest area. This bra is excellent for all because its design supports all shapes. It flatters the breast area as the v-cut helps create a beautiful silhouette, giving it the perfect side support for those with larger breasts. Those with small breasts will see a lifted effect, thanks to the removable foam cups. This series also has no irritable bra hooks, making it super comfortable. With the smooth back and ribbed design, no one will even notice you wearing the Candy Bra as a crop top.
Slim Bra
Women with small to medium breasts should choose the Slim Bra. The woven fabric blended with spandex increases firmness and flexibility, giving the chest area a rounded shape. With adjustable shoulder straps and a three-row hook, the bra provides support, stability, and compliments the body.
NOOM Collection
Want to feel sexy yet comfortable, and feel like you're wearing nothing? Go for Cherilon's NOOM Collection. This bra will become the best friend that you'll always want around. Made from jelly elastic material, the garment is soft, just like its Thai name, "NOOM," conveys it. The NOOM Collection won't destroy the skin due to its silky smooth fabric, crafted through heat ironing, which is also known as the bonding technique. The U-Back design and 4-level hook provides the utmost comfort and breathability. Despite the front V-cut, consumers can easily move and jump around as this line will support the girlies regardless.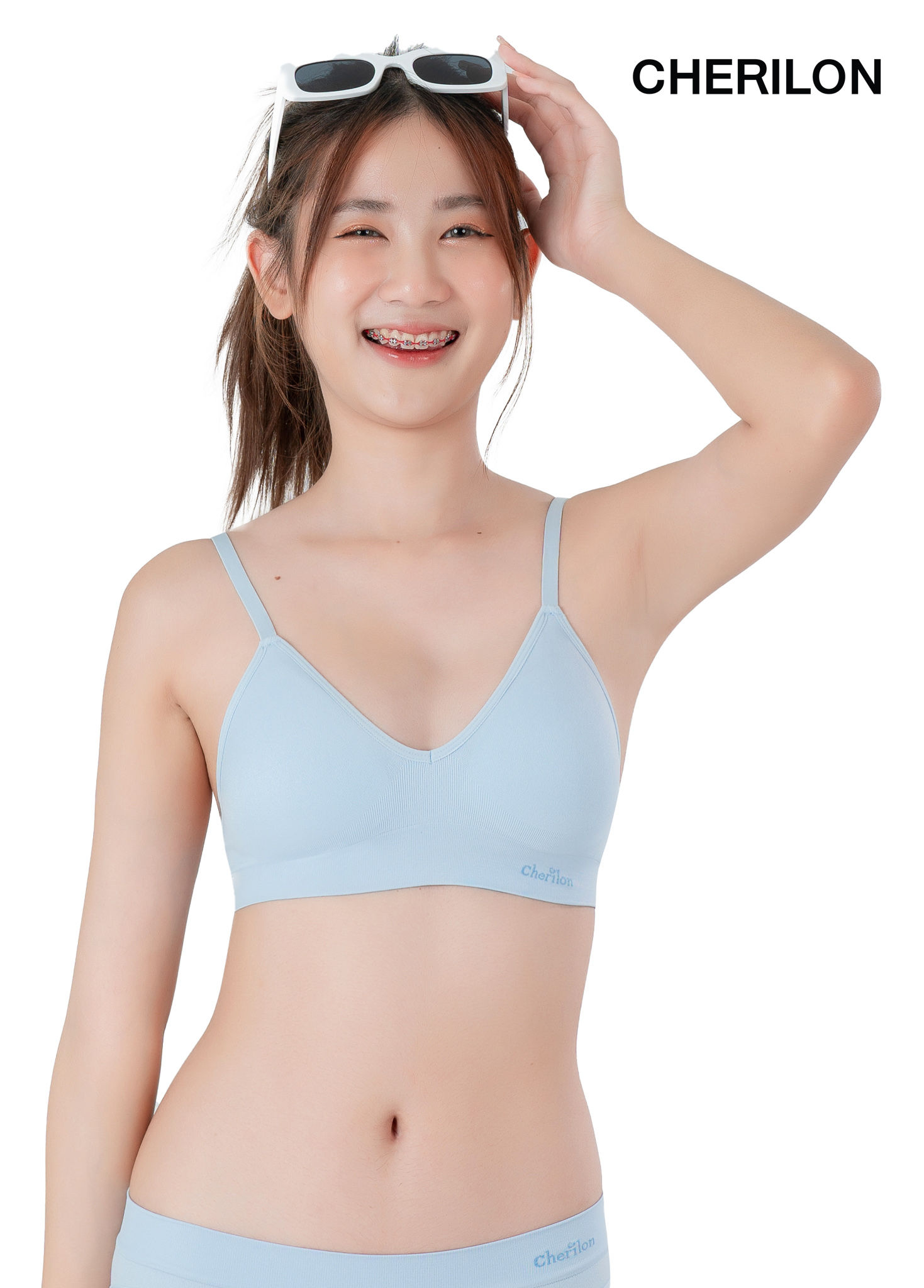 Freshy Bra
Although ideal for young girls who have just started wearing bras, the Freshy Bra is great for adults too. With Cherilon's soft, flexible fabric and superb design, females can wear the Freshy Bra daily. Due to the adjustable three back hooks, removable sponge, and hi-cut pattern, wearers will not feel claustrophobic in this bra.
Bubble Bra
Searching for a wireless, lightweight bra with a 3D built-in padded bra that accentuates the breasts? Cherilon's Bubble Bra checks that list as it moulds the bust nicely in any look. What's better is that the bra doesn't lose its shape even when rolled up, due to the sponge. The Power Net fabric also increases firmness and breathability. Made with nylon and spandex, the bra is super light and soft. Great for everyday wear.
Tee Bra
This cute and stylish bra is excellent for mixing and matching with different styles. Perfect to use as a crop top or bra is Cherilon's Tee Bra, which comes with removable push-up padding (Smart Pads). The material gathers the bust together, creating a naturally lifted look without irritating the skin. With no hooks, the bra's back is smooth and has adjustable straps to fit perfectly on the wearer's shoulders and body. Throw a blazer over the Tee Bra, and you now have an outfit perfect for a business casual look.
For further information, visit Cherilon's website.