Bangkok's drinks industry is thriving more than ever, and as your trusted insiders and late-night sippers at all of the city's trendiest bars, we're always on the lookout for where to enjoy the next best tipple. Yet whilst we list new bars and new cocktail menus for you on the monthly, we couldn't possibly fit all of our findings into one merry round-up. That's why we've created Thirsty Thursday: a one-stop one-drink solution to where (and what) you should drink, every single week of the year. Featuring new standouts or old favourites, consider it a bit like your calling for when you don't know where to go; served like a shot, but, well, in writing. See you at the bar.
Real talk: can you ever really go wrong with an Espresso Martini?
A classic cocktail that manages to karate chop you back to life unlike many others, the Espresso Martini is a coffee-based cocktail, with a lot of vodka, because YOLO. Cocktail nerds will be quick to point out that the name 'Martini' feels like a bit of a misnomer, considering there is neither gin nor vermouth in this drink, but it's January, and it's 2020, and we don't feel like fighting.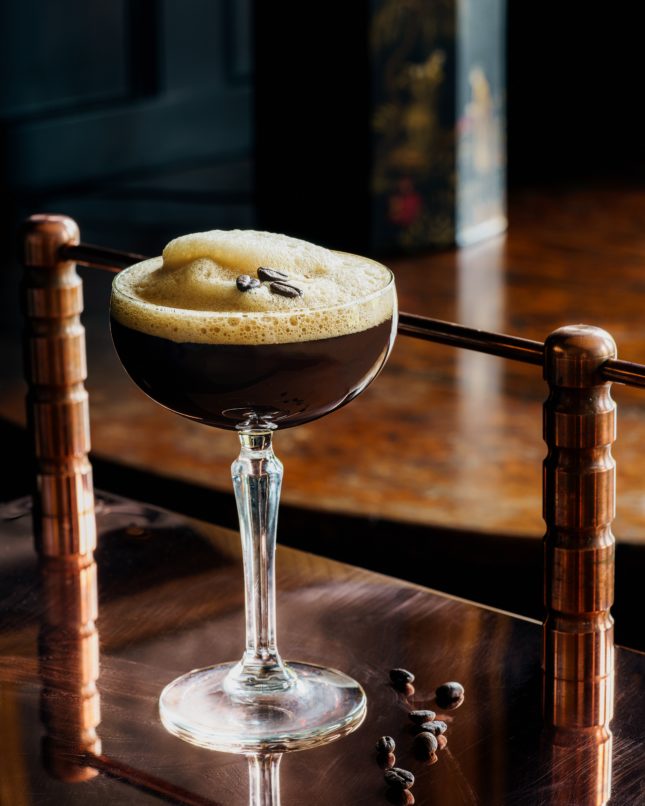 Rumour has it, the drink has its origins in 1980s London, where bartender Dick Bradsell created the drink for a lady at the Freds Club. She wanted a cocktail that would "wake me up, and then mess me up."
We paraphrased and softened the second half of that quote, but you get the gist.
Where in Bangkok, you may now ask, can one find a killer Espresso Martini then? Four words, one mission: Find the Locker Room.
The kind of place you are dying to tell your friends about, but are also really selective about who you tell for you only want your coolest friends to know, Find the Locker Room has been making waves in Bangkok's bar industry for a few years now. The bar is the brainchild of Colin Chia (of Nutmeg & Clove, Singapore), Nick Wu (of Bar Mood, Taipei), Ronnaporn "Neung" Kanivichaporn (of Backstage Cocktail Bar, Bangkok), and Chennarong "Janz" Bhumichitr (of Backstage Cocktail Bar, Bangkok), and launched a really neat new cocktail menu towards the end of last year. We raved about it in our October 2019 Drinks round-up. When talking about the classics, though, their Espresso Martini offers much to swoon for. It's a bit of a secret highlight, located towards the back of the huge menu. This reads like a bit of cocktail education, featuring handy illustrations that show the ingredients and proportions of said ingredients within each drink. It's a very cool schooling. But back to the Espresso Martini.
The one at Find the Locker Room (THB 400) is made with cold brew coffee, Mr Black coffee liquor, and Absolut Elyx vodka. For a kind of level up along a similar (but not the same) tangent, we also really love the cognac-based Brandy Alexander (THB 400), made with creme de cacao, Remy Martin V.S.O.P., and cream. It's certainly sweeter, and has a luxurious air about it, so it's a definite hit for those who want to begin the year with a snazzy indulgence. Be warned though: both cocktails really pack a punch — but then again, perhaps that's exactly what we need post a hectic festive season and the sad slump of being back at work. The bar's secret location behind a hidden set of lockers is also the ideal place to hide away when the realities of the latter kick in. You're welcome.
Find the Locker Room, 406 Sukhumvit 55, Thonglor, Bangkok, +66 61 524 2689. Open daily 7pm-2am.