Love is in the air, so suck all of that in and make the other person say "I do." A nice date will definitely help, so let us show you some of the most romantic cafes in Bangkok.
With a boatload of cafes to cater to all tastes and standards in Bangkok, it can be a tough task to make a decision and pick. For lovers slash cafe-goers who are currently cruising the streets looking for a romantic spot to take – or spoil – your loved one, here's our list of romantic cafes in Bangkok for when you feel like swooning.
[Hero and featured image credit: Cafe Madeleine at the Four Seasons Bangkok]
12 romantic cafes for a date in Bangkok Cafe Madeleine
We know the Four Seasons Hotel offers an amazing riverside view with a gorgeous venue. Now pair that with exemplary pastries and roasted coffee beans, and you've got yourself a memorable date. Take your significant other for a stroll and take in the breeze blowing in from the river. The experience just elevates any date.
Cafe Madeleine, Four Seasons Hotel Bangkok, 300/1 Charoen Krung Rd, Khwaeng Yan Nawa, Sathon, Bangkok, 02 032 0888; open daily 7am-7pm. Ba Hao Tian Mi
A date over Chinese desserts may be something you've ever thought of, but it's you'll be very pleasantly surprised by how good it is. Grab the pudding and milk tea to start, and order the pork floss salted egg toast to share. Both branches provide great sweets, but the original Yaowarat branch provides extra romance with its cutesy venue.
Ba Hao Tian Mi, 8 soi Phadung Dao (Texas), Yaowarat road, Samphanthawong, Bangkok, 097 995 4543; open daily 10.30am-11pm. Neilson Hays Library Cafe
Date like an arts student. Surround yourself with books. Complain about Hegel. Talk about Foucault. Debate over the underlying patriarchal notions present everywhere in the society. Post everything on Twitter. The possibilities are endless.
Jokes aside, Neilson Hays Library Cafe is a quaint, serene venue with books to browse while you're enjoying your cup of coffee. Book lovers will absolutely adore the place, and the attentive staff are more than happy to assist with whatever you need. Once you're done, a tour of the library is always a romantic option.
Neilson Hays Library Cafe, 195 Thanon Surawong, Suriya Wong, Bang Rak, Bangkok, 02 233 1731; open Tues-Sun, 9.30am-5pm. A clay cafe
Does the combo of iced chocolate and a clay workshop sound like a fun time? Then A clay cafe might just be your new favourite place. In fact, there's a clay studio right beneath the cafe, which you can easily use as a little extension to your romantic cafe date. It's an artsy kind of date, and a great way to bond.
A clay cafe, 50 Soi Sathon 8, Silom, Bang Rak, Bangkok, 061 193 9838; open Fri-Wed, 10am-5.30pm. FICS
FICS is a cinephile's heaven. Marvel at the plethora of movie posters adorning the walls as you're chatting about your favourite movies from childhood, all while having a cup of coffee in hand—there can't be anything more romantic. Don't forget to have your camera ready, for every spot in the venue is a lovely photo opp. Maybe a great time to make it Instagram official?
FICS, 245/11 ​Soi Sukhumvit 31 Khlongtan Nuea Wattana, Bangkok, 084 060 0968; open Tues-Sun, 10am-6pm.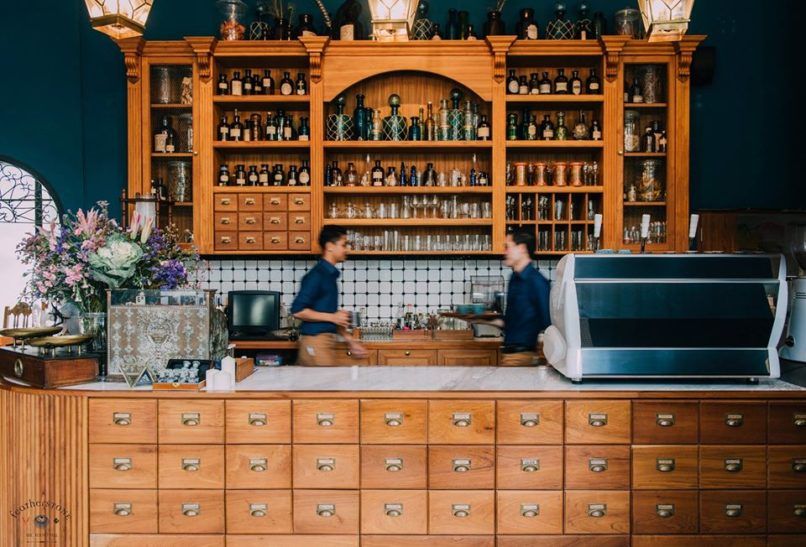 Featherstone Bistro Café & Lifestyle Shop
Although its apothecary theme does sound a bit freaky, Featherstone Bistro Café & Lifestyle Shop exudes dreamy vibes thanks to its mix of bistro decor and the sapphire-shade walls and retro windows. The French and Italian menu also boasts a selection of romantic fare fit for a date with your loved one.
Featherstone Bistro Café & Lifestyle Shop, 60 Ekamai 12, Bangkok, +6697 058 6846; open: Mon-Sun, 10:30 am-10 pm.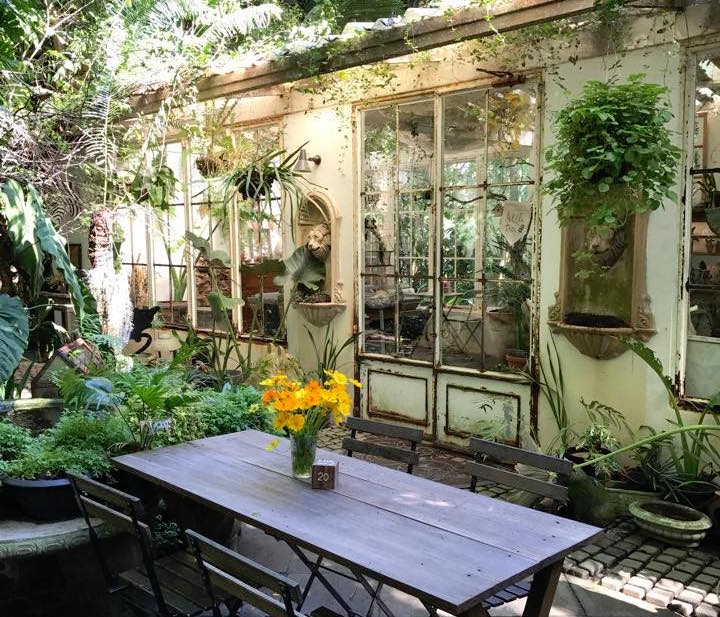 Little Tree Garden Café
Although Little Tree Garden is located on the outskirts of town, it's worthy of every minute driving out there. The cafe loaded with sweet Western-style delicacies is hidden in a private garden, with outdoor seating for lovers to get away from the concrete forest, and, instead, immerse fully in the essence of the woods.
Little Tree Garden Café, 43 Moo 5, Ban Mai, Sam Phran District, Nakhon Pathom, +6681 824 4119; open: Mon-Sun, 9 am-6 pm.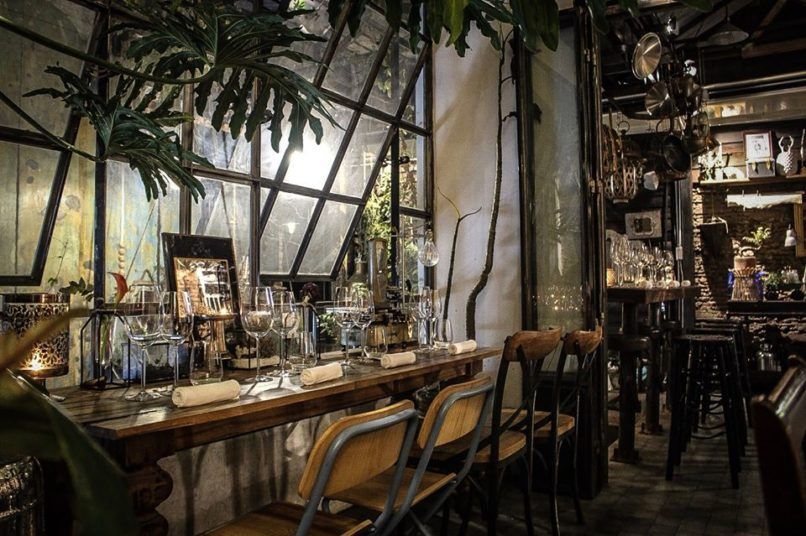 Wallflowers Café
Whether it's a date night or daylight coffee date, this flower shop slash café called Wallflowers is an ideal choice at all time. The jungalow-themed café is studded throughout with indoor plants and flowers, sweetened with the sugar high-making sight of a counter brimming with cakes and more cakes. Want a bouquet of blooms for your girl as well? Make this an all in one spot where you can dine, wine, and gift your better half some roses and daisies.
Wallflowers Café, 31-33 Soi Nana, Pom Prap, Bangkok, +6690 993 8653; open: Mon-Sun, 11 am-7 pm.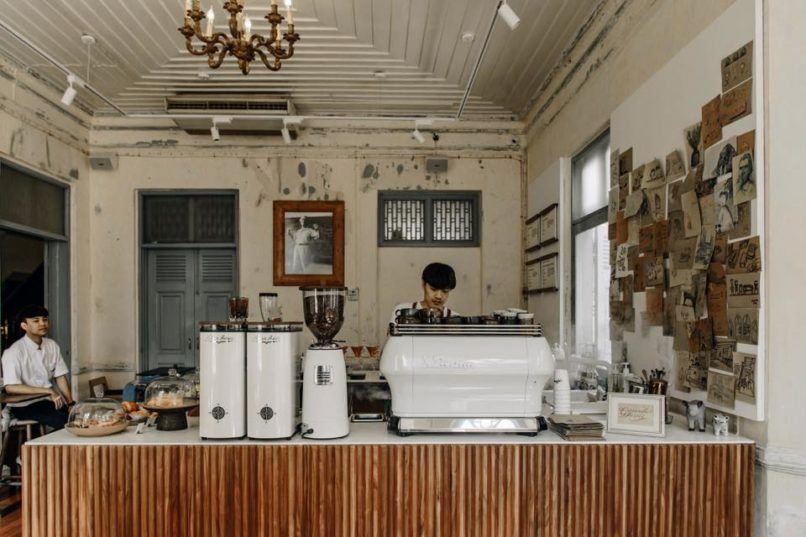 Craftsman Roastery
For couples who seek the traces of the past, the Craftsman Roastery should be in your itinerary. The part-cemented, part-wooden building of Silpa Bhirasri's House which once belonged to Thailand's prominent Italian artist a.k.a the founder of Silpakorn University, Corrado Feroci (Silpa Bhirasri) is also a home to Craftsman. It's a café and gallery where you can relish a good cup of coffee as well as appreciate the memoirs in pictures of the celebrated artist.
Craftsman Roastery, 153 Ratchawithi Road, Bangkok, +6665 234 0044; open: Mon-Sun, 7 am-8 pm.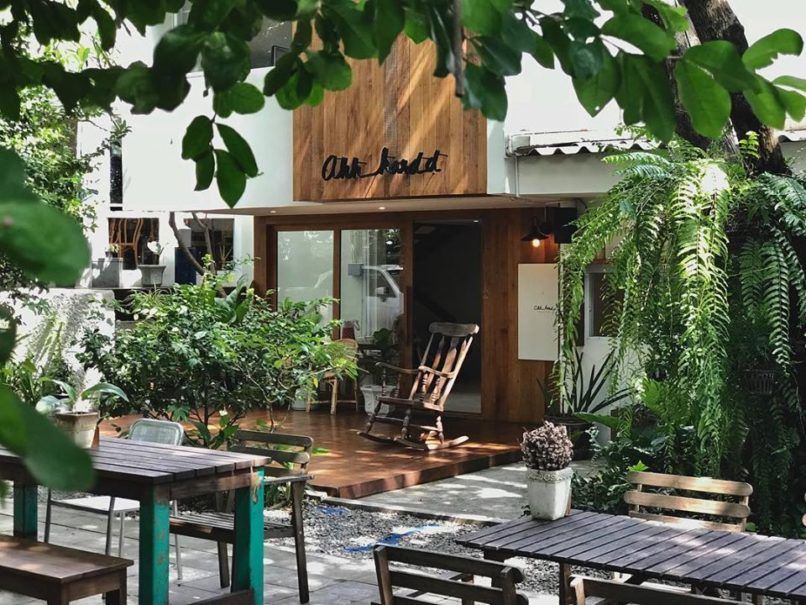 Ahh Kard D
Submerge yourself in a pool of pure air at Ahh Kard D which literally translates to "good air." Just like the name suggests, the tree—surrounded café situated within Soi Phibun Watthana 1 is your romantic escape from the city's smog and a spot to gorge on delicious family-style Thai meals as well as coffee and desserts.
Ahh Kard D, 200/1 Phibun Watthana 1 Alley, Khwaeng Samsen Nai, Bangkok, +6665 587 5595; open: Tue and Thu-Sun: 11:30 am-9 pm.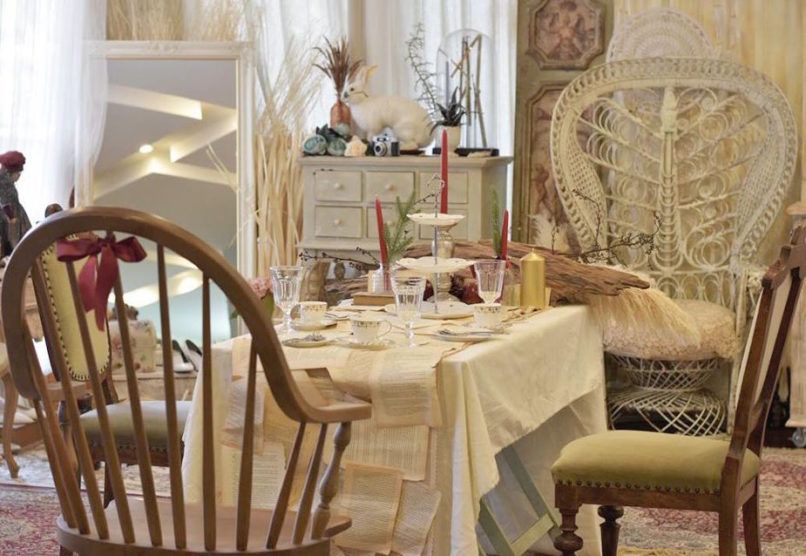 Chuanpisamai Café
Ladies who lowkey want to pressure your lovers — or gentlemen who are ready to put the ring on it — Chuanpisamai Café will get your message across. The wedding gown-renting studio also houses a small café within its vintage, wedding-themed outlet, churning out sweet confections, afternoon tea sets, and even substantial bites like pancakes, pasta, and sandwiches.
Chuanpisamai Café, 16 Rama VI Soi 30, Samsen Nai, Phaya Thai, Bangkok, +6695 554 0638; open: Tue-Sun, 9:30 am-7 pm.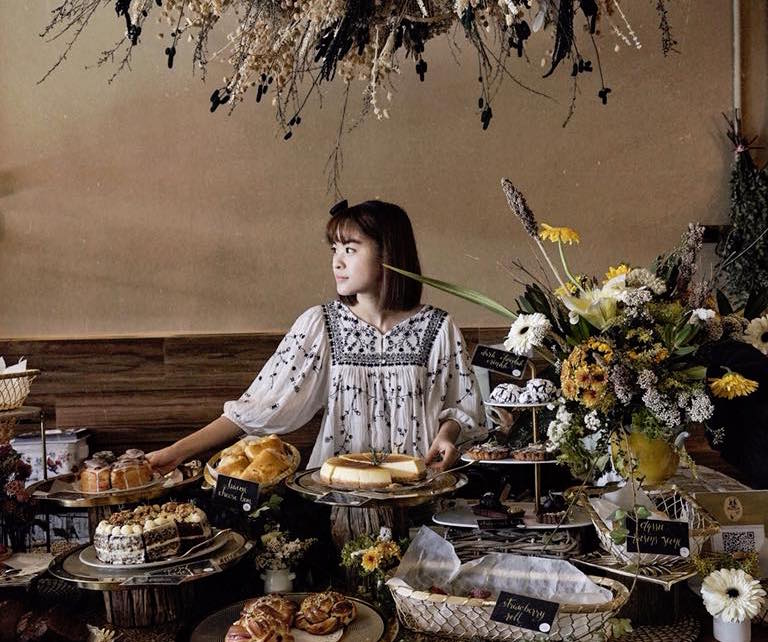 Forest Bake BKK
For lovebirds with a heavy sweet tooth, Forest Bake BKK doles out a repertoire of sugar-laden, soul-stirring cakes, pies, and pastries. The plant-dominated café also oozes out this serene and sweet sensation that will cosy you up once you step in.
Forest Bake BKK, 7 FL Central World, 999/9, Rama 1 Road, Bangkok, +6661 397 7077; open: Wed-Sun, 10 am-6 pm.