Thai restaurants — and vendors – are basically crammed into almost every inch of Bangkok's streets. Due to the progressive and innovative culinary movement, Thai cuisine has been getting a big-time upgrade through both presentation and taste. As for the result, authentic Thai food has become more of a scarce find. So, finding legit Thai restaurants is actually not that easy a task.
However, if you're in Sathorn and find yourself looking for the perfect, authentic Thai restaurant to dine in, we know just the spots you will fall in love with. Here's our list of 5 must-try Thai eateries you need to saunter on over to.
Nahm Helmed by chef Pim Techamuanvivit, one-Michelin-starred Nahm restaurant over at COMO Metropolitan Bangkok totally transforms traditional Thai fare into ultimate fine-dining dishes. Relying heavily on Thai pungent ingredients — think garlic, shrimp paste, chillies, and lemongrass — the food here delivers feast flavours that will totally make your palate go oh and ahh after the first bite. For stellar starters, go straight for the Steamed Leopard Coral Grouper with Pork and Fermented Yellow Beans (THB 880), Red Duck Curry with Snake Fruit, Chicken Coconut Galangal Soup with Chili Oil (THB 400), Miang of Lobster, Chicken on Thong-Lang Leaves (THB 500), and Southern Yellow Curry with Blue Swimmer Crab (THB 840). A dinner set menu is also available at THB 2,800++ per person.
Nahm, 27 South Sathorn Rd., Bangkok, +662 625 3388
Celadon Voted by Travel + Leisure magazine as the "Best Restaurant in Bangkok", Celadon within The Sukhothai Bangkok is a restaurant that turns Thai food into a sophisticated tasting menu that still stays true to the traditional ingredients and flavours. Feast on scrumptious concoctions such as Deep-fried Soft-Shell Crab with Assorted Aromatic Herbs (THB 580), Lamb Mussamun Curry (THB 750), Southern Yellow Curry with Snow Fish (THB 550), and Grilled River Prawns (THB 2,700).
For set lunch menu options, go for the full five-course menu (THB 1,200++) or for the 3-course lunch (THB 900++). Those who want to experience Celadon to the max, opt for the tasting menu; the full Experience (nine dishes) is priced at THB 2,900++ whereas Part of the Trail (six dishes) is 2,200++ per person.
Celadon, The Sukhothai Bangkok, South Sathorn Road, +662 344 8888
Supanniga Eating Room Sathorn 10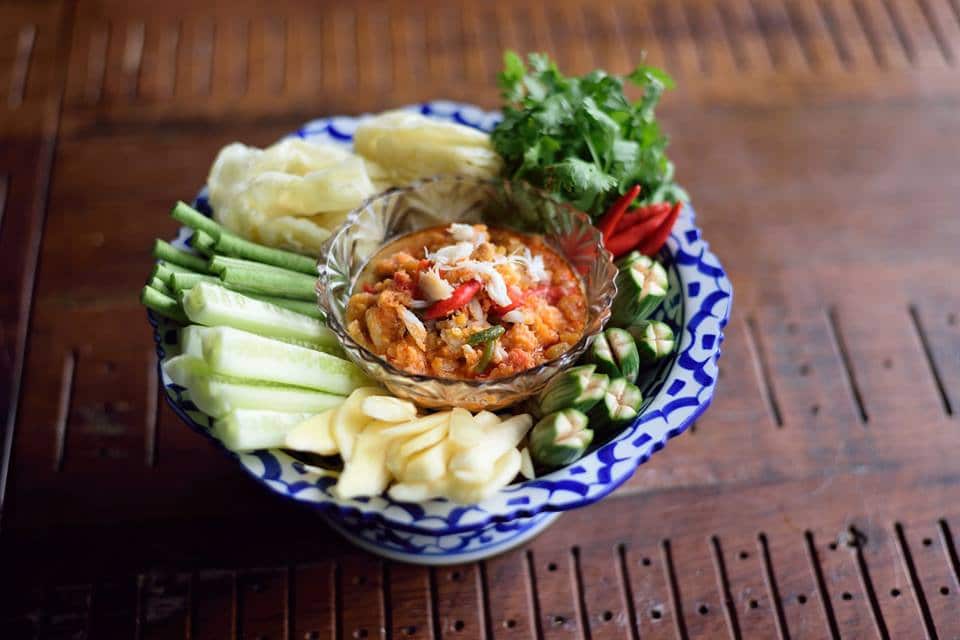 Thai food is probably one of the most crave-inducing cuisines existing on the planet and Supanniga Eating Room just makes it even more so. Located in the leafy street of Sathorn 10, like its famed sister location by the Chao Phaya River, the Sathorn venue is introducing long-lost recipes and home cooked meals in a laid-back yet refined setting – which makes the food there approachable and unpretentious. The menu highlights are Kratong Tong Supanniga (THB 180), which is crispy golden cups filled with stir-fried shrimps, Thai mackerel salad, and spicy minced chicken salad; Tom Yum Platoo Madan (THB 180) — rare Thai spicy soup with sour garcinia (Madan fruit) and grilled mackerel; Pomelo Salad (THB 170) in which the pomelo is dressed in a vibrant sauce and topped with grilled prawns and shredded sweet pork and chicken.
Supanniga Eating Room, 28 Sathorn Soi 10, +662 635 0349
Salathip Thai food, Thai pavilions and a traditional Thai dance performance are a timeless trio for the ultimate Thai dining experience. Situated within Shangri-La Hotel, Salathip seems to have that figured out beautifully. The riverside restaurant is set in the Thai-style teakwood pavilion, boasting the old Siam feel that reminds you of the good times in the olden days. For utmost comfort, tuck into the deep-fried Crispy Red Tilapia (THB 380), Lamb Leg Braised in a Mild Curry — which will be paired with flaky roti, Khao Soy with Seared Cod Fish (THB 780), and Red Curry Beef Cheek (THB 380). For vegans, indulge in the Cauliflower Yellow Curry with Tofu (THB 250) and the mouth-watering Dried Red Curry with Bean Curd and Shitake Mushroom. When their sumptuous meal is coupled with special Thai dance and opulent wines or boozy cocktails, Salathip is – undoubtedly – a sure-win.
Salathip, Shangri-La Hotel, 89 Soi Wat Suan Plu, Bangkok, +662 236 7777
Blue Elephant Bangkok Centred around ancient Thai cuisine, the award-winning Blue Elephant is known for warm hospitality and a talent for transforming Thai flavours on a plate. The restaurant is a three-storey building with the dining room sophisticatedly situated on the ground floor. Guests will experience a strong Thai atmosphere that adequately complements the food served. For those hankering to indulge in palace-style Thai dishes, Blue Elephant provides a variety of set menus each day just so guests can sample through all their delightful creations.
Blue Elephant Bangkok, 233 South Sathorn Road, Bangkok, +662 673 9353