OG sandwiches alone are delectable — but a sando? That one is a godsend.
The Japanese-style sandwich, sando, or katsu sando, is like a take on our children-favourite ecrustless PB&J sandwiches — except it got a luxe upgrade of marbled wagyu chockablock with glistening veins of fat and no nonsense of lettuce nor tomato. Once thinly breaded and deep-fried, the meat lends an umami-packed richness and much-needed palatable grease for the bread to soak it up like a sponge. A thick smear of sauce on both sides of the meat also does dual duties in glueing all elements together whilst also granting juicy, flavoursome fullness to complete the dish.
Another factor contributing to the popularity of this dish is the presentation, where the sandwich gets cut in half and plated to show the beautiful insides. The dish is as much an art as it is an amazing culinary creation. So if you're a sando buff through and through, here are the best places in Bangkok to gorge on the mouth-walloping sandwiches.
[Featured and hero image credit: Lucky Fish] Lucky Fish
Since the launch of its latest additions of sandos, Lucky Fish has arguably become the new Bangkok's temple for the Japanese-style sandwich with many different stuffings and fillings to wow your taste buds. The menu features sleek items like Smoked Pork Loin Katsu Sando (THB 350), Chicken Cheese Katsu Sando (THB 220), Seabass & Avocado Sando (THB 290), and Tamago Sando (THB 160). The apple of our eyes, of course, is the Wagyu Sando (THB 490), which comes with a thick cut of Australian Wagyu Striploin smeared generously with whole grain mustard, katsu sauce, and a rain of shredded cabbage for crunch and sweetness.
Lucky Fish, 72 Sukhumvit 55 Unit 1, G Floor, Bangkok, +662 392 6926; Open: Mon-Sun, 11 am-9 pm. Sumi Tei Yakiniku
Looking for premium source wagyu? You're reading the right paragraph. Sumi Tei Yakiniku is a wagyu fanatic with a wide selection of quality meat sourced exclusively from Japan. And apart from coming here for their suki set or the raw meat dishes showered in luscious succulent sauces, we recommend going for the Imperial Wagyu Katsu Sando (THB 2,480) with the perfect 1:1 ratio of meat to carb.
Sumi Tei Yakiniku, J Avenue – Thong Lor Soi 13, 323/3 Soi Sukhumvit 55 (Thong Lor), Bangkok, +6691 770 7747; Open: Mon-Fri, 5 pm-10 pm; Sat-Sun, 11:30 am-2 pm for lunch and 5 pm-10 pm.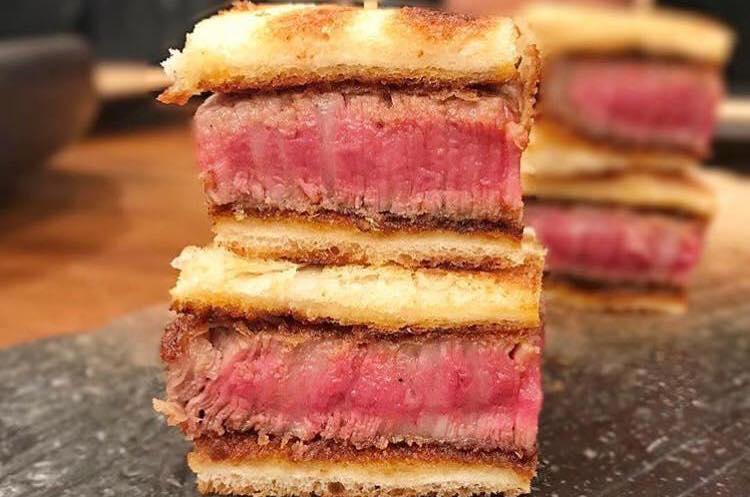 KRBB The Boutique Butcher
KRBB The Boutique Butcher is a meat savvy collector who has gathered altogether a variety of cuts – think ozaki beef, omi, himawari and Hokkaido wagyu – mostly sourced from local farms in Japan. And among all of their meat-packed dishes, this Tenderloin Cutlet Sandwich -Ozaki Hirekatsu is a must-try. Consisting purely of a deep-fried A5 ozaki wagyu and pan-toasted white bread smeared generously with a robust katsu sauce, this cutlet sandwich is just as great to eat as it is instagrammable for the feed.
KRBB The Boutique Butcher, 3FL HABITO MALL, Onnut Soi 1/1 Sukhumvit 77 R., Bangkok, +662 090 9697; Open: Tue-Sun, 11 am-8 pm. Bambino
Masters in the cuisine of the sando, the Phloen Chit eatery Bambino cooks up a selection of seriously-good fried wagyu sandwiches. Breaded and fried until the skin turns orangish, the wagyu has this crispy crust that helps to maintain the meat's chewy texture and juiciness.
Bambino, 1045/4 Soi Nai Loet, Bangkok, +6697 028 1493; Open: Tue-Sun, 5 pm-12 am. Luka
Meatloaf is an all-around life enrichment – for a carnivore at least. And instead of sticking to the classic sando, Luka churns out a thrilling version stuffed with a thick slab of meatloaf. Delicious.
Luka, 64/3 Thanon Pan, Silom, Bangkok, +662 637 8558; Open: 9 am-6 pm. Vistro Bangkok
No meat, no fret. For vegans and vegetarians who also seek to taste the glory of the delectable sando, Vistro Bangkok offers up a 'Vagyu' sando that comes stuffed with a gigantic piece of deep-fried Beyond Meat patty. Sounds daring to say, but even you meat devourers might not even miss the meat in this one.
Vistro Bangkok, 46/1 Sukhumvit 24, Klongton, Bangkok, +6665 998 2201; Open: Mon,Wed, Fri, Sun, 9 am-7:30 pm and Tue, Thu, Sat, 9 am-7:45 pm.