Wonderfruit 2020 may still be a while away, but in the mean time, there's still plenty to be excited about. Especially if you're hungry.
Scratch First, the company behind the annual arts and culture festival, has unveiled Fruitfull: a creative, sustainable, and interactive dining series very much in line with the Wonderfruit ethos.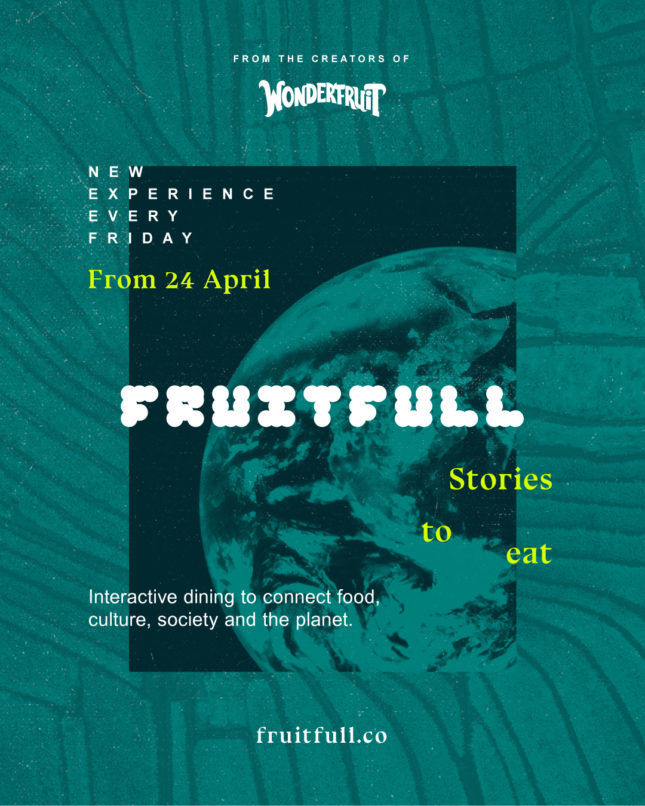 Fruitfull
In collaboration with many of the region's leading chefs and kitchens, Fruitfull aims to curate fresh dining experiences by pairing in-person meals with private live-streamed programs. They're put together by food writer Perm Paitayawat of @theskinnybib, and the goal is to create a more mindful connection between food and food eater.
Lockdown
For its first edition, Fruitfull presents the Lockdown series. As Scratch First Founder and CEO Pranitan 'Pete' Phornprapha outlines: "Fruitfull is designed as a food platform to creatively examine the relationship between food and our planet… Lockdown is the first part of this, which aims to make sense of the deck of hands we have all been currently dealt."
What Pete artfully describes here is the current COVID-19 pandemic, which has undoubtedly shaken and stirred the food and beverage industry like a real shi —itake mushroom— storm.
A standalone festival for food
Pre-pandemic, Fruitfull was conceived as a festival for food in its own right, very much along a tangent similar to Wonderfruit. These plans have been put on hold for the minute, yet not entirely stalled, as Lockdown has transformed Fruitfull's mission to suit the current climate.
Thereby, proceeds from Lockdown will be directed to Covid Relief, a Bangkok-based charity supplying food, masks, and sanitary supplies to the city's most vulnerable.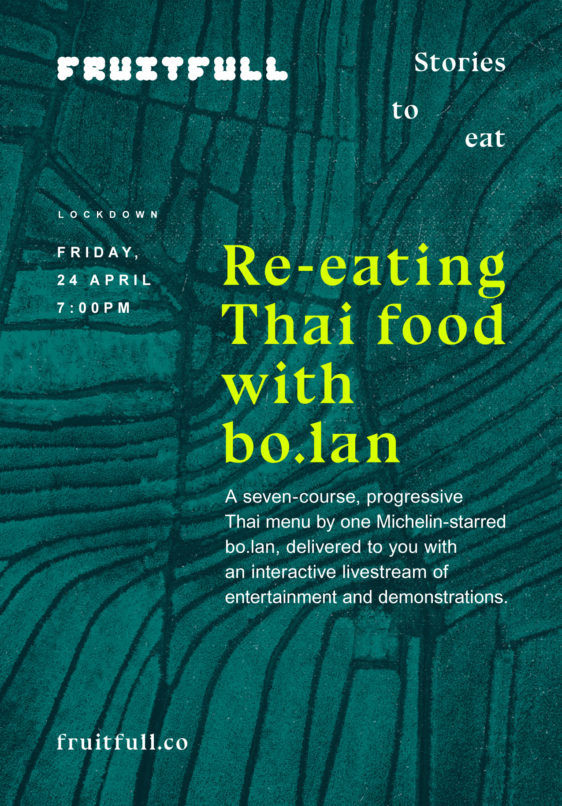 What to expect
Expect never-before-seen food delivery partnerships, live stream sessions with local and international food heroes, and participate in interesting culinary projects.
You'll be sent a special meal by way of delivery, and receive a link to click at a particular time. This way, you'll join an interactive online dinner party (do dress up), where you can contribute questions, be entertained, or simply sit back, eat, and relax.
There'll be kitchen confessions, cooking demonstrations, and fresh explorations of both culture and agriculture. Much like dinner and show, the online experience is designed to be packed with stories to listen to, ideas to think about, and social connections to make during these uncertain times.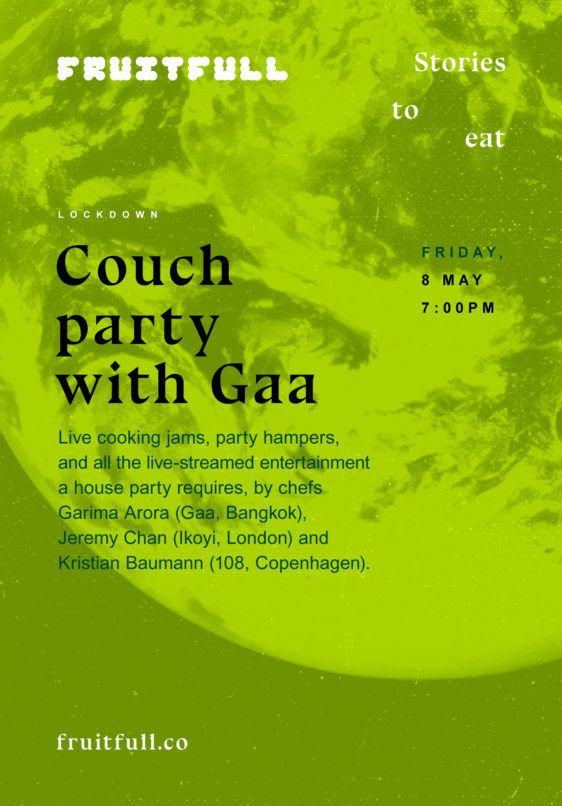 How it works
Each diner can reserve up to four Fruitfull experiences, each taking up a Friday of the month. The first begins this week on 24 April, with a seven-course progressive Thai menu by Duangporn 'Bo' Songvisava and Dylan Jones of the infamous Bo.lan.
Next on 8 May will be Garima Arora of Michelin-starred Gaa together with DJ and broadcaster Nick Luscombe, who will throw a socially responsible lockdown couch party. There'll also be creative Neo-African Eurasian hampers and jam sessions from the some of Europe's brightest chefs.
The 15 May session welcomes a a historically-minded Korean-Thai feast, overseen by Asia's Best Female Chef in 2020, Chef Cho Hee-sook of Hangsikgonggan in Seoul. The meal will be presented by David Thompson's protege Prin Polsuk of Bangkok's beloved Samrub Thai.
Lockdown concludes on 22 May with a big love for Japanese cuisine, as diners can take part in an innovative bento box experience curated by Yusuke Takada of 2-Michelin-starred La Cime in Osaka. It features a very rare live cook-along session to end the event with a delicious bang.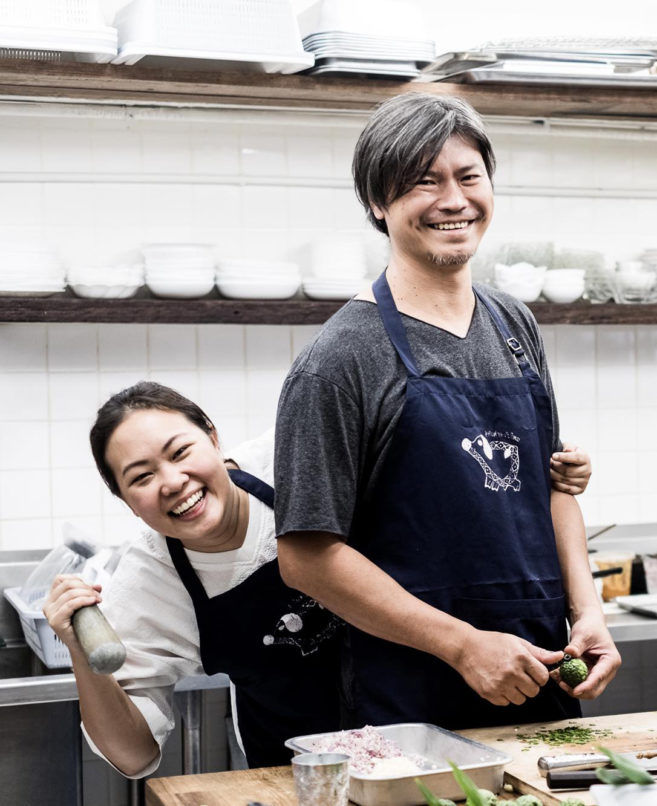 Stories to eat
As expected, there is a spotlight on sustainable ecology, with an in-depth assessment of the environmental impact of each dish. Sustainable packaging and zero-waste delivery are key components of the experience, proving that despite our current locked-in at-home tucked-away situation, sustainability and positive eating are still very much subjects to ponder. Now that you're going out less, are you being more sustainable?
Food for thought. See you at the virtual dining table.