Lush are the green fields of Eden, with lustrous tomatoes ripe for the picking—that's what biting into one of these bad boys feel like. Jisoo BLACKPINK posted a story of these Thai tomato chips, and now everyone is going crazy. We got our hands on a packet, and here's our review. Are Jisoo BLACKPINK's Thai tomato chips worth it?
Nostalgia rushed over as we saw this packet being posted on Jisoo BLACKPINK's social media over the weekend. This reflective grey and red packet has been a staple at Thai convenience stores, supermarkets, and everywhere else you buy snacks. Made by Fashion Food, they don't have a direct brand name, but they have trademarked "tomato flavoured cracker" on the packet, so that's what we'll call them.
Of course, as it is now pushed to the spotlight, we decided to really review this beloved Thai snack and find out why Jisoo BLACKPINK is so obsessed with it.
[Hero and Featured Image Credit: Fashion Food/Facebook]
Review: Why does Jisoo BLACKPINK love these Thai tomato chips?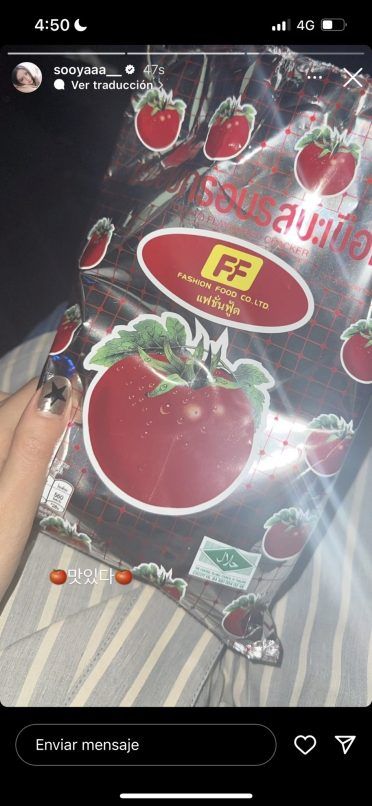 Nostalgic packaging
The reflective red-on-grey packaging has remain unchanged for as long as Thai people can remember. Thus, it fills you with an overwhelming sense of nostalgia. Eyes start to water at the sight of the packaging, reminding you of a certain time when life was a bit easier. Perhaps Jisoo too was reminded of the golden olden days when she picked up this retro-chic packet.
Tangy tomato taste
A flour-y, tangy chip with a bit of a salty aftertaste. It's like a stroll around the Sicilian vineyards on a hot summer day, but instead of grapes, it's tomatoes. This gastronomic journey is one that we pray never ends, as we sit back and relax along this triangular-shaped gondola. Whilst we know the Flower singer likes florals, it's nice to see she tries to get her veggies in, too.
Light chip texture
Each chip is crafted to be almost triangle-ish-shaped with flavoured powder dusted on top, which transforms the otherwise monotone chip to be a sort of Merigold—almost marmalade colour. The texture is light and easy to consume, making it a prime binge-snacking contender.
Fair price
Prices may vary depending on location, but you can typically find Jisoo BLACKPINK's Thai tomato chip snack at around THB 20-25 in Thailand. Weighing in at 58 grams of chips, the Halal snack offers fair value for money, not that Jisoo has much concerns around this.
Suggested pairings
The tangy notes of the tomato chips pair well with something refreshing yet refined, so something bubbly works best, like soda. To elevate things, you could pair Jisoo BLACKPINK's tomato snack with champagne. We're talking about one of the most successful girl bands of all time, after all.
If you're interested in grabbing a bite of the tomato chips that Jisoo BLACKPINK featured, you can grab one here.