Drinks and delicacies — these two will always hit all the right notes.
They are what we crave for breakfast, the essentials for lunch, and on our mind for dinner. Most important of all, they are the must-haves for a little afternoon pick-me-up or midday indulgence session. But if you're a little tired of your usual coffee joints, we've curated a roundup of newly-opened cafes that deliver ultimate caffeinated satisfaction along with a side of sweet fulfilment. Here are five new Bangkok cafes you should check out this September.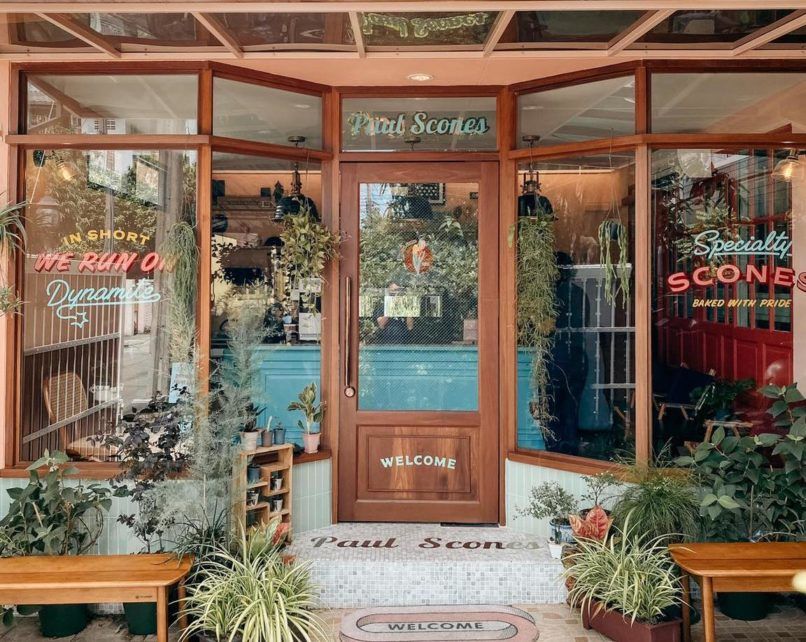 Paul Scones
For scone enthusiasts, Paul Scones is all about the flakey, butter-laden pastry. The venue sticks to the Devonian scone tradition (typical in Devonshire, England), where the scone is halved and followed by a smear of house-made clotted cream then strawberry jam. So yes, it's cream-first-then-jam method. Apart from the pastries, turn your scone sesh into a customised tea party by getting yourself a hot cuppa, too.
Paul Scones, 60/1 Soi Sutthiphong 1, Din Daeng, Bangkok, +6680 210 4242; Open: Mon-Sun, 10 am-4:42 pm. Fats and Angry
Although we are no longer in the '50s, the retro trend never dies. A new cafe and diner, Fats and Angry offers up a delicious take on Bangkok's cafe scene, churning out American diner-style grub like burgers, fries, hot dog in a bun, and, of course, a range of smoothies in almost all shades of the rainbow. Fitted with a checkered floor, retro arts, and bright hues, the setting resembles an American retro design that makes the cafe stand out from many others. It's the spot to be if you hunt for a substantial bite as well as a highly instagrammable spot.
Fats and Angry, 16 Soi Charoen Krung 46 Bangrak, Bangkok, +6697 238 0935; Open: Mon-Sun, 11 am-8 pm. Chubby Dough
Just when it seemed like GUMP's Ari couldn't possibly come up with another cool-chic, Insta-worthy spot, there's Chubby Dough. The new addition to Ari's community space brings with it a splash of pink and a cartload of deep-fried, American-style doughnuts and milkshakes. It's not a drink-in cafe; this hip doughnut cart boasts a street vendor vibe where you can easily grab your treats or hop on the stools for quick sweet bites.
Chubby Dough, 46, 2 Phahonyothin Road, Samsen Nai, Phaya Thai, Bangkok, +6690 996 4265; Open: Sun-Thu, 10:30 am-6 pm; Fri-Sat: 10:30 am-8 pm. Blanc Cafe & Eatery
Just like its name suggests, Blanc Cafe & Eatery is an all-white building blasted with mostly white and white marble decor, oozing out a minimal mood and tone that lures all the minimalist cafe hoppers. One thing that's not minimal, however, is their repertoire of vibrant, mouth-walloping food like Kra Prao Fried Rice topped with New Zealand Ribeye Steak, Pad Thai, Salmon Teriyaki, Deep-fried Pork Knuckle, and more. The drinks here also boast a fun look and twist, such as the signature drinks like Blanc Matcha Brown Sugar Jelly, Blanc Taro Candy Espresso, and Blanc Panda Oreo Shake.
Blanc Cafe & Eatery, Soi 5 Srinakarin Road, Bangkok, +6682 505 1756; Open: Mon-Sun, 9 am-9 pm. Unknownbake
Even though this one is out in Samut Prakan, it's definitely worth a trip over. Unknownbake is a cake maestro that will win your sweets-addicted heart over with their repertoire of classic baked goods like Bundt Lemoncake, Mango Cheesecake, Strawberry Cheesecake, Strawberry Shortcake, Butter Crossiant, and Almond Crossiant. With a minimal yet highly scrumptious menu and setting, here's truly where sophistication meets simplicity.
Unknownbake, 96 Buanakarin Road, Bang Kaeo, Bang Phli District, Samut Prakan, +6692 889 8957; Open: Wed-Sun, 10:30 am-5 pm.