Drinks and delicacies — these two will always hit all the right notes.
They are what we crave for breakfast, the essentials for lunch, and on our mind for dinner. Most important of all, they are the must-haves for a little afternoon pick-me-up or midday indulgence session. But if you're a little tired of your usual coffee joints, we've curated a roundup of newly-opened cafes that deliver ultimate caffeinated satisfaction along with a side of sweet fulfilment. Here are four new Bangkok cafes you should check out this August.
[Hero and Featured Image Credit: Rizky Subagja/Unsplash] Caravana Speakeasy Coffee Bar
Once a rope-making shophouse, now a hidden vintage coffee bar, Caravana Speakeasy Coffee Bar by Rongros is a melting pot of coffee traditions from around the world ­– portrayed through their impressive variety of caffeinated drinks. The name Caravana originated from the Persian word "Kârvân," meaning a group of people who travel together by horses or camels on the Silk Road. The setting of vintage decor and accessories collected from various continents also nods to the concept.
Caravana Speakeasy Coffee Bar, 16 Nakhon Kasem 5 Alley, Talat Noi, Samphanthawong Bangkok, +6688 676 2852; Open: Wed-Sun, 9 am-6 pm.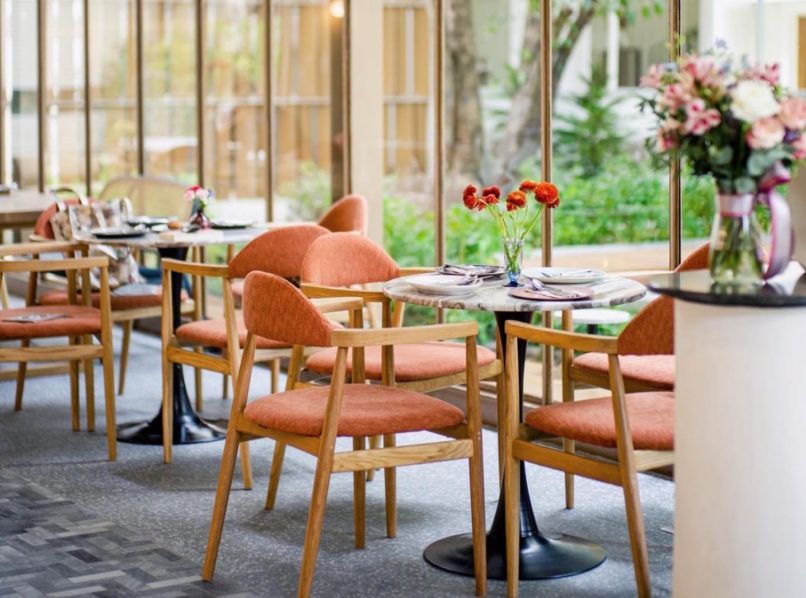 Babyccino
For café hoppers who take café food as serious as you'd take coffee, Babyccino will soon be your next favourite. Nestled on a leafy piece of land within Ekkamai 12, the venue with a lush garden doles out an array of brunch, lunch, and sweet items to elevate your café experience to the fullest.
Babyccino, 53 Ekkamai 12 Alley, Khlongton Neu, Watthana, Bangkok, +6680 362 4965; Open: Mon-Sun, 8 am-6 pm.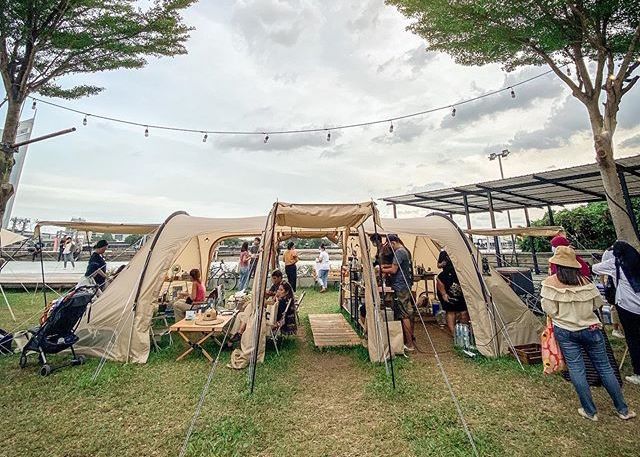 Kamaboko Coffee Camp
Calling out all coffee devotees: save a trip to camp out in Khao Yai and camp out here at the Kamaboko Coffee Camp instead. The riverside café is brewing up a slow-bar tradition, perfect for café hoppers who like to relish in the art of slow coffee. What you'd get aside from a decent latte and espresso would be the natural breeze, sunlight, and maybe a 'gram with a rustic backdrop of tents and the outdoor coffee bar. UCC Coffee Roastery
Apart from fixing up great fare we enjoy, UCC Coffee Roastery's main mission as the first Thailand flagship store by UCC (Japanese-native coffee corporation) is to tell tales of the Japanese coffee-making art. Grab the seat by the bar and watch baristas make your coffee in action using the siphon brewing method, a way in which it extracts full aroma and flavours, making the most out of their premium beans.
UCC Coffee Roastery, Gateway Ekkamai Bangkok, +662 650 5400; Open: Mon-Sun, 10 am-10 pm.