What to watch on Netflix, HBO GO, Prime Video,, and Apple TV+ this April 2023.
Travel to the world of 70s Broadway musicals or take a jaunt around the world with two spies. If that doesn't pique your interest, perhaps a feels-inducing K-drama would do the trick, or you might just want to sit back and laugh out loud with some new John Mulaney. Whatever you decide, there's no better time to binge than this Songkran break.
[Hero image: Netflix]
Here's what's new on Netflix, HBO GO, Prime Video, and Apple TV+ this April 2023
Schmigadoon! (Season 2) April 5, Apple TV+
Josh (Keegan-Michael Key) and Emily (Cecily Strong) decide to again seek out the place where their love was rekindled: Schmigadoon, the musical trope-filled town filled with curious characters. This time around, however, they find them instead in Schmicago, now filled with musicals from the 60s and 70s.
Beef April 6, Netflix
After a road rage incident, two people decide to go head-to-head in a quest to one-up the other and to get even—except "even" seems to be nowhere in sight. Starring Steven Yeun and Ali Wong.
True to Love April 12, Prime Video
A dating coach who rode the coattails of success suddenly finds herself losing everything. In an effort to make a comeback, she must partner with a book publisher who blames her for his past relationship's demise.
The Marvelous Mrs. Maisel (Season 5) April 14, Prime Video
After suffering a number of ups and downs, Midge (Rachel Brosnahan) is finally set on making her dreams come true as the success she's always sought seems to be within reach. But with every step to stardom, she realises that there may not be an end to the game of showbusiness at all.
Barry (Season 4) April 17, HBO GO
The dark comedy's final season sees Barry (Bill Hader) finally imprisoned while his mentor, Gene Cousienau (Henry Winkler) is named a hero for helping put him into custody. But even behind bars, Barry's past seems to alway catch up with him.
Ghosted April 21, Apple TV+
In a classic "boy meets girl" tale, Cole (Chris Evans) falls totally in love with the charming yet mysterious Sadie (Ana de Armas). After she ghosts him, he does the romantic/stalkery thing and tracks her down, only to find out that she's actually a secret agent.
John Mulaney: Baby J April 25, Netflix
The American comedian takes the stage once again after being in rehab, getting into a new relationship, and becoming a father.
Citadel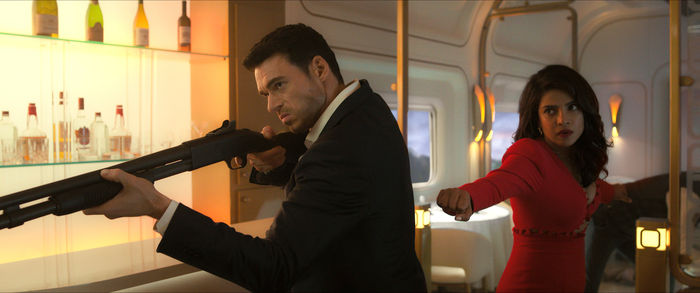 April 28, Prime Video
Two former agents of a top-secret agency find themselves thrust back into the world of espionage despite not remembering their past lives. However, they'll have to remember quickly if they're going to have a chance of survival. Starring Richard Madden and Priyanka Chopra.