There's no kidding: Bangkok is an oasis for Thai fare obviously. But with a big community of Indian folks living here, the bustling city is also home to many ravishing Indian restaurants. And when talking of the spice-laden cuisine – think along the lines of butter chicken, tikka masala and tandoori chicken — the neighbourhood of Nana is full of hot Indian cuisine-focused haunts where you can enjoy both authentic and even commingled Indian cuisine.
So whether you are an Indian food devotee or a newbie to the spice-centred meal, we've curated a list of 5 best Indian restaurants in Nana where you can enjoy delightful dosa, sumptuous samosa, golden-fried pani puri, cheese-packed palak paneer, tandoor oven-baked naan and so much more.
Hero image credit: Charcoal Tandoor Grill & Mixology
Bawarchi Tucked away in Sukhumvit 11, Bawarchi Bangkok is an Indian restaurant that does justice to the Mughlai and North Indian cuisine by serving authentic dishes originating from northern India during Mughlai rule. Indulge in their highlights like the Chicken Tikka (THB 180), Prawn Biryani (THB 320), Lamb Rogan Josh (THB 320) — which is lamb braised in thick, spiced-pack curry — and Butter chicken (THB 220) before washing down the spice with plush wine and boozy cocktails. Couple with the colourful, warm Indian-designed setting and attentive service, Barwarchi evokes this casual and laid-back atmosphere that makes you feel warm.
Bawarchi, 1/17 Sukhumvit 11 Raod, Bangkok, +66 2 225 0444
Nabah Rooftop Skybar & Grill Perched on the 16th floor of the Solitaire Hotel, Nabah Rooftop Skybar & Grill is a place where Indian fare is fused with Mediterranean, European, Italian and Continental flavours to produce refined and unusual tastes in each of their dishes. Nabah's sumptuous offerings include Raan Masala, a tandoor-grilled lamb leg marinated in a herby paste made up of coriander, red chili, garlic, and ratton jot; Grilled Lobster Tail dressed in the bright and acidic white wine and French onion sauce; and Steak Au Poivre, tenderloin steak with a shower of brandy and black peppercorn sauce. No passport or packing required, the food and the Persian-Indian setting here will take you on a flavourful trip, exploring various cuisines in no time.
Nabah Grill & Sky Lounge, Solitaire Hotel, Sukhumvit Soi 11, Bangkok, +662 081 3815
Charcoal Tandoor Grill & Mixology Perched on the 5th floor of Fraser Suites Sukhumvit, this industrial-rustic, tandoor-focused Indian restaurant specialises in classic Indian food, clay oven cooking and Indian-inspired cocktails. Charcoal offers an array of delectable kababs, for example, Lamb Sheekh Kabab (THB 390), Veg Sheekh Kebab (THB 290) and Murgh Malai Kabab (THB 400) — which is juicy grilled boneless chicken which has been marinated in cream cheese, yoghurt, vinegar and pungent spices. Other signature dishes include Tandoori Lobster (THB 1,250) and Fish Hari Chutney (THB 380), which is a mint-basted dory fillet dish from the legacy of the ancient Mughal dynasty. The food here is robust and umami-packed. So it's hard not to down some of their crisp Mint Chutney Mojito (THB 350) or the Bollywood Passionfruit Cocktail (THB 350) to cool down the heat from Indian spices.
Charcoal Tandoor Grill & Mixology, Fraser Suites Hotel, 5/L, Bangkok, +662 038 5112
Khana Khazana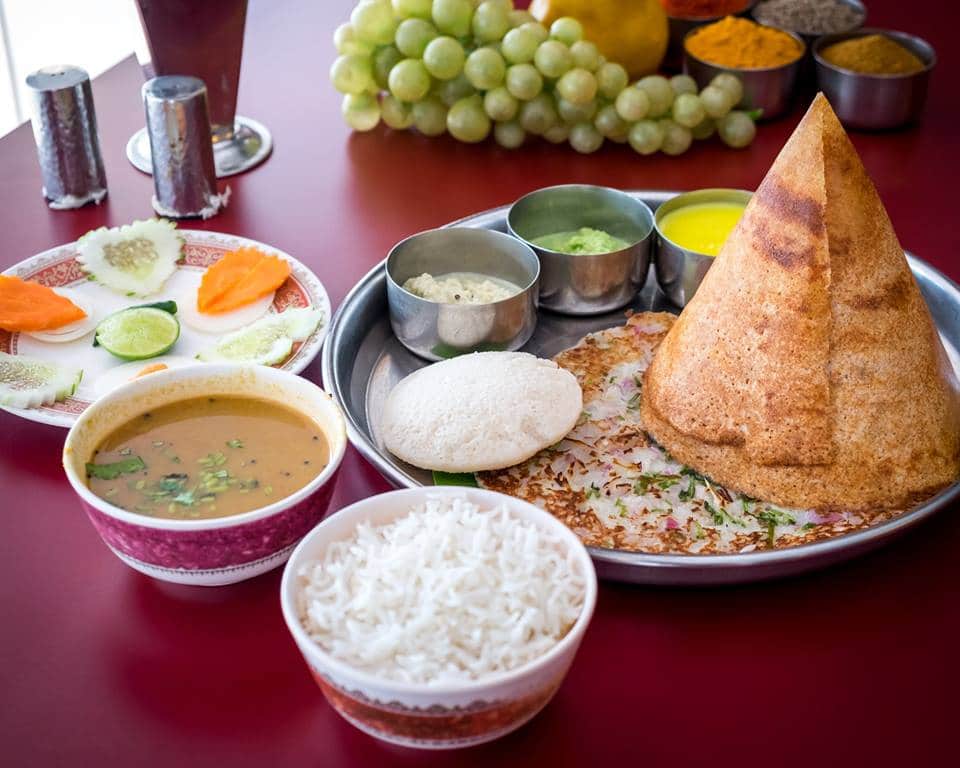 Due to the healthy food trend, vegetarian food is the up-and-coming cuisine this year. Those hankering to gorge on gorgeous vegetarian fare, by all means, head over to Khana Khazana in Sukhumvit Soi 11 for their vibrant veggie-centric Indian dishes inspired from North Indian, South Indian, Indo-Chinese, Gujrati, and Jain cuisines. Highlights here include Aloo Paratha (THB 100), Paneer Butter Masala (THB 280), Aloo Gobi (THB 200), Dal Palak (THB 200), and Kaju Curry (THB 350) — all are free from artificial flavours and preservatives. Vegan and pure Jain food can also be prepared on request, too.
Khana Khazana, 153, Sukhumvit Soi 11/1, Sukhumvit Road, +6686 008 0700
Dosa King Let's admit it, vegetables taste best when coated and cooked in Indian spices. So whether you're a fitness buff looking for a way to eat healthier or just a vegetarian looking for a new food spot to indulge in, saunter over to Dosa King situated at Sukhumvit Soi 11 to satisfy your green needs. Serving only vegetarian fare, the establishment is the guru when it comes to Indian veggie-focused meals. The obvious suspects like a selection of dosas such as Butter Dosa (THB 80), Paper Masala Dosa (THB 130), and Dosa Paneer Filling (THB 145) are on the menu, as well as a wide array of curries and delicacies like Gulaab Jamun and Kulfi.
Dosa King, 153/7 Sukhumvit soi 11/1, Bangkok, +6680 545 1111