Sometimes, all you need to help you relax are just some furry four-legged friends.
Many businesses in Bangkok are finally given the green light to reopen and welcome back their guests. It's not just restaurants or cafes that we're talking about, but
dog
cafes too. The dogs are undoubtedly no less excited than their caretakers to be playing with the visitors again. So check out these dog
cafes
for a splendid afternoon and to beat the Bangkok heat.
[Hero Image Credit: Truelove at Neverland / Featured Image Credit: Little Dog Club]
Dog in Town
This cafe has more than enough cuddly reasons for you to visit. While you are soothing yourself with a nice drink, these energetic dogs will be endlessly running around for a pat on the head and greeting new visitors. Shiba Inu, French Bulldog, Samoyed, and Alaskan Malamute are just namely some that are in the gang. Interestingly, all the dogs here get their names from Bangkok BTS and MRT stations. At times the staff will let the dogs play and enjoy the fresh air on the lawn. It's absolutely an adorable sight for dog lovers.
Opening hours: Mon-Sun 11 am-8 pm
Truelove at Neverland
A pack of white furry huskies is waiting for you here. These dogs are unlike many other dog cafes where the dogs are constantly running away or selective of who to play with. They are extremely comfortable with the touches and hugs from all the cafe visitors. There are 2 different playtimes throughout the day for you can play with these friendly huskies. What's more, these dogs really know how to pose in front of cameras. So you'll definitely have loads of cuteness to show off on your Instagram.
Opening hours: Mon-Sun 12 pm-5 pm
Corgi in the Garden
Not just a true heave for corgi fans, but a perfect cafe to spend your afternoon and weekends. It's home to 12 lovely and fluffy corgis. Bear in mind, these corgis can sometimes be highly playful and rowdy. So never let yourself be tired when they come to you. Plus, watching all those wiggly corgi butts is just something you can't enough of it. Meanwhile, they closed but they will reopen their doors to welcome back visitors on 1 July.
Opening hours: Tue-Fri 12:30 am-6 pm; Sat-Sun 10.30 am-6 pm
Big Dog Cafe
Big dog lover? Then you have to visit this cafe. These dogs aren't the normal 'big' size that you see, they are gigantic and of rare breeds. Some of these dogs have once taken part in dog contests too. Smaller dogs like Shiba Inu and Shih Tzu also have recently joined the gang. The gang will be let out in a small group at regular intervals, and you will get to enjoy the dog shows let by their respective caretakers. Apart from taking tons of gorgeous photos, you're allowed to feed them with treats prepared by the cafe as well.
Opening hours: Mon-Sun 10:30 am-8 pm
Little Dog Club
If hanging out with mini furry friends is all you need for a fabulous afternoon, this cafe is for you. They've you covered with all the small-sized breeds that you want to enjoy your time with. Whether it's Poodle, Pomeranian, Chihuahua, and Dachshund, you can name all that you want. What's better, this cafe has an instagrammable rooftop space too. All the photos that you take with these dogs will make your friends crave.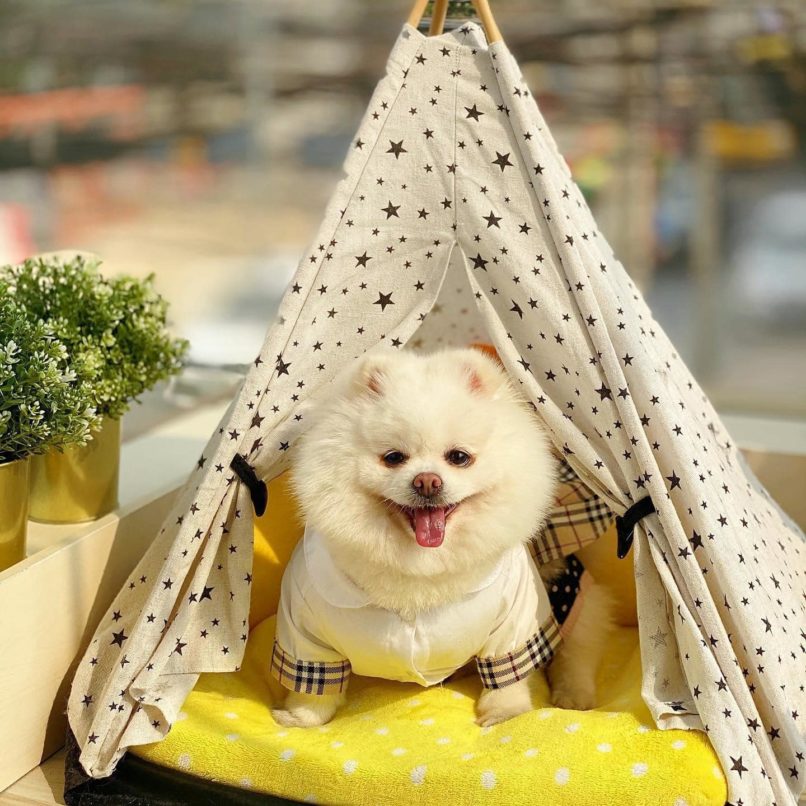 Opening hours: Wed-Sun 10:30 am-8 pm