While we're having to stay home all day, it's a good opportunity to make conscious decisions about what we eat in order to stay healthy and fresh. Without the big social gatherings or rushed office lunch breaks, there's never been a better time to start eating a little cleaner and getting a little more environmentally friendly in our dining choices. Going for more plant-based food is a great way to start. And, these days, we're lucky to have some truly delicious options here in Bangkok right now.
Plant-based food has come a long way. From non-seafood sushi to vegan eggs, Bangkok's got it all for you to try and explore these amazing culinary innovations. Here, we've rounded up some of our favourite plant-based eateries that deliver wholesome, photogenic, and delicious dishes straight to your door. Stay home, and stay healthy.
[Hero/featured image credit: Plantiful]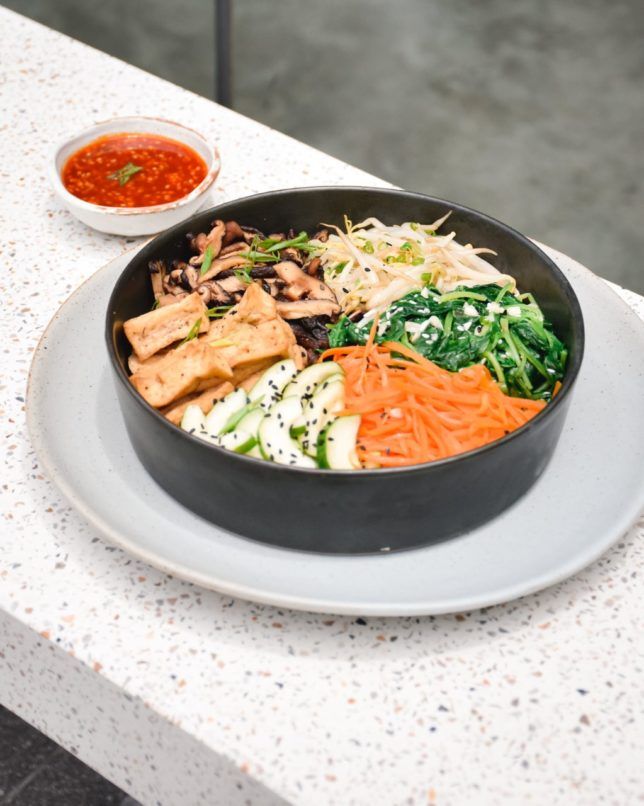 Along with their fantastic weekly meal plan you can opt for, this plant-based cafe has also got some delicious permanent dishes on their menu. From bibimbap (complete with a plant-based egg) to a decadent vegan twist on Cacio e Pepe (using kelp noodles for wholesome gooey-ness), Plantiful is truly impressive in their creative and full flavours. Every dish has you feeling satisfied, energised, and super fresh.
Order through Grab, Line Man, or Line: @plantiful.bkk.
The mouth-watering menu at Vistro always has us wondering how any of these dishes have been made vegan. Surprising us even more, the restaurant somehow manages to make their plant-based poke bowls, pizzas (yes, with vegan "cheeze" and vegan sausage), and even Moo Ping taste just as good as – maybe even better than – their non-vegan originals. They've also recently introduced a meal plan menu so you can subscribe to have new creative plant-based dishes delivered to your door every day.
Order through Grab, Food Panda, Line Man or www.vistrobkk.com.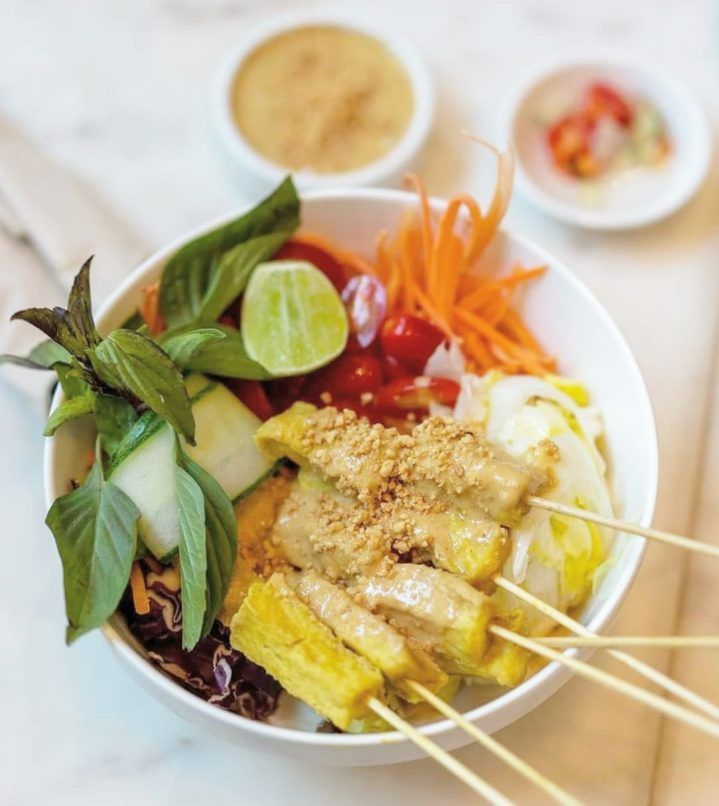 This is one is a favourite particularly when we're craving Thai cuisine, but want to stick to plant-based food. With classics like Pad Thai and Khao Soy made completely vegan and impossibly delicious, Veganerie shows that you can still order whatever dish you're craving and still get it as a plant-based version. Equally satisfying, but way better for your health and the planet.
Order through Grab, Line Man, Food Panda.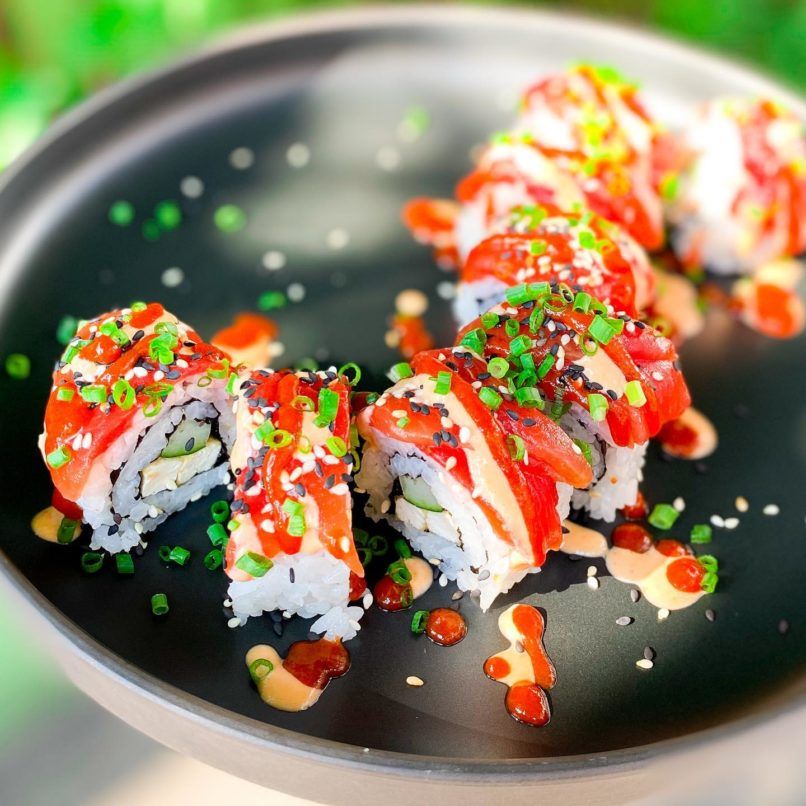 Seafood is probably the most difficult of all the meats to replicate – the uniquely slippery texture, the salty aroma, the umami flavour. But somehow, Golden State manages to do it perfectly with their Cali-style menu of poke bowls, calamari, and sushi – all plant-based. Palm hearts for lobster? Mushrooms for scallops? It sounds weird and unlikely, but it works – especially if you pair it with their plant-based tartar mayo.
Order through Line, Grab, or Line: @goldenstate.
Ask Bangkok vegans what they do if they're craving mac 'n cheese and they will all answer with Bangkok City Diner. Favourite diner comfort foods get the plant-based treatment here, including a completely plant-based bowl of ramen (onsen egg included) and the most indulgent sweet treats from tiramisu to cinnamon buns. Anything a classic American diner can do, Bangkok City Diner can do vegan.
Order through Grab, Food Panda, or Line Man.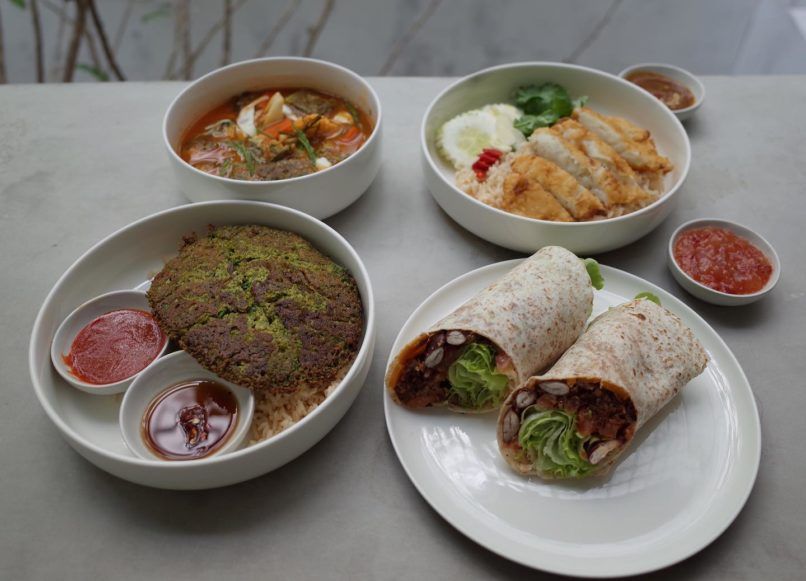 Wholesome, healthy, and full of flavours, Broccoli Revolution brings together a huge range of fresh and organic plants to create creative and original dishes. From the Thai-style omelette made of duckweed (a high-protein type of algae) to burritos filled with vegan cheese and sausages, we're always left feeling satisfied and energised. They've got simple classics too, though – their plant-based burgers served with sweet potato wedges are the best in town.
Order through Grab, Food Panda, or Line: @broccolirevolution.
A good option if you're eating with meat-eaters, Pimp My Salad is all about choices. And lots of them. Opt for one of their set bowls like the Mind Your Tempeh (or – for the meat-eaters – the So Much at Steak, or create your own with endless combinations of their deliciously prepared options from baked falafels to the spicy chickpea larb. 
Order through Grab, Food Panda, or Line Man.