In Bangkok, cafe hopping is not just a hobby – it's a lifestyle that's here to stay.
For those who swear by coffee as a main food group, you'll know it's crucial to stay in the know for the best places for caffeinated drinks in town. Lucky for us, almost every street and corner of Bangkok is crammed with excellent cafes, many of which serve up quality brews and are decked with instagrammable decor. Especially with a slew of new cafes constantly opening up, they delightfully keep Bangkok's cafe scene so vibrant and spirited.
Here's a roundup of the best new spots we simply couldn't stop talking about this year. Scroll down to see our list of 2020's best new cafes that you need to check out — if you haven't already.
[Featured and hero image credit: % Arabica]
NANA Hunter Coffee Roasters
For coffee aficionados who want to catch up on the world's coffee scene, NANA Hunter Coffee Roasters offers up over 37 types of beans sourced from different parts of Brazil, Yemen, Kenya, Ethiopia, Papua New Guinea, Thailand (Naan, Chiangmai), and more. However, what is otherworldly about this place is the ambience and decor. The barn-like space is decorated in a black-copper hue with a colossal metal globe sculpture set under the ceiling — right above the coffee counters where a lineup of expert roasters whip up your beverage. Online shopping and workshops are also available for buying premium beans and learning how to get the most flavours out of them.
NANA Hunter Coffee Roasters, 288 Phran Nok-Phutthamonthon, Bangkok, +6665 919 3991; Mon-Fri, 7 am-6 pm and Sat-Sun, 8 am-6 pm.
FUN Café Bangkok
You don't need a canvas to paint. Fun Café Bangkok (which also works as fan or 'dream' in Thai) invites you to let your imagination run wild with their FUN Signature Canvas Cake. Here, you'll get an all-white frosted cake with three multi-colour layers and a paint tray filled with dollops of colourful edible paint. It's an edible art project to destress as well as to satisfy your inner sweet tooth. In the evenings, the minimalist all-white venue turns into a sensual, all-red space that will wake the party animal in you right up. A scrumptious selection of savoury fare, cakes, and drinks is also available.
FUN Café Bangkok, 413/6-7, Mahapruettharam Road, Bangrak, Bangkok, +6664 192 9193; Open: Wed-Mon, 10 am-10 pm.
Volks
We've got another bagel spot in town. The new Ari bakery, Volks, churns out a repertoire of classic American-style bagels with options of succulent spreads along with soft cookies and other sweet treats. Of course, the main players here are the bagels, spanning Cinnamon Raisin, Blueberry, Asiago Cheese, White Sesame, Garlic + Olive Oil, Crispy Onion, and more. You can get them smeared with Black Pepper Fig, Honey Walnut, or even just the classic cream cheese spread. Health-forward alternatives are also included in the menu so those watching their weight can also opt for a selection of yoghurt bowls.
Volks, 40/12 Soi Pradiphat 13 Bangkok, +6682 014 9437; Open: Tue-Fri, 9 am-2 pm; Sat-Sun, 9 am-4 pm.
PORTS coffee
For a cafe that makes for a cosy reading nook, PORTS coffee should be your go-to. Not only does it churn out brews like their ultra-foamy Viennese coffee "Einspänner," it is also a canelé guru, which is their signature dessert. Other pastries like the Classic Croissant and Hazelnut & Chocolate Croissant are also available to fulfil your dessert needs.
PORTS coffee, 392, 16 Maha Rat Road, Phra Borom Maha Ratchawang, Phra Nakhon, Bangkok, +6683 973 1961; Open: Thu-Tue, 9 am-6 pm.
Hintcoffee
For a burst of minimalist feels, Hintcoffee will not disappoint. The all-white coffee house boasts a clean and calm aura thanks to the white-splashed walls and minimal interior and outdoor decors. It's the type of place that does not shy away from being humble, simple, and minimal. French-style confectionery is also up for grabs along with an Instagram-worthy range of coffee.
Hintcoffee, 168 Krung Thonburi 10 Alley, Khlong Ton Sai, Khlong San, Bangkok, +6698 363 0933; Open: Tue-Sun, 9 am-4:30 pm.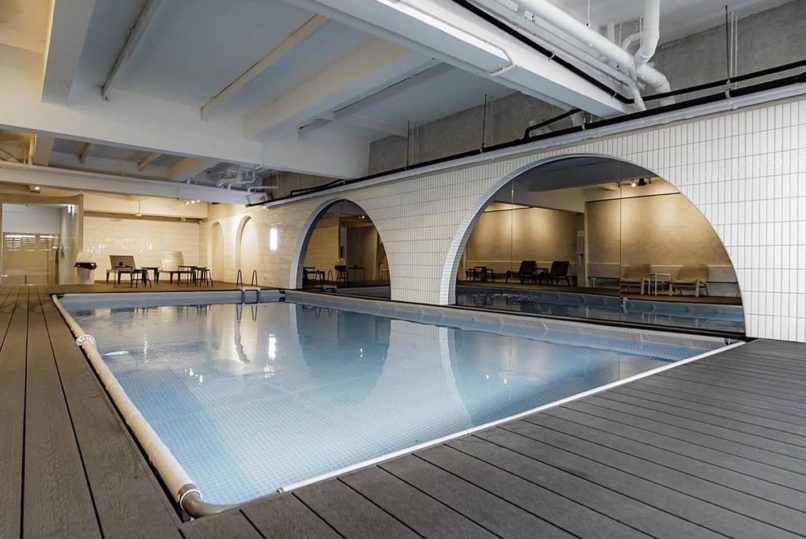 ARCH
Here's where a pool meets an industrialised setting. Stop by at ARCH for a good vibe. The venue serves up a mean coffee alongside butter-packed sweet bites like croissants stuffed with a variety of fillings. Café hoppers who are hunting the street for cafes with an untypical atmosphere to offer, this one is for you.
ARCH, 2304-2306 Sukhumvit Road, Bangchak Phra Khanong, Bangkok, +6665 916 3239; Open: Mon-Sun, 9:30 am-5:30 pm except for Fri, 9:30 am-6:30 pm. 
Mother Roaster
Fans of the 70-year-old barista of hole-in-a-wall Mobidrip x Mother Roaster at Hua Lumphong: rejoice. The barista grandma is now serving up quality cups at her new, bigger, and cooler space under the name "Mother Roaster" over at Talat Noi. The wooden cafe oozes out a homey, Thai-style, old school vibe.
Mother Roaster, 1172 San Chao Rong Kueak, Talat Noi, Samphanthawong, Bangkok, +6661 216 2277; open: Tue-Sun, 10 am-6 pm.
Babyccino
For cafe hoppers who take cafe food as serious as the drinks, Babyccino will soon be your next favourite. Nestled on a leafy piece of land within Ekkamai 12, the venue with a lush garden doles out an array of brunch, lunch, and sweet items to elevate your cafe experience to the next level.
Babyccino, 53 Ekkamai 12 Alley, Watthana, Bangkok, +6680 362 4965; Open: Mon-Sun, 8 am-6 pm.
Kamaboko Coffee Camp
Calling out all coffee devotees: save a trip to camp out in Khao Yai and camp out here at the Kamaboko Coffee Camp instead. The riverside cafe is brewing up a slow-bar tradition, perfect for cafe hoppers who like to indulge in the art of slow coffee. What you'd get aside from a decent latte and espresso would be the natural breeze, sunlight, and maybe a 'gram  with a rustic backdrop of tents and the outdoor coffee bar.
% Arabica
Coffee aficionados, rejoice because Kyoto's famed coffee shop % Arabica has finally touched down in Bangkok at ICONSIAM, marking the first branch in Thailand and the 58th in the world. Apart from churning out gold medal-worthy coffee for coffee lovers, % Arabica's futuristic setting also offers a perfect backdrop for an IG-worthy feed. We love sipping the Tornado King Coffee Roasted amid the space, bringing out a dark, burnt caramelised aroma that will lure both addicts and amateurs alike.
% Arabica, ICONSIAM, 299 Charoen Nakhon Road, Bangkok; Open: Mon-Sun, 10 am-9 pm.
Drop by Dough
The city's craze for doughnuts is continuing to thrive — evidenced in the newish doughnut-centric shops that opened last year, like brassica, The Clucking Donut and Cream by Flour Flour. Now the new kid on the block, Drop by Dough is fuelling Udom Suk with fried dough covered in tongue-satisfying sweetness. The blue-hued café with minimal decor is set in contrast to their array of colourful confectioneries, like the Raspberry Rose and Orange & Oolong Tea Doughnut. You can also conveniently find other Drop by Dough's locations at Ari (Josh hotel) and on the first floor at Central, CentralWorld.
Drop by Dough, 3131, 4-5 Sukhumvit Road, Bangkok, +6685 306 3883; Open: Mon-Sun, 10 am-6 pm.
La Cabra
From Copenhagen to Bangkok, La Cabra Thailand now brings their famed coffee blends to grace all coffee connoisseurs' hearts and souls. With a mix of Thai and modern design, the outlet represents Bangkok in its broadest sense, which is a commingled culture of old and new. Definitely amongst our favourites of the year.
La Cabra, 813 Charoen Krung Road, Talat Noi, Samphanthawong, Bangkok, +6684 155 4564; Open: Tue-Fri, 8 am-5 pm; Sat-Sun, 9 am-6 pm.