Footlongs at Subway and Bagel Egg Sandwiches at au bon pain are life's sandwich staples; they're irresistible and irreplaceable.
But for all the times when your appetite makes a request for a more homemade-style sandwich from small-scale independent places rather than commercialised chains, Bangkok also happens to have a boatload of scrumptious sandwiches from that category to offer. And here — drum roll please — is our curated list of where to get the best sandwiches in the city. Sandwich groupies, you're welcome.
[Hero image credit: Unsplash/Patrick Kalkman]
1. Holey Artisan Bread
For overstuffed sandwiches, Holey Artisan Bread wins our hearts. And not only do their sandwiches look good on our feeds, but they are also deliciously filling and stop your stomach from roaring until lunchtime.
2. Rocket Coffeebar
Rocket Coffeebar is no second when it comes to coffee. But another thing they are champions in is the classic Club Sandwich with fork-tender chicken, crispy bacon, and Paris ham sandwiched between their house-made white bread.
3. Vietnamese and more
Apart from the French, the Vietnamese are also a gurus when it comes to making a drool-inducing sandwich. Bánh mì. It comes with umami-packed pâté, a splash of mayo, cilantro, your choice of meat, and a heapful of veggies like cucumber and carrot.
4. BKK Bagels
Skip hero rolls and opt for something more hearty and chewy. This Moishe's Lunch composed of a sesame bagel stuffed with house-cured corned beef, mustard spread, and house-made pickle will do.
5. APPIA
The Roman trattoria within Sukhumvit 31 totally jazzes up the idea of a good sandwich with their juice-dripping porchetta sarnie. It's fatty, carb-y, and crispy from the toasted bread.
6. Dean & Deluca
Gourmands with international palates for food, the grocer Dean & Deluca has everything from pasta to pizza and shawarma on offer. One thing you shouldn't miss is their array of sandwiches. This ooey-gooey Smoked Chicken Melt Sandwich is a great example of what you'd get.
7. The Australian Pub & BBQ
The Classic Club at this Aussie pub stacked up with triple-decker grilled chicken, strips of smoky bacon, tomato, and lettuce is the star among their offerings.
8. Lucky 13 Sandwich On Nut
The meat-packed Brisket Cheese Steak Sandwich is loaded with a burst of umami. Diners can choose their own seasoning adventure by going the hot road with "Spicy Mexican" condiments or the "BBQ Philly" for smoky and sour flavours.
9. Bunker Sathorn
Emphasising on American cuisine touched with culinary flair from diverse cuisines, Bunker Sathorn is a master at mixing and matching different cooking heritages altogether. Our statement is evidenced in this Korean Fried Chicken Bao, a Korean slash Chinese-style sandwich that's brimming with a hearty, satisfying flavour.
10. Havana Social
The Cuban-style sandwich composing of ham, cheese, pungent mustard, pickle, and Cuban bread packs a punch of tasty savouriness that hits all the right spots. The best place to have it? Havana Social. ALL THE WAY.
11. Café Tartine
Expect no fusion because Café Tartine is all about French fare, spanning breakfast, lunch, and dinner. We love ­– make that worship – their cheese and meat-stuffed hot sandwiches like the Croque Monsieur and Croque Madame. These two make a perfect standalone meal anytime throughout the day.
12. Vistro Bangkok
Bao and paninis make a perfect Baonini combo at Vistro Bangkok. The vegan eatery serves their Italian-Chinese sandwich with a lip-smacking veggie stuffing. Delish.
13. Bambino
Wagyu sandos have become an Instagram sensation in the past year but not every sando place serves a legit one. Cruising the streets for a truly scrumptious version of this Japanese-style sandwich? By all means, head to Bambino. It's a newish Bangkok institution for wagyu sando, guaranteed.
14. Luka
Let's face it: sometimes a decent steak just tastes better with egg yolk running down on it. And the two elements perhaps taste even better when sandwiched between a holey, chewy, white ciabatta, like here at Luka.
15. Broccoli Revolution
Tired of tofu? Turn to tempeh for a change of scene (and flavour). This Vegan Tempeh Banh Mi at Broccoli Revolution should be your go-to.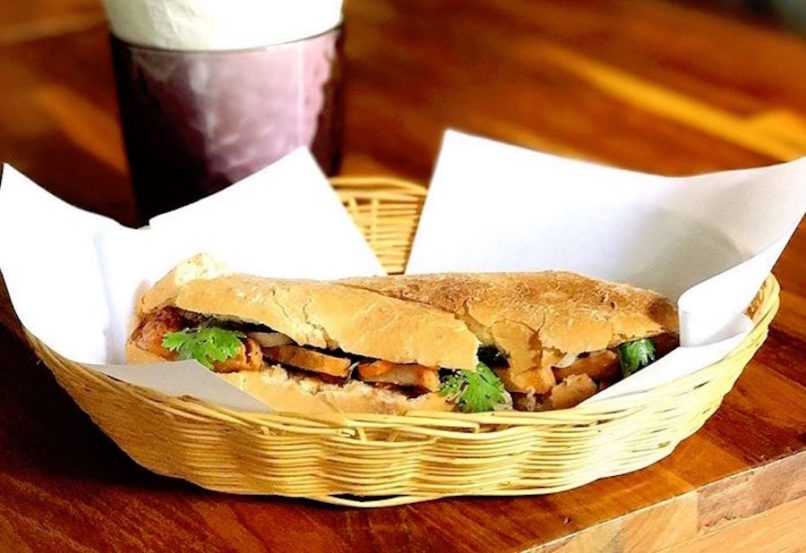 16. Old Town Cafe Bangkok
The Old Town coffee shop is known for their toothsome matching of baguette sandwiches with caffeinated drinks. The venue makes succulent grilled meat, which they smartly pair with a crusty baguette to maximise the textures as well as rounded tastes.
This article first appeared on Lifestyle Asia Bangkok on 21 February 2020.