If you're like us, piqued by the 21st-century healthy-eating trend, your regular restaurant list which pretty much involves eateries with big-fat burgers and greasy fries is probably get cut down in half now. Instead, it is filled back up with restaurants with a more wholesome approach to cooking and eating.
For fitness buffs and wholefood eaters, this season you're truly in luck with the launch of Chef Ian Kittichai's new culinary institution, Khum Hom. Situated within the Mövenpick BDMS Wellness Resort, Bangkok's oasis of wholesomeness, the health-forward Thai restaurant is perfectly aligned with the hotel's vision to promote a sustainable and healthy lifestyle.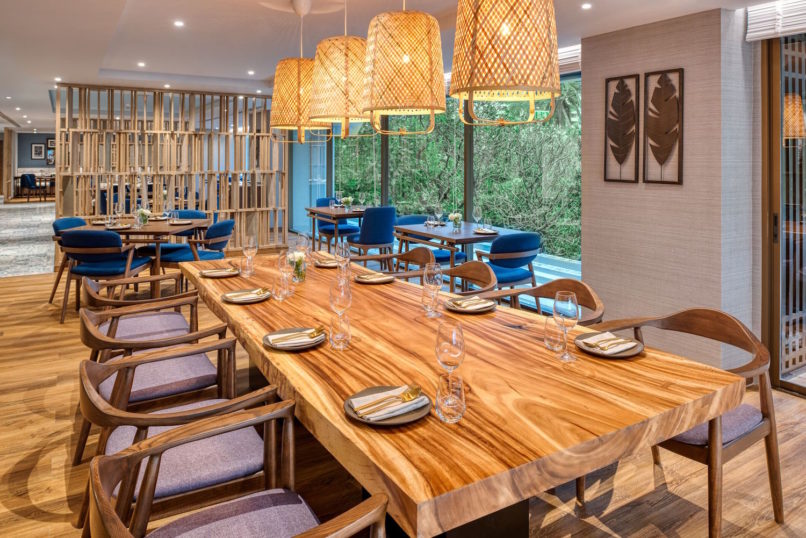 Helmed by Chef Ian Kittichai of Issaya Siamese Club — who also often appears on famed TV shows like Iron Chef Thailand and MasterChef Thailand — the celebrity chef propels his progressive approach to Thai gastronomy toward a more nutritious route to include plant-based, gluten-free dishes.
Bruno Huber, general manager at the Mövenpick BDMS Wellness Resort, describes: "Chef Ian has crafted a menu that traces the roots of Siamese cuisine, revisiting recipes and bringing them into the 21st Century with his own distinctive sense of flair. Our focus on sourcing and nutrition reflects our resort's wellness concept, and our pioneering Farmer's Menu embraces the important vegan movement that is sweeping the world."
The menu at Khum Hom centres around regional Thai cuisines of the North, Northeast, Central, and South, with chef Ian jazzing up classical age-old recipes with nutrient-dense ingredients and modern techniques. Recently, we got a chance to check out Khum Hom and tried some of the best new dishes the venue has to offer. Here's a list of must-tries you need to order.
Pla Nuang (THB 710)
Translating to "fragrant bite" (khum means "bite-sized portion" and hom means "aromatic"), the restaurant sure sticks to the mission drawn by its name – and this is evidenced vividly in this dish. The steamed red grouper filet boasts this medium-firm texture yet feels flakey at the touch of the fork, which gives room to the herbaceous, umami-packed chili-lime broth to penetrate inside and season the white flesh. It's almost like a sassier version of clear tom yum soup, and so much, much more.
Gaeng Kua Neua (THB 910)
Talking about the highlight, this yellow curry-braised short rib packs a punch of deep flavour profiles – all from the pounded paste of herbs like turmeric, lemongrass, cumin seeds, and more. The scrumptious twist that truly makes this dish delicious though is the process of steaming the meat with the curry for 3 days straight. It's a beef treatment that takes the ordinary to extravagance. Once braised and served with the preserved heart of palm, the beef curry gives a contrast of deeply smooth, chewy, and crunchy textures that will not fail to satisfy your taste buds.
Gaeng Lobster Baichapool (THB 790)
Gaeng Baichapool (classic crab curry with betel leaves) just gets fancy with the addition of plump lobster chunks. The slightly bitter betel leaves are a perfect match to the rich hand-pressed coconut milk touched with a note of natural sweetness. The helper of turmeric curry paste is also what binds them together in herbaceous harmony.
Poo Nim Ha-Rod (THB 350)
The deep-fried battered soft-shell crab is marvellous on its own, but to sit upon a pool of cashew nut milk spiked with bird's eye chili dressing? This takes it to a whole 'nother level of delectability.
Kao Pad Rodfai
Traditionally sold by the side of the train routes in Thailand, Kao Pad Rodfai (train fried rice) is a staple for train commuters. But at Khum Hom, Chef Ian turns it into something of sophistication by using lobster and natural red food colouring made from organic red dragon fruit instead of the chemical-packed pink fermented bean curd typically used in this dish.
The menu at Khum Hom includes a la carte options, a Tasting Menu with four or five courses included, and a special Farmer's Menu, focusing on plant-based and gluten-free fare.
Khum Hom, Mövenpick BDMS Wellness Resort, 2 Witthayu Road, Lumphini, Bangkok, +662 666 3333; open: Mon, 12-3 pm; Tue, 5:30-10 pm; Wed-Sun, 12-3 pm for lunch and 5:30-10 pm for dinner.