We're sitting beneath a neon rock poster that reads, "Butthole Surfers and Stone Temple Pilots."
It depicts a young child that has just severed a grown man's head, and is holding an axe and a snake in her hands. It sounds like a visceral image, but the drawing is weirdly likeable. Enter: Chet Adkins. 
We're at Little Market on Yen Akat, the newly-opened outpost of Bangkok's beloved burger shop by the American chef. Formerly housed near his infamous izakaya of JUA, Little Market on Yen Akat opened recently to a warm reception of industry insiders and neighbourhood foodies alike. It's not hard to see why, either, as the chef and both of his outlets have something very likeable about them. 
Chet Adkins has worked in the food industry for around 30 years, opening and running restaurants in the United States, Mexico, South America, and Australia. He was executive chef at Ce La Vi Hong Kong and Bangkok, before opening JUA with his business partner Jason Lang in 2017. Together, they've now expanded Little Market, and if we're spying correctly, we also see a house-own brand of 'Uncle Chet Hot Sauce' on the tables here. 
In fact, as we look around more, we realise that Chet and his team have a real creative spirit and a sweet eye for design. There's a great tune coming out of the speakers. People are walking in and out for lunch. It's a small space, but it's breezy. All in good taste: read on for where Chef Chet Adkins heads on his cheat day. 
Street food: Wua Tong Pochana and Nopparat 
Chef Chet categorises many of his cheat day places by the company he is with, whether he's by himself, with his partner, or with a group of friends.
"One of my favourite lunch spots is Wua Tong Pochana. It's across the street from the post office in Charoenkrung on a backstreet. They make great beef noodles and maala and beef cheeks. Everything's beef. They do a bunch of Chinese-Thai dishes that I really enjoy so I go there a lot. It's close to JUA also."
For late nights, Chet heads to Suan Phlu. 
"Nopparat is run by an old lady — she's got to be in her late 70s, early 80s — and she's been running this restaurant forever. The restaurant is kind of hidden. It's a little further inside the soi than Smalls, and it's past the market, but it's before Soi 3 on that side. It's a Khao Tom place, and they have a great cashew chicken too."
Wua Tong Pochana, 14 16 Charoenkrung 45 Khwaeng Si Phraya, Bang Rak, Bangkok, +66 9726 05305, open daily 11am – 9pm; Nopparat Suan Phlu, 562 Suan Phlu 1 Alley, Thung Maha Mek, Sathon, Bangkok, + 66 897 87 2002, open daily 5.30pm – 12.30am.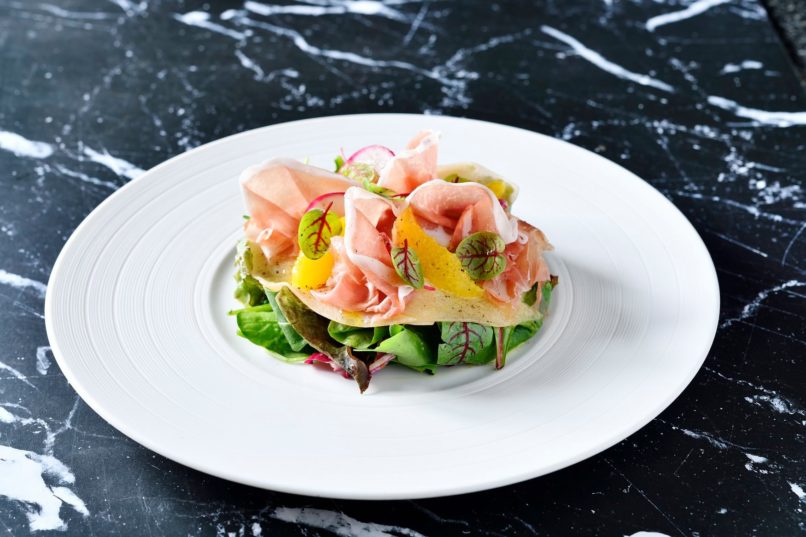 On a date night: Appia, Eat Me, La Scala
For more romantic nights, Chet has a few go-to places. 
"I like Appia. I like the new stuff, and I like the old stuff that they recently put back on the menu, like the ragu and the pastas. I love that restaurant. It's one of my favourites. Then there's also Eat Me. I love Eat Me and I love Tim. Here, my girlfriend can get flourless chocolate cake, which is perfect because she's gluten-free."
"Anthony at La Scala is always very accommodating for the gluten-free also. He's a good guy, and new in town. I knew him in Hong Kong, so when he came over, it was just a natural thing to go and see him. It's not so crowded at La Scala now, so it's a good time to go before the tourists come back in."
"Quince is also one of my all-time favourites. I've been going there through maybe four different chefs, and now Steve's there. It's phenomenal."
Appia, 20/4 Soi Sukhumvit 31, Klongton Nua Watthana, Bangkok, +66 2 261 2056, open daily 11.30am – 2.30pm for lunch and 6pm – 10.30pm for dinner; Eat Me, 1, 6 Phiphat 2, Silom, Bang Rak, Bangkok, +66 2 238 0931, open daily 5pm – 12am; La Scala, 13, 3 South Sathon Rd, Khwaeng Thung Maha Mek, Khet Sathon, Bangkok, + 66 2 344 8888, open daily 12pm – 3pm for lunch and 6pm – 11.30pm for dinner; Quince, 14/2 Soi Somkid Lumphini, Pathum Wan District, Bangkok, +66 94 868 2639, open daily 6pm – 12am. 
Omakase: Fillets
Given that he himself helms a Japanese izakaya over at JUA, it's no surprise that Chef Chet also enjoys Japanese food. 
"I like to go to omakase, but some are too crazy expensive, and some are not that great for the amount of money you spend. I like Fillets on Mahaseth Road. Randy is a really good sushi chef and he's got a counter bar there where he's doing omakase. I think it's booked out for a couple of months so it's hard to get in, but it's well worth the effort. It's amazing what he's doing there."
Fillets, 102 Mahaseth Rd, Si Phraya, Bang Rak, Bangkok, +66 92 879 6882, open Tues-Sun 11.30am – 2.30pm for lunch and 5.30pm – 10.30pm for dinner.
Drinks: Smalls, Tropic City, and WTF
Chet divides his drinking sessions by neighbourhood. 
"If I'm on this side of town [we're in Sathorn], I go to Smalls. If I'm working, I'll go to Tropic City, also because it's close to JUA, obviously. Those are my go-to places, pretty much. If I'm on the other side of town, I'll go to WTF. I'll have a negroni there. I like that space and I like them a lot."
Smalls, 186, 3-4 Suan Phlu 1 Alley, Thung Maha Mek, Sathon, Bangkok, +66 95 585 1398, open Wed-Mon 5pm – 12am; Tropic City, 672, 65 Soi Charoen Krung 28, Bang Rak, Bangkok, +66 97 242 2890, open daily 7pm – 1.30am; WTF Bar, 7 Sukhumvit 51 Alley, Khwaeng Khlong Tan Nuea, Watthana, Bangkok, +66 2 662 6246, open Wed-Sat 4pm-1am and Sunday 4pm-10pm. 
Brunch: Broken Eggs and Cagette
Whilst the chef doesn't truly, madly, deeply strike us as a mimosa-sipping brunch-goer, he does admit to enjoying a brunch spread on a Sunday morning. 
"A lot of times I have Sunday mornings off, so I'm a brunch person occasionally. I don't really drink at brunch, but I like to eat. I don't venture to Ekkamai often, but when I do, I like to go to Broken Eggs. There's great food there, and it's great value for money. The other place is Cagette. They have fresh seafood and the seafood brunch is a very good deal as well. It's also very close to Little Market, so it's easy for me to get to."
Broken Eggs, Ekkamai Road, Klongtan Nuea Wattana, 112 ซอย ทองหล่อ 7 Khlong Tan Nuea, Watthana, Bangkok, +66 2 047 7811, open Tues-Fri 5pm – 10.30pm and Sat-Sun 12pm – 2.30pm for lunch and 5pm – 10.30pm for dinner; Cagette, 15 Yen Akat Rd, Chong Nonsi, Yan Nawa, Bangkok, +66 2 249 1684, open Tue-Wed 11.30am – 10.30pm. 
One last tip
We end our conversation as we're about to head back to our Sathorn Road office around 12.45pm, which triggers a last restaurant to come to Chet's mind. Giglio is a hot new Italian opening in the neighbourhood, and we know it, but it has been tricky to get a table lately, given its popularity. 
"Here's a tip: go alone or go at lunch and sit at the bar. It's perfect [he says this slowly]. It's got a really great ambiance during the day, and the light flows in there, and it's always hopping at lunch but you can get great service. You should get a seat at the bar because people don't normally book the bar. You can still eat the whole menu right there." 
You heard it here first. Thanks, Chef Chet.
Giglio Trattoria Fiorentina, 149 Sathon Soi 12 Alley, Silom, Bang Rak, Bangkok, +66 88 923 0961, open daily 11.30am – 3pm for lunch and 5pm – 10pm for dinner.