If we're talking about Thailand's star-studded figures who have skyrocketed to a culinary world stage, we can all agree that the name Ian Kittichai always tops the list.
You may recognise him from the culinary battles on Iron Chef and Master Chef Thailand, one of his many Thai cooking cook books, or you may be first introduced to him through one of his restaurants. After all, the chef is the mastermind behind far-famed spots like Issaya Siamese Club, Namsaah Bottling Trust, Issaya La Patisserie Hyde & Seek Gastro Bar, and Khum Hom in Thailand, as well as four other locations in the US, India, and Spain.
Yet no matter how you learned about the man, one thing we can all come to the conclude is that Ian Kittichai's approach to Thai gastronomy has truly propelled Thai cuisine towards a more innovative path that is still very much rooted in tradition. His repertoire of Thai restaurants have become an anchor of the local chef community.
Today, we'd like to pick his brain and find out where the chef himself likes to go for to eat and enjoy guilty pleasure food. Here, Chef Ian Kittichai unveils to us all his favourite off-the-beaten-track restaurants and the dishes he usually gets. Read on for his list of food he likes to devour on a cheat day in Bangkok.
El Mercado Bangkok
"I like coming here with my family because there is something for everyone to enjoy. It also boasts this easy-going, casual atmosphere that relaxes you. My go-to dish is the BBQ grilled fish ,and for my wife, she always gets the beef tartare. Then we would just have a salad to share in the middle."
Offering a wide selection of wines, cold cuts, cheese, and western fare, El Mercado is known as a home to European comfort food. Guests can do grocery shopping or unwind on their outdoor patio sipping a glass of wine and relishing a scrumptious cheese platter, which is the perfect route to a flawless night. Conveniently, you can now find El Mercado as a store in Suan Phlu as well.
El Mercado Bangkok, 490 Phai Singto Alley, Khlong Toei, Bangkok, +6699 078 3444; Open: Mon-Sun, 11-12 am.
AdHoc Bkk
"I really enjoy the menu here – it's very much like creativity served on a plate. Chef Tap and his team are very talented and the venue offers privacy and intimate feels that I like."
Thai-Chinese fare is not new, but AdHoc Bkk adds extra oomph and elegance to the mixed gastronomy by injecting it with haute-cuisine elements that will wow you through both presentation and taste. The private dining restaurant helmed by Chef Tap — who had his previous tenures at top restaurants in England, Hong Kong and Australia — is sure to impress you.
AdHoc Bkk, 36/22 Soi Phrom Si 1, 11 Klang Alley, Bangkok, +6665 143 1111; Open: Mon-Sun, 6 pm-12 am.
Ikkousha Ramen
"My regular order here is the Black Tonkotsu Ramen. I really enjoy the black garlic in the stock — so so good. Also, their gyozas are also very good. They come in this small, perfect bite-size and it's good to order the large plate to share with your friends and family." 
Calling out all you ramen aficionados: Ikkousha Ramen serves up comforting Hakata-style ramen typical in the city of Fukuoka, consisting of main players like umami-packed milky bone tonkotsu broth, thin noodles, and ribbons of chashu pork. Another showstopper you shouldn't miss out on here is the Tetsunabe Gyoza, meat-stuffed dumplings fried until golden-brown and crispy on both sides.
Ikkousha Ramen, J Avenue (Thonglor15), 323/2 Soi Sukhumvit 55, Bangkok, +662 712 9487; Open: Mon-Sun, 11 am-9:30 pm.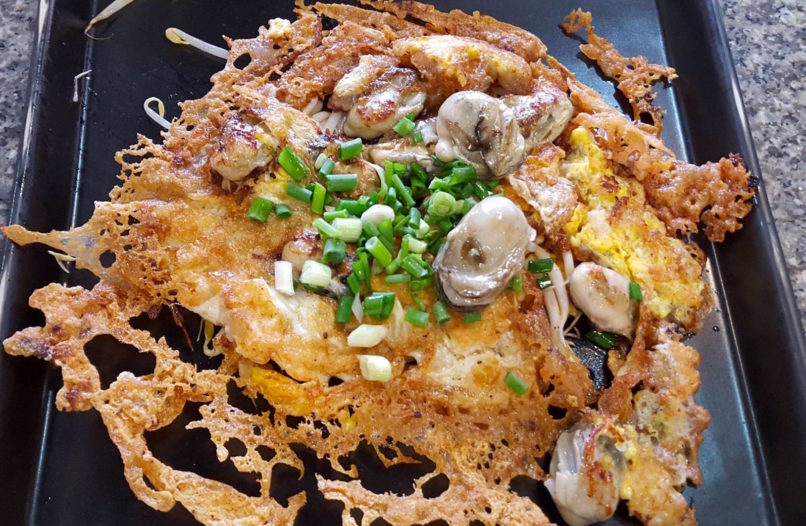 Hoi Tod Chaw Lae (Thonglor)
"I've been their customer for the longest time and the reason is that I can't get enough of the crunchiness and the freshness of the oyster pancake. You can also watch as they make the hoi tod in this big pan and I just find that pretty amusing as well."
If there's anything better and elevated than a regular omelette, it's the oyster omelette served atop a bed of semi-charred bean sprouts and with a pool of chilli sauce for pungent sweetness. One of the best places to enjoy this dish, according to Chef Ian, is Hoi Tod Chaw Lae in Thonglor where they churn out ultra-thin, ultra-crispy eggy pancakes dotted generously with mussels and oysters. The venue is also known for their scrumptious pad thai.
Hoi Tod Chaw Lae, 25 Sukhumvit Soi 55, Khlong Tan Nuea, Wattana, Bangkok, +6685 128 3996; Open: Mon-Sun, 8 am-10 pm.
Leng Hong on Sukhumvit Soi 62
"I really enjoy the Peking duck here. It's really the highlight; crispy and is packed with a punch of flavours."
For a soul-satisfying Chinese feast with no letdown, saunter over to Leng Hong on Sukhumvit 62. Open since 1962, the number of years stand as a guarantee for real-deal succulence. Apart from their must-tried Peking Duck, the Braised Goose's Web in Hot Pot and Stir-fried Crab Meat with Curry Powder are also highly recommended.
Leng Hong, 62 Soi Sukhumvit 62, Bangkok, +662 311 6155; Open: Mon-Sun, 11 am-10 pm.