A bowl of noodles never lets you down.
With an extensive range of noodles, soups, and toppings to choose from, Thai-style noodles just never set a limit to your cravings. One can go to town with shrimp-stuffed wontons, braised pork, extra veggies, meatballs, and more. Without a doubt, this has become every Thai's go-to comfort food. Here, we've curated a list of one of Bangkok's best noodle shops you need to dive right in to. Let's get slurping.
[Hero image credit: Unsplash/Bao Menglong]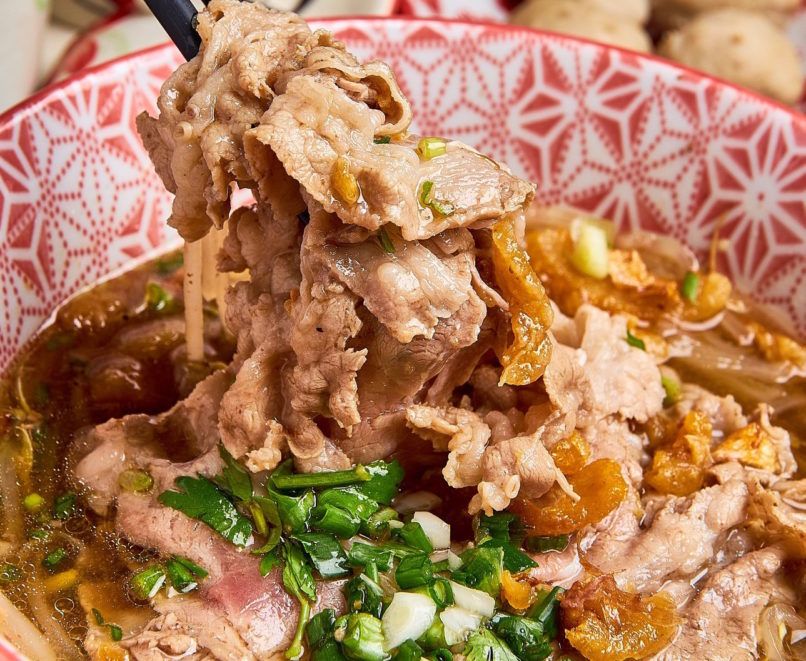 Wuanood
We don't know about you, but whenever the merciless tom yum noodle craving strikes, Wuanood just never disappoints. The beef noodle haunt follows a 35-year-old recipe that has been passed down from generation to generation. It is all about serving premium bowls studded with premium beef cuts imported from Australia and Japan, so expect striploin, wagyu paleron, brisket, sirloin, and more. Diners can pick between the clear or creamy tom yum soup, as well as regular clear soup. If you fancy something extra pungent, the spicy mala soup will do. Another highlight is also their pork rind and crackling that comes with almost every item on the menu. It gives a satisfying crunch to every bite and we just can't enough.
Wuanood, 888/56 Phloen Chit Road, Lumphini, Pathum Wan District, Bangkok, +662 650 7842; Open: Mon-Sun, 10 am-7 pm.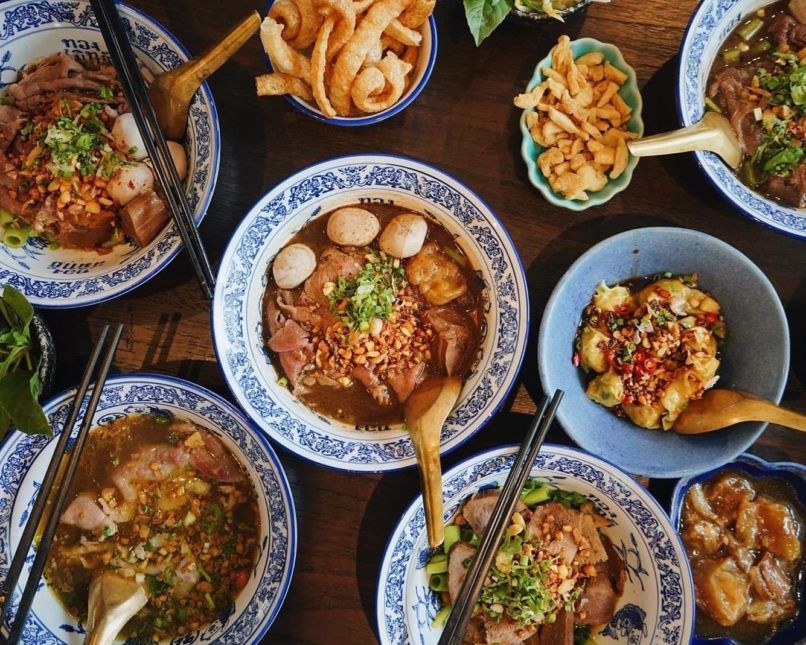 Thong Smith
When it comes to Thai noodles, guay tiew rua (or boat noodles) top our 'Most Favourite' list due to the distinctive dark broth, which is so sweet and flavoursome from a long-simmering of pork bones and a variety of herbs and spices. Though it's seen as comfort street food, Thong Smith really takes it to a new height with additions of premium cuts imported from Australia like wagyu ribeye, shank, and tendon. The venue also stays true to the tradition by serving every boat noodle with its signature elements like pork rinds, meatballs, cinnamon, basil, and morning glory.
Thong Smith, Central Embassy, 1031 Phloen Chit Road, Pathum Wan District, Bangkok, +662 160 5794; Open: Mon-Sun, 10 am-10 pm.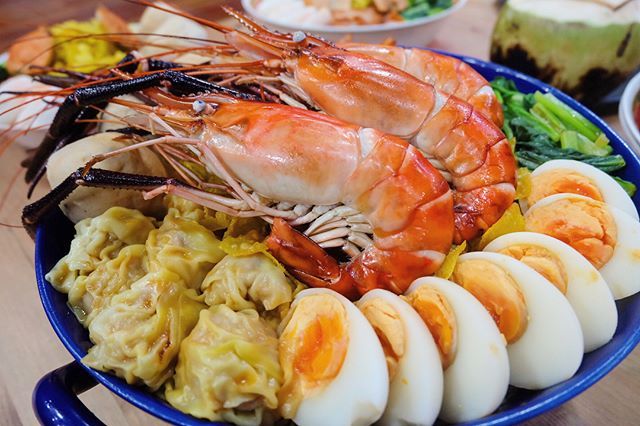 Bami Jom Palang
Not really into the noodle, but all out for the toppings? Bami Jom Palang should be your move. The bowls here all come with a boatload of drool-inducing elements like crab, mussels, shrimp, wonton, meatballs, braised chicken, and more. But the thing that makes it stand out is the size options. Diners can go from a THB 50 to a THB 700 bowl, and in correlation, the bowl gets bigger with its price tag. It's definitely a crowd-pleasing spot since the big bowls can be shared easily amongst friends and family.
Bami Jom Palang, Train Night Market Ratchada, Bangkok, +6680 566 6672; Open: Mon-Sun, 4 pm-12 am.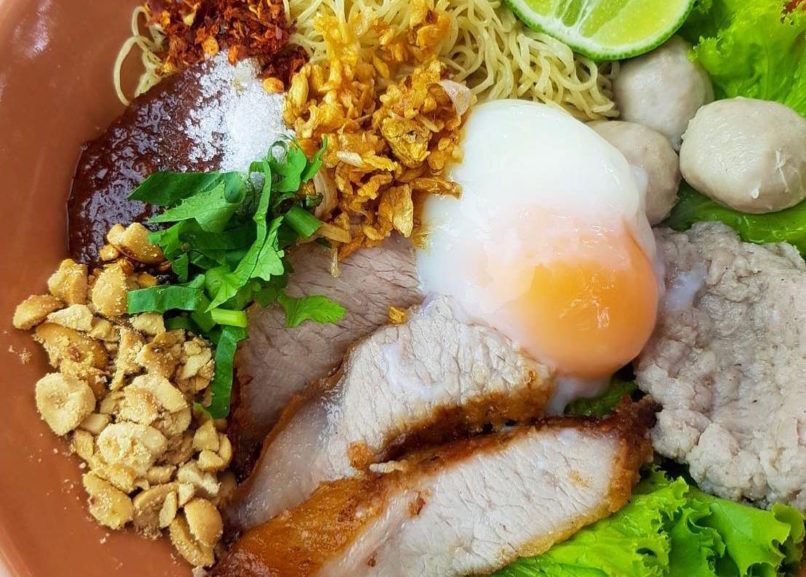 Guay Tiew Tao Taan Onsen
For an MSG-free yet greatly seasoned soup, we give the thumbs up to Guay Tiew Tao Taan Onsen. Their secret? It lies in the making of their soup; the pork bones are simmered long and slow on fuelled fire until the bones lend their naturally sweet aroma to the soup. It just can't get any better than this. Every noodle bowl also comes with an onsen egg, which is known for its custardy, semi-runny body. To us, it is even a little more addictive than the soft-boiled one.
Guay Tiew Tao Taan Onsen, 108/1 Soi Anamaingamcharoen 25, Tha Kham, Bang Khun Thian, Bangkok, +6681 959 4245; Open: Tue-Sun, 10 am-4 pm.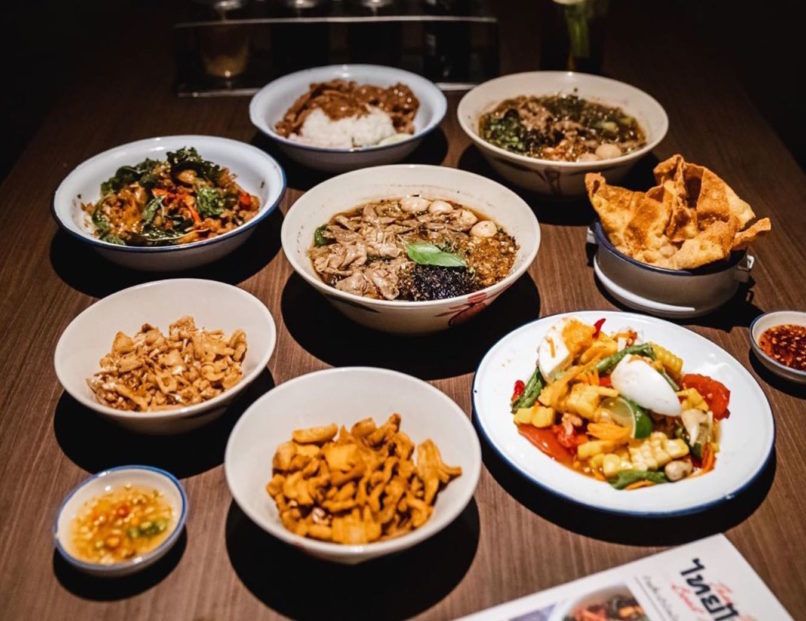 Thai Thai Boat Noodles
For another cool-hip spot for boat noodles, saunter over to Thai Thai Boat Noodles. The outlet churns out succulent meat-packed boat noodles with a bowl loaded with pork cracklings for crunch and joy. What we also love about this spot is that the menu also boasts a wide range of Isaan fare like som tam, fried chicken, and even ka prao.
Thai Thai Boat Noodles, 414/4 Siam Square Soi 7, Pathum Wan District, Bangkok, +662 005 3445; Open: Mon-Sun, 11-12 am.