Noodle heads, indulge your love for the umami-packed boat noodle here at MaiMai Boat Noodle.
From Le Jardin to MaiMai Eatery, the Thai-meets-Western restaurant has been part of the Peninsula Plaza Bangkok for over three decades. Now, it has been rebranded into a new bolder-better "MaiMai" concept, which also happens translates to "new new" in Thai. These days, you can find the boat noodle restaurant under the name "MaiMai Boat Noodle" at the Alangkarn zone on the 6th floor at ICONSIAM. 
[All images courtesy of MaiMai Boat Noodle and MaiMai Eatery]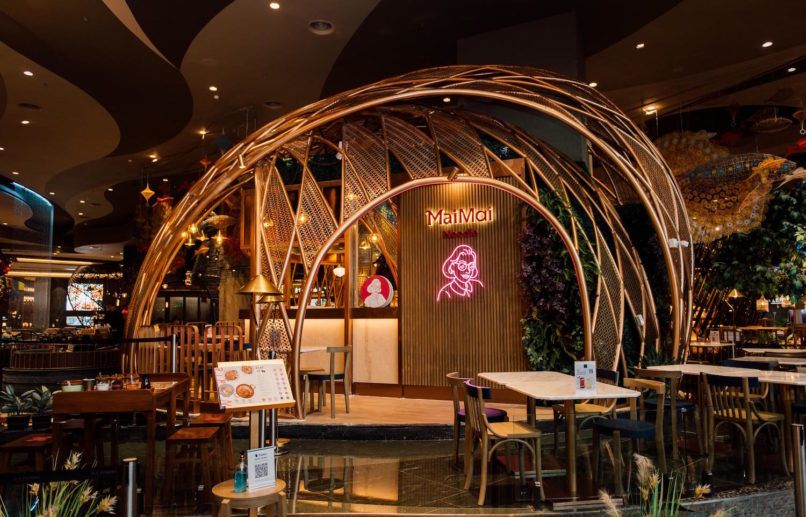 For the longest of time, the brand was known for its drool-inducing Kuay Tiew Ruea (boat noodle). Here at the new branch, expect to gorge on the good old classic flavours but with an even wider selection of toppings to their signature noodles. Of course, you'll also find some of MaiMai Eatery's signatures that have been selected to delight diners at the new location as well.
Recently, we had a chance to check out the space and tried some of the best dishes MaiMai Boat Noodle has to offer. Here's a list of must-tries you need to order when you visit.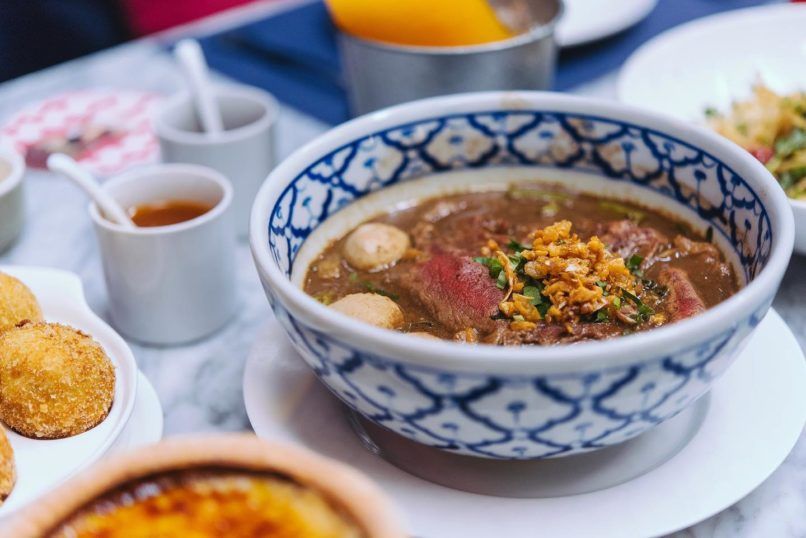 Boat Noodles (Beef or Pork)
For a play on the Thai traditional boat noodle dish, MaiMai Boat Noodle provides a spread of drool-inducing toppings. Diners can pick between the dried or soup version and beef or pork, with different types of prime cuts to choose from. We recommend getting the Boat Noodle with Kurobuta Pork (THB 288) or the Boat Noodle with Australian Beef Tenderloin (THB 428) and the Boat Noodle with Australian Rib Eye (THB 338). All noodle bowls come with the classic boat noodle condiments of meatballs, crispy pork rinds, and deep-fried wonton.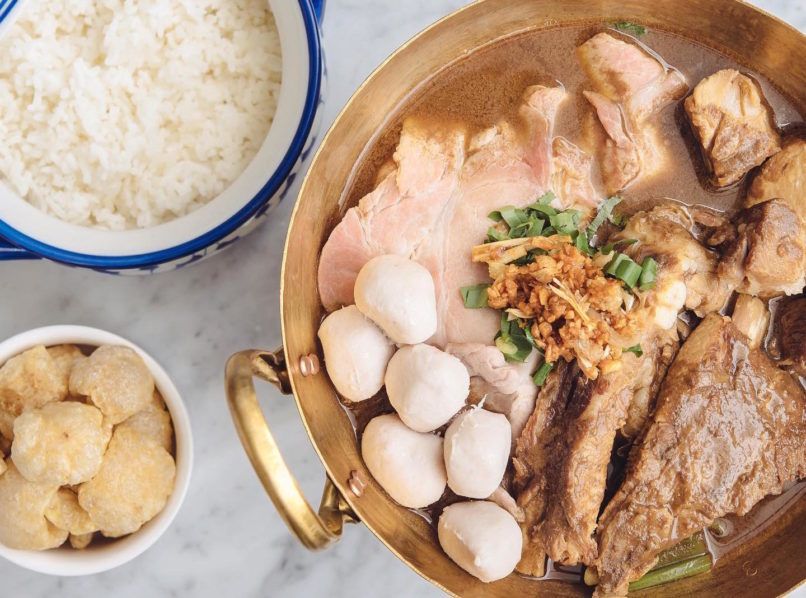 Boat Noodle Hot Pot (THB 1,198 for beef and THB 798 for pork)
If a bowl won't satisfy, by all means, go for the pot. The Boat Noodle Hot Pot comes studded with an array of toppings and meat and is basically a party in your mouth. The beef version is highly recommended for a feast since it comes in a big pot packed with beef meatballs, ribeye, and braised beef. It is fit for a group of two to three.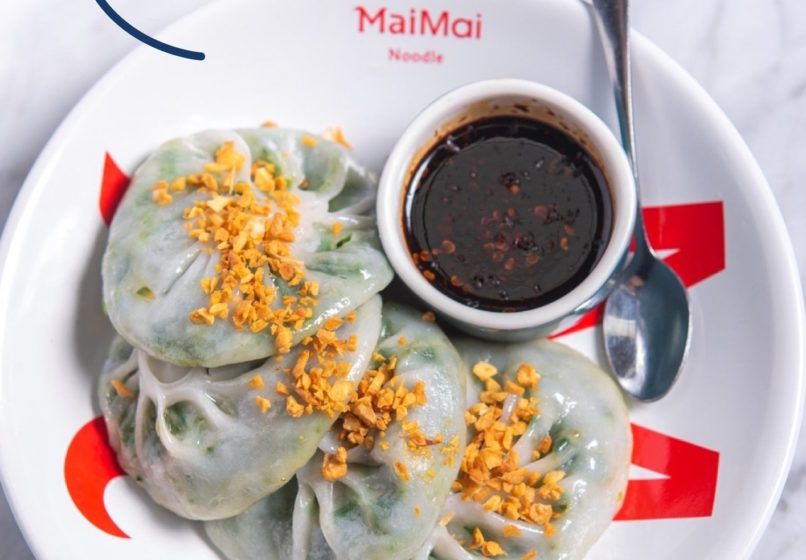 Homemade Pork Cracklings with Sweet Chili Dip (THB 88) and Steamed or Fried Chive Dumplings (THB 138)
For flavourful appetisers, get the signature Pork Cracklings as well as the Steamed or Fried Chive Dumplings. We are not kidding and can assure that each dish is packed with mouth-walloping flavours – tried and tested.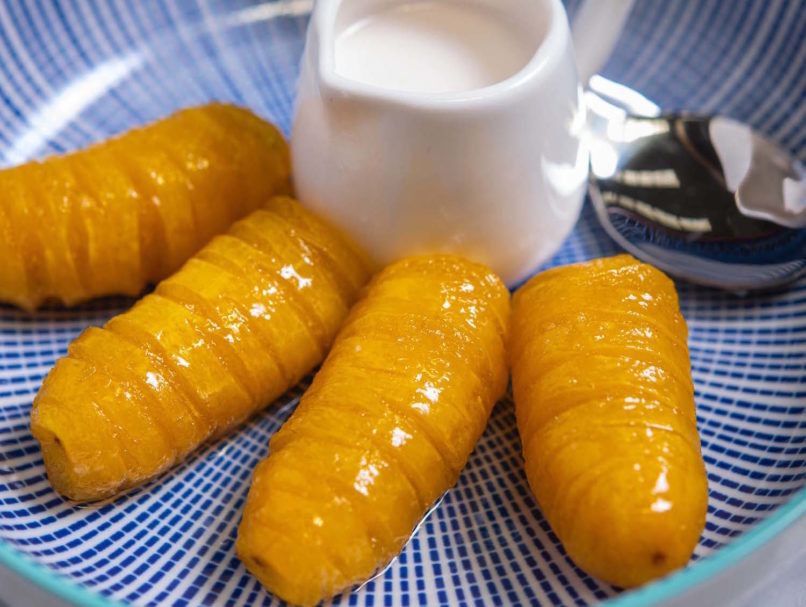 Banana in Syrup (THB 88)
Don't let the simple look of this dish deceive you into thinking it's just another humdrum dessert. The work and craft that's put into this Banana in Syrup – or Kluay Kai Cheum ­­– is really impressive. For one, you can't simply use any banana for this dish. It has to be the ladyfinger banana. It is then carved by hand to create more space for the syrup to soak in. Then, it is braised long and slow in a delicate syrup to absorb all the honey-like sauce and served with a generous drizzling of salt-spiked coconut sauce to cut the sweet sharpness. Delicious.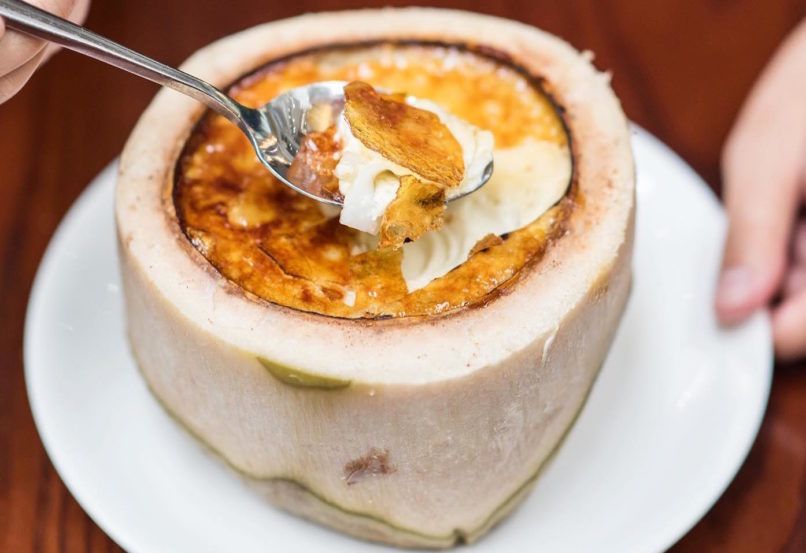 Coconut Crème Brûlée (THB 188)
Another must-try dessert is the Coconut Crème Brûlée served in an actual coconut. The soft pulp of the young coconut also gets folded into the coconut milk custard, adding more coconut oomph to the dish and also a luscious layer of texture. A great way to end the meal.
MaiMai Boat Noodle, 6 FL, ICONSIAM, 299 Charoen Nakhon Road, Khlong Ton Sai, Bangkok, +662 652 1399; Open: Mon-Sun, 10 am-9 pm.