Anchored to their motto "Create. Share. Connect.," WORKSHOP is a multipurpose venue serving as a café slash brasserie, a gallery, and an event outlet – all of which is evidenced in its name that represents all types of craftsmanship.
Nestled along the street of Yen Akat, WORKSHOP boasts a lively yet humble personality. It is very much like that of the neighbourhood it resides in, thanks to its raw, rustic, and minimalist interior design.
The dining area with a small bar and living room elements is designed to be a nook for sipping on a cup of brew or to be a casual spot for mingling and sipping on bubbles and vino. Beyond that, the food here is something of sophistication. This comes to no surprise to us when helmed by the French-native Chef Clément Hernandez who had his previous tenures at Brasserie Cordonnier, J'AIME by Jean Michel Lorain (1 Michelin Stars), Le Relais Bernard Loiseau (3 Michelin Stars), and Le Parc Franck Putelat (2 Michelin Stars), to name a few. You may also recognise his face from Iron Chef Thailand, where he competed against Chef Ian Kittichai. Regardless of his experience in haute-cuisine kitchens, the chef gears toward a new concept this time. His menu now thrives on comfort, featuring western classics from all cuisines, but crafted with the classic French techniques which he specialises in. Applying the 80/20 blend of hyper-seasonal, local ingredients, and imported products, the food here represents a fine marriage of Thai prime produce with western goods that strike Thai palates at the right balance.
Chef Clément's new tasting menu "Sincere Dining" also projects his voice towards simplicity and sustainability instead of centring around a fine dining ethos and being instagrammable. Recently, we had a chance to check out the space and tried some of the best dishes WORKSHOP has to offer.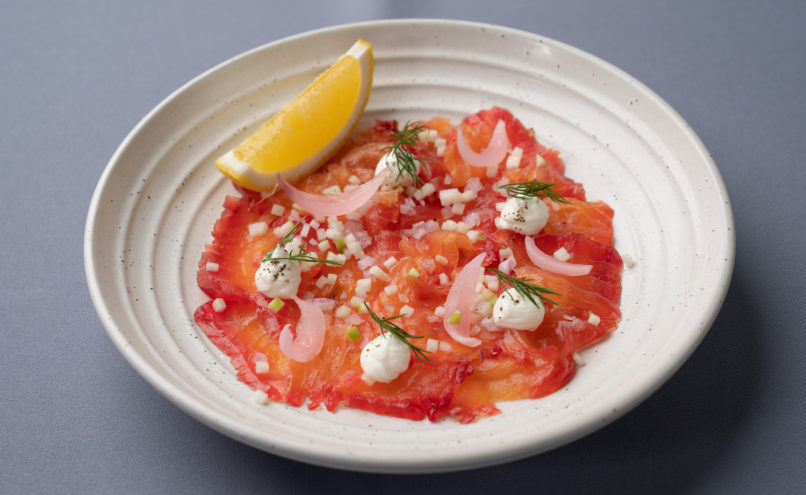 First, we cosied up with the signatures like Cured Fjord Trout (THB 340), which comes in beautiful rosy hue and with the refreshing brightness only pickled shallot, cubed green apple, and sour cream could give. Then came the Foie Gras Terrine (THB 450) served with longan chutney and a touch of Thai twist, followed by the Braised Beef Cheek (THB 590) cooked low and slow in red wine and served with deep-fried crispy polenta and charred spring onion. Delightful. Moving on to the 4-course tasting menu (THB 1,000++) "Sincere Dining," we were introduced first with the luscious Garlic Espuma, which was created in the spirit of a garlic soup but lighter and fluffier in texture. As a side, confit potato crowned with parsley crust is served as an extra layer of texture to keep things exciting. Next, the stellar Ratatouille-Stuffed Squid arrived atop a bed of cooked vegetables along with crispy squid ink tuile and veggie reduction that ties all the elements of the dish together. Then we dug right into the highlight of the meal: Barbary Duck Breast with the duck being the centrepiece accompanied by the umami-packed medley of chanterelle, eryngii, spaetzle, and jus. Add extra pan-seared foie gras (THB 200 additional) on top to add an extra oomph of flavours to the dish – it really makes all the difference. Last but not least, we capped off the meal with the strange yet scrumptious dessert called Floating Island. The meringue is floating on a bed of coriander seed-spiked cream which oozes out herbaceous notes, making it far so different from the OG floating island. The added micro coriander and candied seeds also add contrasting textures to the dish, making it more pleasurable to eat rather than biting into what otherwise would be a mushy dessert. Drink devotees will also want to pay attention to their impressive selection of aperitifs, liquors, and concocted drinks. Wine pairing (THB 1,500) is also available to go with your tasting menu if you fancy a few glasses to elevate your night.
WORKSHOP, 15/1 Yen Akat Road, Chong Nonsi, Yan Nawa, Bangkok, +6662 519 0055; Open: Mon-Sat, 11 am-10 pm.