Think of an afternoon tea in elegant surroundings, delicate crockeries and gourmet treats, The St. Regis Bangkok's signature golden birdcage afternoon tea springs to mind. Initiated by the queen of New York society, Caroline Astor from the Aston family — a founder of The St. Regis, the legendary culture of afternoon tea at The St. Regis can be traced back to the Gilded Age.
Fast forward to today, The St. Regis remains the epitome of western afternoon tea, without shying away from redefining the cherished tradition with innovative creations. This time, The St. Regis Bangkok takes luxury to another level through a collaboration with Qeelin, a premium jewellery brand known for merging fine craftsmanship with cultural inspiration from Asia, to create a limited edition Qeelin Afternoon Tea. Featuring three outstanding collections designed by award-winning jewellery designer Dennis Chan, aptly named 'Wulu', 'Bo Bo' and 'Wang Wang', the afternoon tea set by The St. Regis Bangkok references the unique East-meets-West aesthetics and colors of the high-end jewellery label.
The pastry items in Qeelin Afternoon Tea are carefully designed using three colors: The Black and The Red that signify Qeenlin's brand colour, and The Gold that symbolises wealth in Asian culture. Representing the Bo Bo collection, The Black sees a chocolate panda atop charcoal biscuit, chocolate ginger crémeux and chocolate mousse. The Red is a raspberry glazed jewel, with gianduja cream and a WULU collection pattern — a gourd shape that resembles the Chinese lucky number 8. The Gold is a nod to the Chinese Year of the Dog and inspired by the Wang Wang collection, with mandarin-flavor cake, lightly laced with coffee, gold-covered chocolate and a logo-emblazoned macaron.
The Qeelin Afternoon Tea set (THB 1,800++) for two also features cream tea scones and a tempting selection of savories, from a Boston lobster and tom yum mayo soft roll, duck liver mousse profiterole with coconut to egg mayonnaise with black truffle paste and caviar — all tastefully presented in the signature gourd shape of Qeelin's WULU collection. Available until 31 July, each Qeelin Afternoon Tea set also includes a complimentary Qeelin gift certificate redeemable at the SETTE Boutique on the M Floor of Siam Paragon Mall.
Get your bookings in fast via the link here and savour Qeelin's latest couture collection in The St. Regis elegance. To tempt your taste buds, here's a preview of the extravagant Qeelin Afternoon Tea.
1
2
3
4
5
Qeelin's Wang Wang collection
6
Qeelin's Wang Wang collection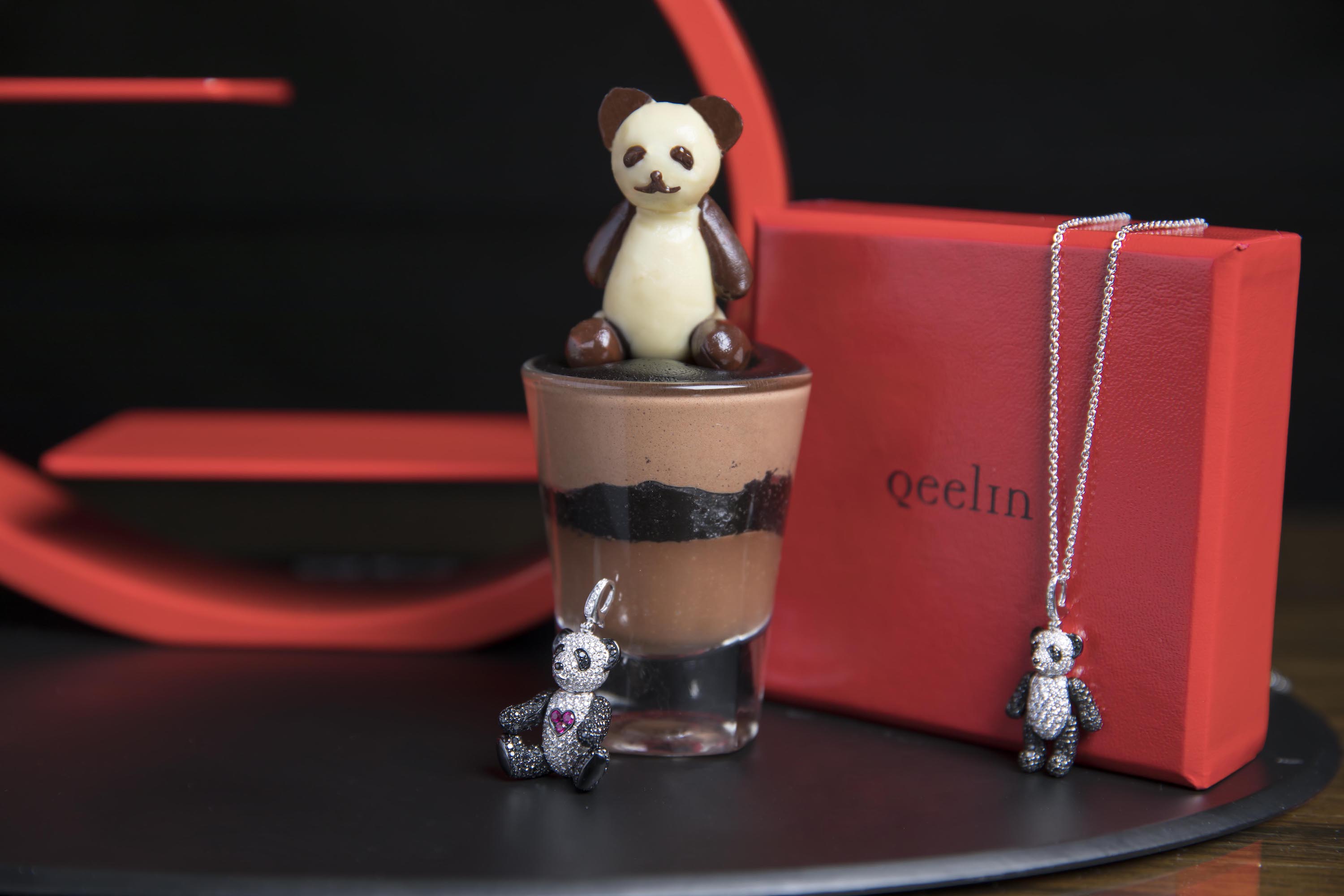 7
Qeelin's Bo Bo collection